Mom Angry at Husband for Leaving Kid in Unlocked Car at Gas Station Dragged
A man leaving his four-year-old son in the car while he was paying for gas has angered his wife and unintentionally sparked a parenting debate online.
In a post shared to Mumsnet on August 7, user myhouseisafairycastle explained she was frustrated with her husband after he repeatedly ignored her request not to leave their son alone in the car.
She wrote: "[Husband] insists on leaving our 4.5-year-old [son] in the car when he goes into the petrol station to pay. I have asked him time and again to take [our son] with him but he still does it."
She says she is concerned about her husband leaving the car unlocked due to a "sensitive" alarm, and that her son knows how to slip out of his car seat and the car.
"For context, we live in a remote rural area so pay at [the] pump doesn't exist here," she said. "He did it again yesterday and I'm fuming."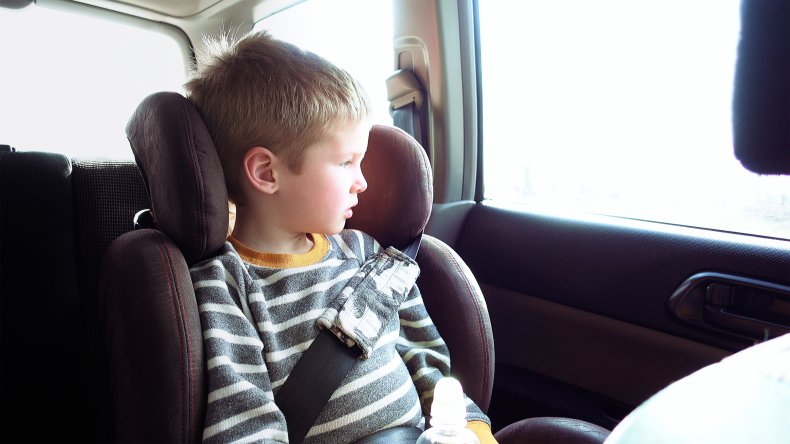 For 60 years, the leading cause of death among American children, adolescents and young adults was vehicle-related accidents. In 2017, firearms took over as the number one killer of people under 24 years of age, but the number of vehicle-linked fatalities is still high.
According to the latest available figures from the National Highway Traffic Safety Administration, 1,093 people under the age of 14 were killed in a traffic accident in 2020—an average of three per day. A further 139,042 were injured, with children also accounting for 5 percent of cyclist deaths and 3 percent of pedestrian deaths.
Traffic accidents aren't the only vehicle-related fatalities. Thirteen children have lost their lives due to "hot car deaths" so far in 2022. More than half occurred due to the parents forgetting about their child in the car, leading to vehicular heatstroke.
A 23-month-old boy passed away in July after his mother left him in a hot car while teaching a class at a local high school in Ontario, Canada. A 2-year-old child in Topeka, Kansas, also fell victim to a suspected hot car-related death last week, while an infant left in a car for seven hours while her father was arrested died later in hospital.
According to the safety awareness website Kids and Cars, it's against the law in 20 states to leave a child unattended in a vehicle. Other vehicle-related risks listed on the Kids and Cars website include "backovers" (when a driver reversing doesn't see the child), carbon monoxide poisoning and trunk entrapment.
When you leave the car, always lock it, even if you have parked in your own driveway or garage. This will keep a child from getting in and becoming trapped inside, and it will deter an intruder from enter­ing and waiting for you to return. Never leave your children or pets alone in a car, even for a minute. The temperature in the interior of a car rises quickly, going to extreme levels that can kill. Infants' and small children's bodies heat up 3 to 5 times faster than an adult's.
Baby safety expert Debra Holtzman—founder of thesafetyexpert.com and author of The Safe Baby—told Newsweek you should never leave an infant or child unattended in a vehicle, and recommends putting a plan in place so you don't forget about them.
"Be sure all children leave the vehicle when you reach your des­tination," she said. "Particularly when loading and unloading.
"Don't overlook sleeping infants! A major issue, especially for parents of newborns and older children who fall asleep in the car, is the risk of leaving the youngster in the car alone.
"Leave your purse, left shoe, cell phone or briefcase—or something that is needed at your next stop—on the floor or (secured in the vehicle seat pocket) in the back where your child is sitting so you always check. Or you may prefer to place a toy on top of your purse or briefcase in the front as a reminder.
"Have a plan if your child is late for childcare that you will be called within a few minutes."
The majority of Mumsnet users felt the woman was overreacting, with DandyLandy calling her "controlling."
"You don't get to unilaterally decide on how your child is raised or how your husband decides to parent," they said.
"He's safer in the car than navigating the walk to pay," wrote Snowraingain. "I left all 4 of mine in the car while I paid and I've still got all 4 now."
Converseandjeans agreed: "I used to do the same. I think it's unlikely anyone will try to abduct him in the 3 mins it takes to pay for petrol."
Cameras Everywhere
Burgoo commented: "There are cameras EVERYWHERE on forecourts. Most abductors aren't hanging around garages waiting for unsuspecting child-leavers.
"Your child is more likely to get knocked down going to and from the kiosk than he is sitting, strapped into the car seat."
However, some users could understand the woman's perspective.
"So dangerous," said Ontomatopea. "What if someone nicks the car or there's a spark and a fire. Petrol stations aren't a safe place for kids."
LastMinuteBreak wrote: "My [child] got out of the car in a petrol station once and went on to the forecourt whilst I was next to the car pumping petrol.
"I'd forgotten to lock the door. Either lock the door or your [son] goes with, in my opinion."
Update 09/08/22 03:20 a.m. ET: This article was updated to include a quote from Debra Holtzman.