Mom Begging for Help With Phone-Addicted 5-Year-Old Sparks Debate
A mother's call for help with her 5-year-old's phone addiction has gone viral, drawing both advice and criticism.
Destiny Maes posted the video on TikTok, where it has racked up 866,000 views since Friday. It started with her daughter Sienna wailing, "Just give me my phone!"
"What do you mean, it's so boring in this house?" the mom said. "You have a whole room full of toys. You know what...there's a little girl out there that would kill for your room, Sienna, that don't have nothing at all. She would want your room."
In between protests from her child, the mom added, "You know what she would do if she had your room? She would play with all your toys, all the toys. She wouldn't be worried about a phone at your age."
Maes explained in text overlay, "This is what happens when I made the mistake of giving her [an] electronic around 1 [year] old! And now we realize it's affecting her not doing other activities besides being on her phone!"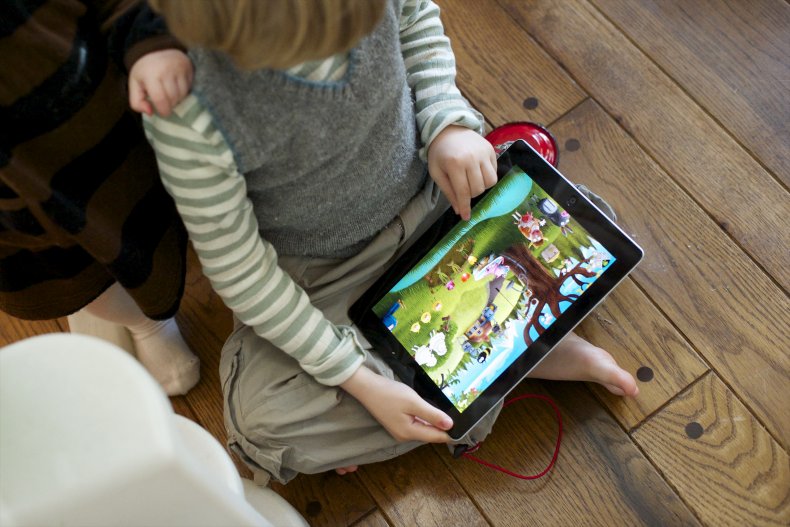 Before the video began, Sienna was "screaming her head off for her phone," Maes said in her caption. She appealed to viewers to share advice for weaning her child off the screen.
The American Academy of Pediatrics (AAP) has recommended against the use of screen media other than video-chatting for children younger than 18 months. For children between 18 and 24 months, the AAP advises parents to use "high-quality programming/apps" together with their children and avoid allowing solo media use. Children between 2- and 5-years-old should be limited to one hour of screen time per day, according to the association.
Despite these recommendations, U.S. children aged 0 to 8 spend an average of over two hours per day on screens, according to a 2019 study in JAMA Pediatrics. The study found that higher levels of screen time among children aged 2 to 3 was associated with poor performance in development milestones at 3- and 5-years-old.
Parents can face a range of challenges in keeping their kids off screens. Maes told Newsweek that Sienna's father bought her a tablet at the age of 1 because he was in the army at the time.
"He was constantly deploying so he gifted it to her, not because we didn't want to pay attention to our daughter, but because he felt bad he was away all the time," the mom said.
Sienna continued to enjoy going outside and playing with her toys, her mom and her cousins for years. It was only a couple of months ago that she began refusing to engage with anything but the screens for hours at a time, Maes said.
Tips poured in from her viewers, mostly advising her to confiscate the screens.
"Just take it," said one comment. "Yea she's gonna scream and be annoying at first. But after a few days she will learn. Also lead by example! Find other things to do."
Another viewer suggested, "If she has a ton of toys out, that might be it. We had to put away all of my kiddos' toys and get a handful out so they weren't overstimulated."
However, other commenters were scathingly critical.
"You made that mistake and now you're disregarding her emotions and implying she's ungrateful because she wants what she's used to having," wrote a critic.
"Hmm it's almost like the decisions you make as a parent have long term negative effects on your children," said another.
Maes told Newsweek that the family was fighting the problem by making sure Sienna had activities on her schedule. They were going skating every Saturday and scheduled T-ball classes for the summer. Maes was also playing with her daughter at home and outside more, while saving up for Sienna's dream trip to Disneyland, she said.