A hilarious video of a mom-to-be looking daggers at her brother as he started to rap Cardi B at her baby shower is going viral online—and even the musician herself has seen it.
Sean McCarragher shared a clip to his TikTok page, @seanmccarragher1, on Monday, showing him dressed in a suit at a formal gathering at Belfast Castle.
He turns to the camera and begins rapping the introduction to Cardi B's hit song, "Up," which includes a swear word.
The 23-year-old, from Belfast, Northern Ireland, starts to get into the expletive-ridden song as he begins to dance, but he's halted in his tracks by an icy glare from his sister.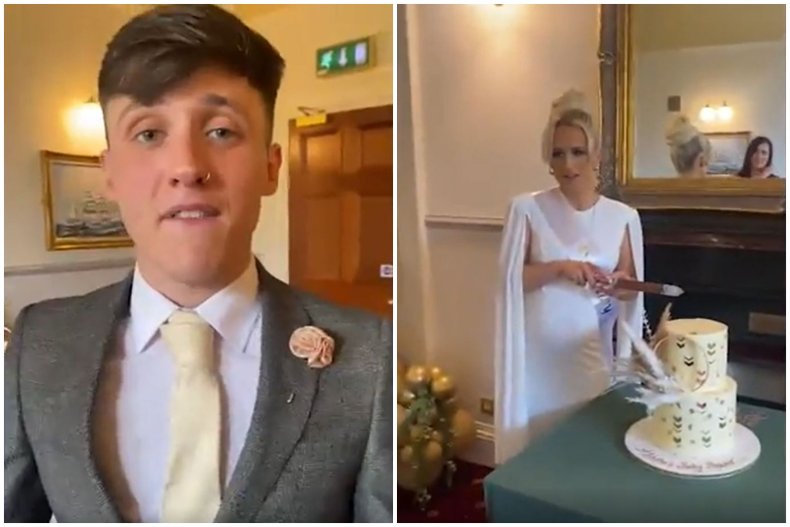 The pregnant woman, named Andrea McCarragher, is glowering at him as she stands poised with a knife in her hands, about to cut the cake.
As McCarragher sees his 26-year-old sister's expression, he immediately stops and begins apologizing, repeatedly saying "sorry."
Speaking to Newsweek, McCarragher said: "My other sister Claire was playing some generic tunes and I took the phone and played a go-to banger that gets my adrenaline up... so Cardi B 'Up' was one of my first thoughts...
"So I played it and was instantly in a world of my own, and was about to give it everything I got, then when my friend tapped me on the chest and turned the camera to my sister (who was about to have her moment and cut the cake) I realised "whoops" and immediately stopped to let her have her moment.
"When 'Up' first came out, I had it on repeat for about two months straight, and had mesmerised all the lyrics the first day it launched... so I think you absolutely could say it's one of my favourite songs."
He claimed his sister saw the funny side, adding: "My sister is well used to my behaviour by now, and even though her face may have said something else, she loves me really.
"We're genuinely a Duo, we wear matching outfits, make funny videos together, and basically do everything together, so I don't think she was surprised I ended up in the centre performing my life away. But after my unannounced performance, we had the most magical beautiful day to celebrate my new Niece or Nephew."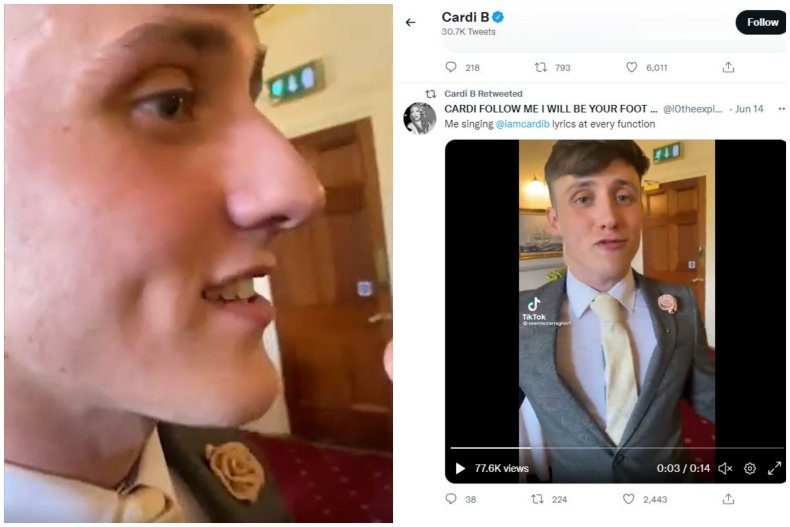 While McCarragher, who describes himself as "OTT," was ecstatic the rapper herself had seen his clip, with her official Twitter account retweeting the video.
He said "my life is complete," adding he jumped up and down for a "solid 15 minutes."
The original video has been watched more than five million times, as McCarragher captioned it: "The moment you realize the day isn't about you."
Numerous people found the impromptu song hilarious, as Cup joked: "She's well and truly had enough."
Lol wrote: "If 'are you serious' was a person."
Shannon Holder15 said: "The sorry sorry sorry sorrry sorry I think he is truly sorry."
Jessica P raved: "Hahah loved every moment of this."
Thalia Malinali Paci thought: "Main character energy."
Emma Knight reckoned: "The way he apologized let's us KNOW that he does this all the time and she's like FOR ONCE, STOP."
Rudolph replied: "I genuinely love this."
Tammy Lynne added: "So polite though... as soon as he realized he was stealing the show he stopped. I love good people."
Hopefully the mom-to-be, who's expecting her baby in July, forgave her brother, as it's thought the pair are quite close.
McCarragher shared a touching post to his Instagram where he described the day as his "best friend's baby shower."
He wrote: "When a duo becomes a Trio. So today was my best friend's/sister's baby shower ...
"Just want to let you know sis, you are the best person in this entire world. I love you more than words could ever begin to explain.
"You're the most resilient, strong and kindhearted person I know... you have given me so much strength on days I felt like I couldn't leave my bed, and you have brought so much love and happiness into my life.
"I struggled at the start coming to terms with the fact I had to share you... but now I cannot wait to have another bestie for life.
"My best mate from day dot... AND NOW HERE COMES A THIRD TO JOIN THE DUO."
While in another post, sharing the same clip to his Instagram, he added: "I sincerely apologize."
The chart below, provided by Statista, shows the evolution of baby names in the U.K.
Baby showers, or sprinkles, along with gender reveal parties are now the norm for pregnant women in the U.S., and in the U.K.
Children's diaper brand, Huggies, said: "Most baby showers—no matter where they are held around the world—share some key components: Family and friends, good food, gifts for mother and child, and lots of fun!"
It revealed some traditions around the world to celebrate a new arrival, with France not celebrating before the birth, and usually waiting until the baby's first birthday to hold a party.
Similarly, "showers in China are held after the birth of a baby, as holding them before is considered unlucky. The event is a formal affair and traditionally consists of a large banquet dinner.
"Guests bring gifts of money in red envelopes for the new baby and parents. (The color red is associated with good luck and good fortune)."
While in South Africa, "not unlike U.S. parents-to-be, South Africans enjoy celebrating the impending arrival with food, games and gifts. But the showers are instead known as a 'stork party' and are often a surprise hosted by a close friend of mom-to-be."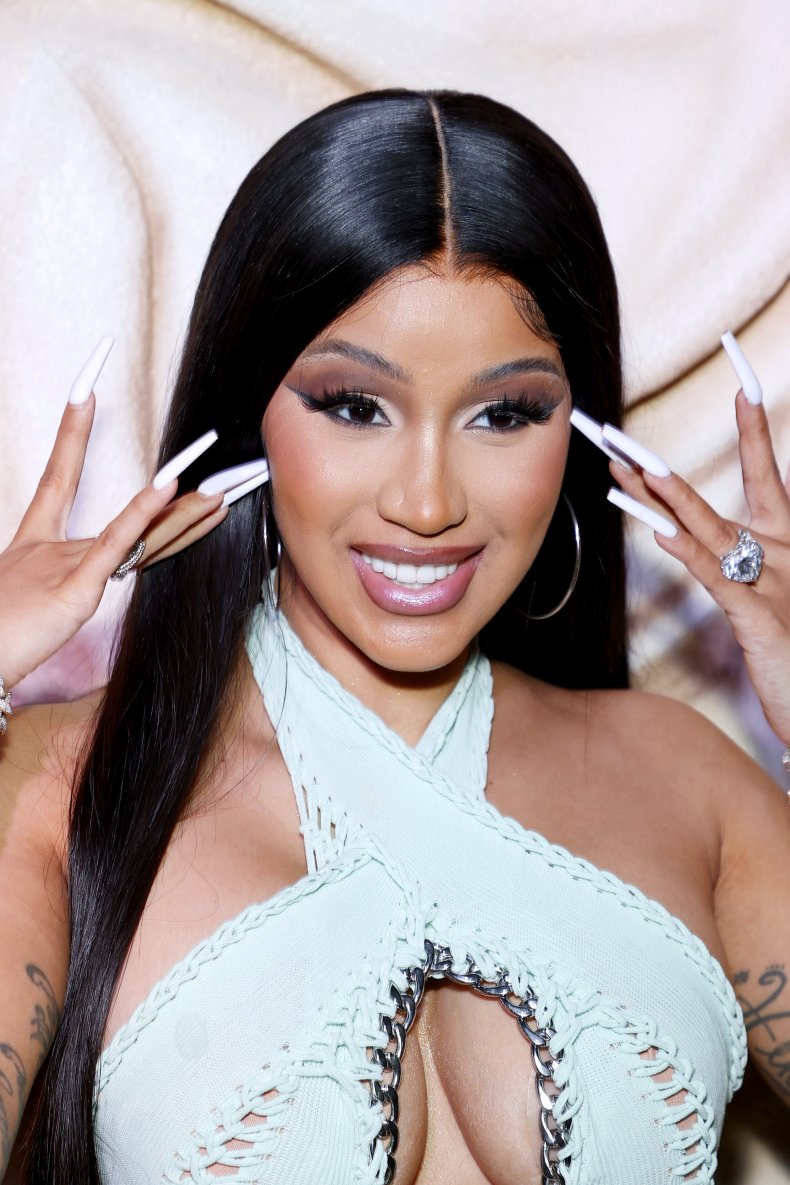 Update 6/16/22, 11:55 a.m. ET: This article was updated with comment, video and photos from McCarragher.