Mom Fatally Shoots Intruder, Claims She Was Protecting Her Children
A mother in Milwaukee fatally shot a male intruder who broke into her house Monday morning, claiming that she was trying to protect her children.
The mother, who was unidentified, told local news station TMJ4, that she was in the shower when she heard children, a 12-year-old and a 14-year-old, screaming from the living room.
This comes as the U.S. Department of Justice in July said there are 2.5 million burglaries annually in the United States, and 66 percent of these are home invasions.
In a quick response, she grabbed her gun from her bedroom and ran over to face the intruder who was already being attacked by her two dogs, but still he "wouldn't stop coming."
"I knew I'd be able to do it [shoot the intruder]," she said, according to the news station. "To protect my kids."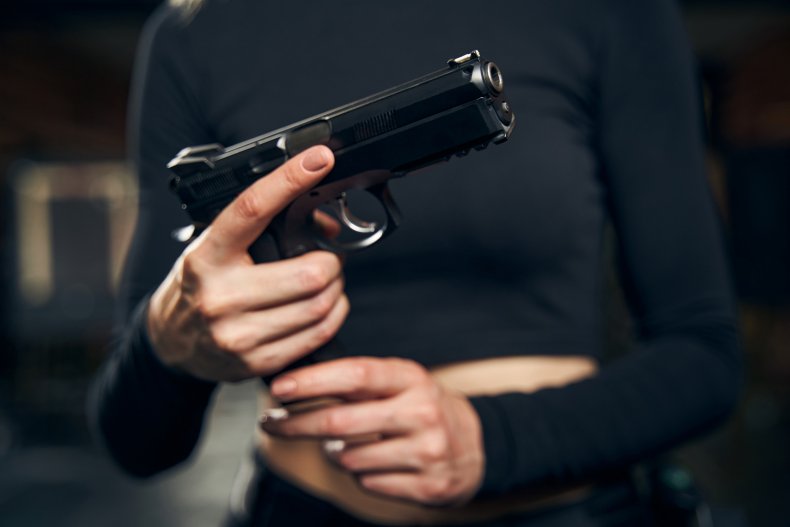 "It all happened so fast—an adrenaline rush," she said, adding that the intruder seemed to be in his late 30s and that he was being erratic. One neighbor called her a "hero."
"She was scared because her children were there with her. So, she did what any mother would do. She defended her children," local community activist Bushraa Rahman said, according to NBC 11 News. "It was an act of self-defense."
The Milwaukee police arrested the woman following the incident, but they released her several hours after questioning her. They didn't reveal any information about the man and said that the incident will be referred to the District Attorney's Office, according to TMJ4.
Meanwhile, the mother noted this is not the first time someone broke into her house. She said that she bought her gun 10 years ago after finding a man sleeping under her son's bed. No details were revealed about the events that unfolded at the time or whether they were living in the same house that the intruder broke into this week.
The mother said she was hoping she would never need to use the gun when she bought it and said that the family plans to move out once they find a new house.
"In today's day and age, with mental health and everything else that's taking place in the world, I mean, you better protect yourself. To be honest, you have to," said Rahman, who also helped clean up the scene when authorities removed the body.
Newsweek reached out to the Milwaukee police for comments.
What Do I Do In A Home Invasion?
Whether or not to shoot home intruders has been a subject of debate recently after a home intrusion in Florida when Santa Rosa County Sheriff Bob Johnson encouraged homeowners to shoot home invaders in case of break-ins.
Johnson gave this advice after a man was arrested for allegedly breaking into several homes. The alleged intruder was arrested in April after one homeowner fired multiple gunshots at him.
Another mom fought off a registered sex offender who allegedly broke into her home and snuck into her daughter's bedroom.
According to Military.com, "the most effective" home defense weapon is your brain.
"No matter what type of home defense weapon you use, you have to be able to think tactically," the article says. It went on to offer five tips for surviving a home invasion.
Five Tips For Surviving Home Invasion
"You need to develop a code word that will tell your entire family that it's time to spring into action. You don't need to make up some kind of secret code. The word 'escape' works very well and is simple and straight to the point. Forget about 'red wolf' and use something simple.
Designate a 'safe room' in your home where everyone can go at the same time. This room should be stocked with several specific items that will help you survive the upcoming fight. The list of items isn't that long, but the list is outside the scope of this article. The one thing that you must have in this room is a phone that can be used to call the police.
Do not, under any circumstances, leave the safe room. If you have your family in the room with you, resist the urge to put on your cape and fight the invaders single-handedly.
Develop a "fatal funnel." If you are using a gun for home defense, position yourself in a corner of the safe room that is on the opposite side of the door. This will give you the maximum amount of time to decide if you're going to shoot, because you'll be the last thing the intruders see when they burst through the door. In this instance, you have the advantage because they will have to make an assessment of the room before they make a move. You only have to decide if you're going to shoot or not. You will know that it's either the police coming to your rescue or the bad guys coming to harm you. Just make sure you don't shoot the police.
Stay in the safe room until the police arrive, no matter how long it takes. Even if you are pretty sure the home invasion is finished and the intruders have left, do not leave the safe room. You can't be sure that the attackers aren't lying in wait to take your family by force to hold them hostage or cause harm. Stay in the room until the police have cleared the house and tell you to come out before you decide the home invasion is over."