Mom Refusing To Watch Stepkids So Husband's Ex Can Attend Wedding Cheered
Co-parenting can be tricky, especially when Mom and Dad don't get along.
A Mumsnet user asked fellow parents if it was unreasonable to reject a last-minute babysitting request from her husband's ex, which would ruin her plans for a "mummy weekend" with her own son.
Posting to the popular parenting site's AIBU (Am I Being Unreasonable?) forum on August 22, user Crockoff explained that she and her husband have ongoing issues with his ex, who frequently expects the couple to change their plans at the last minute. Her husband shares two children with the woman, who are 8 and 10 years old.
Blended Families Are on Rise
Research has suggested 113.6 million Americans have a step relationship, with 10.5 million stepfamily households in the U.S. (including unmarried cohabiting couples). An estimated third of all marriages become stepfamilies, including 15 percent of first marriages.
Data collected by the Pew Research Center in 2015 gave an overview of how American families are changing. In 2014, families where children who live with two parents in their first marriage represented 45 percent of households, compared to 73 percent in 1960. There was instead an increase in single-parent families (26 percent against 9 percent in 1960). Meanwhile, some 15 percent of children were living with parents in a remarriage in 2014 and 7 percent were living with cohabiting parents.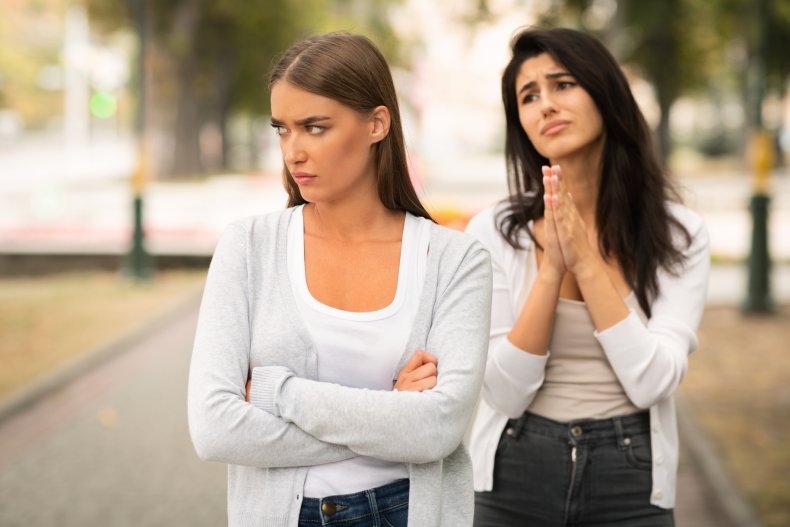 In 2020, the Pew Research Center explored Americans' attitudes to these changing familial structures. Although 30 percent felt it was a good thing and 16 percent said it was a bad thing, 45 percent felt that it "made no difference."
Earlier studies suggested that a co-parenting relationship can decline when one parent finds a new partner, with an increase in arguments over property, custody and child support.
A 2013 study found that the likelihood of conflict is heightened if one half of the former couple repartners quickly. However, time doesn't heal all wounds, with some people still angry when an ex repartners years after the divorce took place. A small number believed that their ex was being purposefully difficult in response to them entering a new relationship, with issues with exes overflowing into their current partnership.
'I Just Don't Want To'
As her husband needed to travel for work this weekend, the poster had planned a special weekend with their 5-year-old son.
She wrote: "I'm actually really looking forward to it! We have a young son together who is 5 and my plan was to have some well needed down time together.
"I've booked the cinema Friday night and was going to take him shopping on the Saturday for some treats and go out for tea together.
"He's really looking forward to his 'mummy weekend' as he calls it."
However, her husband's ex has been invited to a childfree wedding on Friday, and has asked him if he can take the kids. As their dad is away, the ex has asked the poster to care for them instead.
She said: "This is where its hard. She's difficult sometimes.
"If there is something she really wants to do but can't, she gets very nasty and will sometimes refuse to let [husband] see them the next time he's due to.
"She usually comes around quite quickly so he doesn't go without seeing them for long but he'll go through a day or so of stress trying to reason with her."
To prevent "the stress of dealing with his ex," Crockoff's husband has asked her to cancel her plans and take the children for the weekend.
"[He's] asking me to do it for him," she said. "But I just don't want to.
"I hate that this woman can control my life like this and I'm just expected to meekly change my plans around hers whenever she snaps her fingers."
Although she likes her stepchildren, the poster said she is "resentful" of their mother, as she "thinks she is in control of everyone."
"I want to focus the time entirely on my son and spoil him a bit," she said.
Mumsnet users agreed that the poster shouldn't give in to her ex's demands, with coconutpie telling the woman: "It's not your problem."
"You have plans, say no," she said. "Enjoy your weekend with [your son]."
Bonheurdupasse agreed, writing: "She will relent [to] your [husband] seeing the kids the weekend after or whenever, she'll soon want her child free time."
"You are not unpaid childcare," commented Glittertwins.
While Whiskeypowers said the husband needs to step up and solve the problems with his ex, not the poster.
"Your husband is out of line for putting this onto you," she wrote. "He needs to manage his relationship with HIS ex wife and THEIR kids, it's not your job. They're both taking advantage of you."
Newsweek was not able to verify the details of this case.
If you have a similar family dilemma, let us know via life@newsweek.com. We can ask experts for advice, and your story could be featured on Newsweek.