A mother-of-three who lost her job during the pandemic revealed how she used the money to travel the United States with her family in a converted school bus.
​In 2019, Mandy Smith, 41, from Athens, Georgia, was working as a high-flying marketing executive while caring for her three children; Sierra, 15, Christopher, 10 and nine-year-old Logan.
Despite having successful careers, she and her husband Joe, 41, found themselves dissatisfied with their work-life balance, with Mandy admitting she found more satisfaction out of her job than her family life.
The family decided to risk it all, selling their home shortly before the Covid-19 lockdown and moving into a converted school bus to travel around the country.
While the mom initially planned to work while living in the bus, after losing her job in June 2020, the family began traveling around the country relying on the profits from the sale of their house and Mandy's severance pay.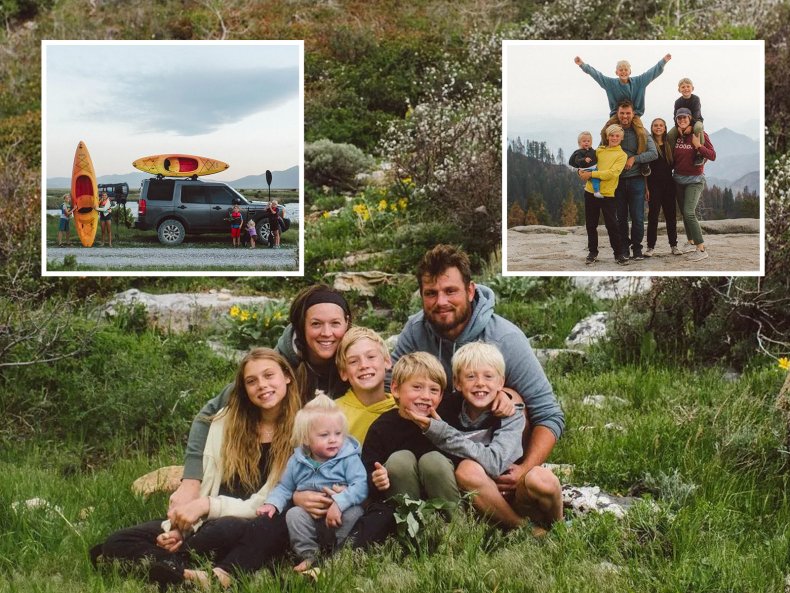 She told Newsweek: "It's hard to think that our experience is rare because this is just our life right now. Most of the friends we have we have made on the road and are living the nomadic lifestyle too.
"We have found that by doing this we have exposed our children to not just amazing experiences but unique people and new ideas that we wouldn't have had in our mostly-white, middle-class suburban neighborhood."
Mandy and Joe met when they were teenagers in Atlanta at a church dance and soon after went on their first date to see the famous laser show at Stone Mountain Park. After the date, Joe invited Mandy back to the apartment he shared with his older brother, but she declined and the pair didn't see each other again for seven years.
Nearly a decade later, the pair met once again at a bible study for young single adults in Atlanta. Joe had served four years in the United States Army while Mandy had gone to college in Utah before heading to Chicago for her first job as a sales manager for Hilton Hotels.
The pair kept in touch while Mandy lived in Chicago and after a year and a half, she returned to Atlanta and were "inseparable" from that moment. They were married 18 months later, in January 2007.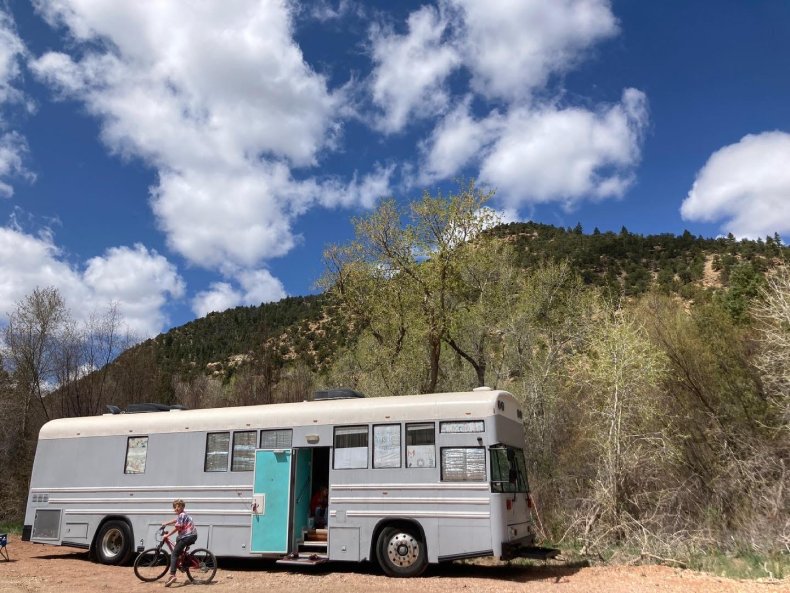 After becoming parents the couple moved to Athens in Georgia, where Joe worked as a pharmacist and Mandy as a Global Sales Director for Hyatt Hotels. However, as their kids got older, the pair became concerned about the amount of family time they had together.
"We were both extremely successful in our careers," said Mandy. "We had it all. A beautiful family, beautiful home, well respected and successful in our careers and making the money we wanted to sustain our lifestyle and then some.
"We were always busy, whether it was work, or running the kids to theater class, soccer, or church activities. While I worked full-time out of the house and Joe at the pharmacy, we had a full-time nanny essentially raising our kids. I saw them throughout the day and did the mornings and evenings with them.
"Joe typically came home after they were in bed or lacked the patience after a long day at work due to the bedtime routine with toddlers so he would come home after they were in bed. As I became more successful in my career I found myself traveling more and more and was finding more fulfillment in my career than I did with my family."
In 2019, Joe and Many stumbled across an article about a family who moved into a 'skoolie'—an old school bus that has been converted into a motorhome.
Mandy explained: "It was like a light went off in my head and I said: 'We could do that!' Our kids were young enough that it wouldn't mess them up if we took them out of school and we really needed the time to reconnect and reestablish our life as a family. At that time our marriage was rocky and if we were going to make it we needed a change."
In 2019, Joe quit his job as a pharmacist and the family began looking for their dream motorhome. That September the family put their home up for sale and managed to close in December.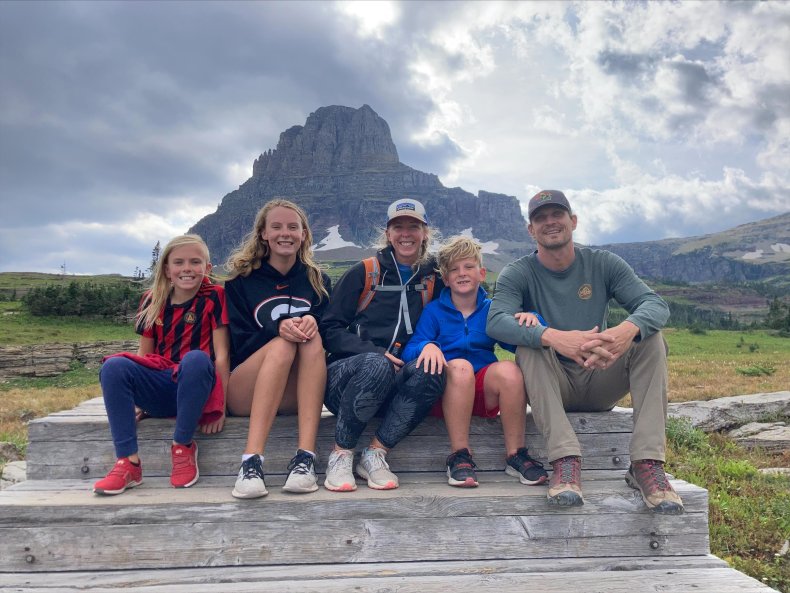 By February 2020, the couple had purchased their bus, which had almost entirely been converted into a mobile home, after spotting an advertisement on Facebook and spending six months negotiating with the seller.
"It was incredibly intimidating but we knew it was the right thing for our family", said Mandy. "We had lived in the same house for eight years. Two of our three kids were born in Athens and we had an established life there. But we felt comfortable in what we were doing even though there were some hiccups along the way."
Many had every intention of working after setting off on the road, even setting up an office in the back of the bus while Joe would act as "stay-at-home-dad extraordinaire and homeschool dad."
However after Covid hit, Mandy was placed on furlough for the months of April and May. As of June 1, 2020, she was out of a job.
"We took the time, the severance, and the money from the house sale to just live and it's been amazing and such a gift to not have to work, enjoy our family and figure it all out," said Mandy.
"Also, the bus was breaking down A LOT that first year and so it was nice that I didn't have work stress while Joe was doing the dad, school, and bus fixing thing."
For the first year of their travels the family didn't have solar power or a generator, so would spend around $30-$50 per night staying on state park campgrounds and RV parks. Plus the price of gas, the couple were paying nearly $1000 per month.
However, during their second year of travel, the family invested in a generator and solar panels, while almost exclusively boondocking.
Mandy explained: "There are times when it's just too hot not to run the AC 24/7 so we got to an RV park to plug up and beat the heat. Typically we would be chasing the weather but this year gas prices have us moving a little slower.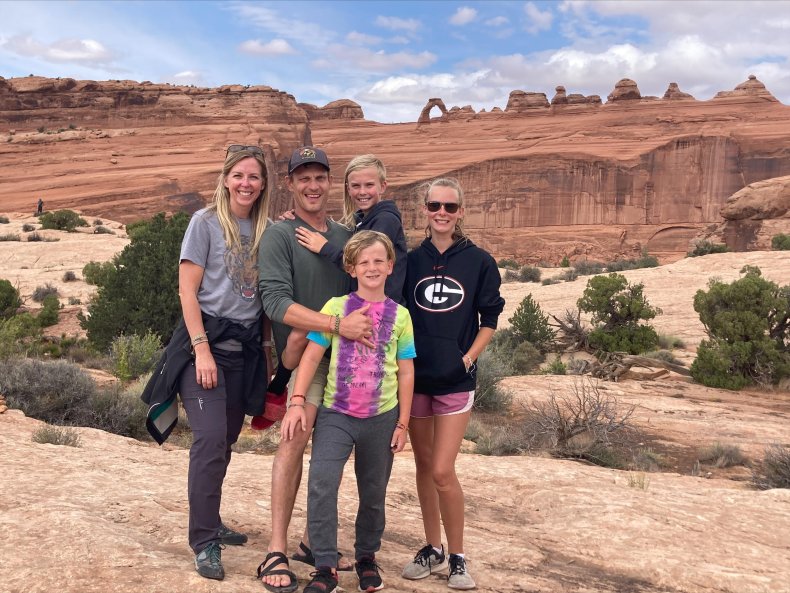 "We typically don't do "touristy" things when we travel. We look for free or low-cost things to do. We're not going to the tourist traps and doing the 'big ticket' attractions because we're not on vacation, we are just living and we happen to move around while we do that."
Mandy and Joe started homeschooling their kids just before they sold their house in the winter of 2019 and continued as they began living on the bus, admitting it took some time to find their rhythm.
The mom explained: "We tried a few different curriculums, had big plans for how amazing home school would be, and we even unschooled for a bit. We love the idea of child-led learning but when we turn that into 'school', especially for our teenagers, it took all the fun out of their interests.
"We learn everywhere we go. We rely on the information we find in park visitor centers, youtube videos about places we visit, plaques on the side of the road, etc to learn about where we are. If they can read, write and do math we feel like we are ahead of the game.
"We took them out of school because it is such a waste of a child's day to sit in school for 8 hours. My kids are so cool. They can talk to anyone about anything. They aren't shy. They are articulate and curious."
The mom ensures her children are learning for at least an hour or two, plus read for an hour every day, and places emphasis on each child's individual interests.
She added: "We do year-round school because we skip so many days when we are doing amazing things or seeing amazing places so we just work it in when we can."
The parents hope their children will remember the incredible experiences they've had and people they've met on the road, as well as believing "you can go anywhere you want as long as you are willing to take that leap of faith."
She added: "We don't want to be "normal", we always want to push that barrier because being normal is boring and predictable and what other people want you to be. We want our kids to remember that they can create their own future and they can love it on their terms."