Mom Sues Walmart After 6-Year-Old Died in The Parking Lot
A Minnesota woman has pinned the death of her 6-year-old daughter on Walmart, alleging the company's overnight parking policy led to the fire that killed her child.
Essie McKenzie filed a civil lawsuit against Walmart in June, according to local station KSTP-TV. Around 7 a.m. on August 6, 2019, McKenzie left her two daughters napping in her parked car while she shopped at a Walmart in Fridley, Minnesota. The girls were tired after she had brought them along to drop off relatives at the airport early that morning, so she decided to let them keep sleeping while she shopped for groceries, McKenzie said in her lawsuit.
Unbeknownst to her, a California couple traveling through Minnesota had parked next to her car. They had spent the night in their Dodge Caravan, parked in Walmart's lot, and used a portable stove to make breakfast that morning. However, they put the stove back in their van before it had fully cooled off.
The van caught fire and flames quickly engulfed other cars nearby, including McKenzie's.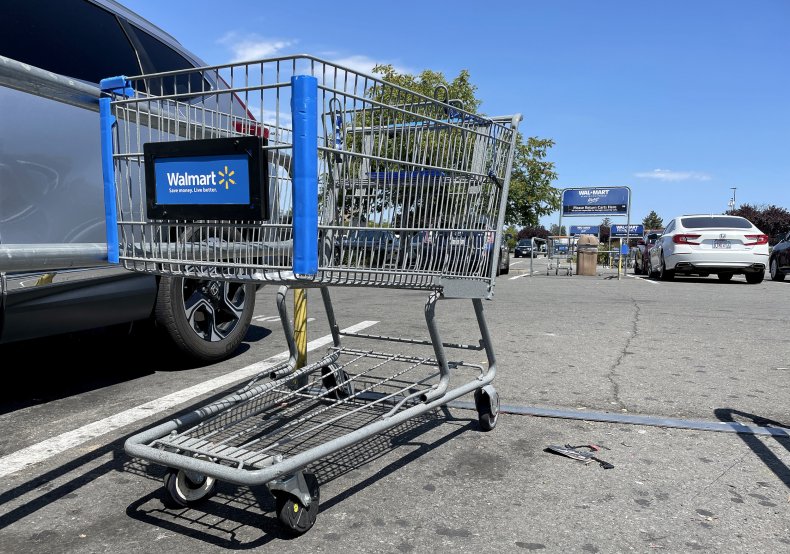 Her 6-year-old daughter Ty'rah died from her injuries in the fire. Ty'rah's 9-year-old sister Taraji survived with severe burns and lung damage. She would be physically and emotionally scarred for life, said McKenzie's lawsuit.
Robert Hipolito, who had used the portable stove, was initially charged with second degree manslaughter but struck a plea deal for two felony counts of negligent fire. He was sentenced to four months in prison and three years of probation in August 2020.
Now, McKenzie has said that Walmart's negligence is responsible for her child's wrongful death. Her lawsuit accuses the company of failing to monitor overnight campers in its parking lots, alleging that Walmart "escalated the danger to create a foreseeable risk that Mr. Hipolito would use and store a cook stove negligently and thereby cause harm to others."
The mother said her 6-year-old's death and 9-year-old's permanent injuries came as "a direct and proximate result of [Walmart's] wrongful acts."
The company's website notes that overnight camping is allowed in its parking lots, stating, "Walmart values RV travelers and considers them among our best customers. Consequently, we do permit RV parking on our store parking lots as we are able."
A Walmart spokesperson told Newsweek, "Our sympathies remain with the friends and family impacted by this tragic event three years ago. We plan to defend the company and will respond in Court to the Complaint as appropriate."
Walmart's parking lots have borne witness to multiple crimes that gained national attention.
In February, a shooting injured two people in the parking lot of a Walmart in Waukegan, Illinois.
Another shooting broke out while several hundred people were gathering at a Walmart parking lot in Rochester, New York, in June 2021. An 18-year-old man was killed and three people were injured.
And back in 2019, a couple was arrested for cooking meth in a Walmart parking lot in Converse, Texas.
Newsweek reached out to McKenzie's attorney William Starr for comment.