Two people were injured in a shooting in a Walmart parking lot on Saturday afternoon.
First responders arrived at a Walmart in Waukegan, Illinois, at around 1:30 p.m., and found two people had been shot, according to Waukegan Fire Department Battalion Chief Anthony Soler.
Fire officials transported one adult male who had been shot multiple times to a hospital. The man was in critical condition, Soler told Newsweek Saturday evening.
Another person who was injured in the shooting went to the hospital separately, though the fire department didn't have information about his condition.
In a news release about the incident that the Waukegan Police Department provided to Newsweek, the department said it believes that individuals in an SUV and a sedan "had an altercation at the retail store parking lot and shots were fired."
"Both the SUV and the sedan then fled the scene," police wrote.
"The motive to this shooting is unknown. This case is open and active with information unfolding quickly," they added, though they noted they do not believe "there is any threat to the community from this incident."
Police said that when they arrived at the scene on Saturday afternoon, "officers located evidence to a shooting, but no victims."
"Moments later a multiple vehicle crash was reported a short distance away from the retail store. One of the vehicles involved in that crash was an 'SUV'. The SUV was occupied by a driver and a passenger. The passenger appeared to be shot," the news release states.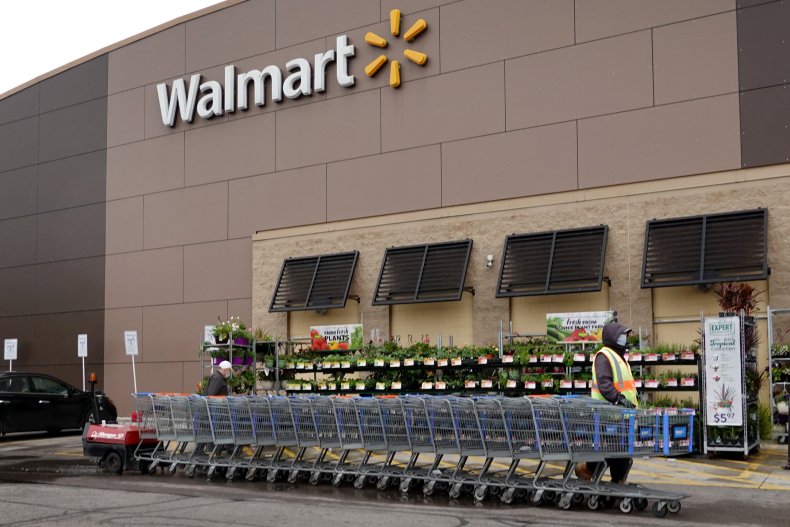 The driver of the SUV has been taken into custody and the passenger was taken to a hospital and treated for serious injuries "believed to be from a gunshot(s)" police said.
Soon after, police said, a sedan arrived at a hospital and dropped off a second gunshot victim who is in stable condition.
Police said both victims of the shooting have been described as men in their 20s.
In a separate incident this month, police shot and killed a man in a Walmart parking lot in Texas. Officers attempted to make a traffic stop when they spotted a man who was wanted on a felony arrest warrant leaving the Walmart in a vehicle. When officers tried to stop the man, he pulled out a weapon and police opened fire, killing the man and injuring a passenger.
In June, an 18-year-old man was shot and killed in a in a mass shooting at a Walmart parking lot in Rochester, New York. Police said hundreds were gathered there when when a fight broke out and more than 20 gunshots were fired. Four people who were injured had been taken to the hospital in private vehicles by the time police arrived. In addition to the 18-year-old, a 43-year-old man was hospitalized with life-threatening injuries, and two other reportedly suffered non-life-threatening injuries.