'Struggling' Mom-of-2 Asking Ex-Partner for Half of His Wage Dragged
Money may be tight for many people right now, but a mother has been slammed online for expecting her children's father to give her half of his salary.
The mom-of-two posted on the advice forum Mumsnet, under the handle AliceNutter. She asked fellow users if she is being unreasonable "to ask ex-partner for half his wage?"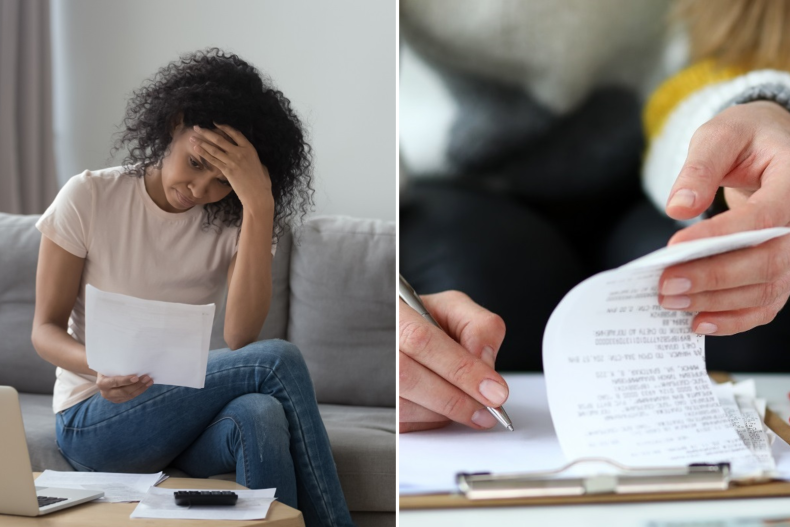 Money worries are a major concern for many families at the moment as prices rise exponentially. The American Psychological Association found in their annual survey that inflation is a source of stress for 83 percent of U.S. adults. And 57 percent said that their main financial concern is having enough money to cover their costs.
The Mumsnet user explained that she has two teenage children with this man, but he left around 10 years ago. "He has had a child with the person he left me for, but kept them a secret until last June, so he hasn't done any weekends up until then. So I've done it all alone," the poster wrote.
"He's asked me how much I want from him, but the thing is, this time around I'm really struggling for money. My work has taken a massive hit from Covid, plus this cost of living crisis."
The poster's financial concerns have led one of her friends to suggest she ask for "half his money." The mother-of-two now believes this might be a reasonable request.
Evan Schein, partner and head of litigation at Berkman Bottger Newman & Schein law firm in New York City, told Newsweek his thoughts about her suggestion.
Schein said: "There is an old saying, 'You cannot get what you do not ask for.' While it is perfectly acceptable to ask the child's father if he will contribute towards the expenses, the father may not be willing to part with half his salary.
"Coming to an agreement on child support outside of the court system is preferable in most instances," he added. "Generally, there is a formula and a process for determining monthly child support and the amount of financial support payable by one parent towards the custodial parent. This varies from state to state."
While Schein said that asking the father to part with half his salary seems extreme, it is more than reasonable to request he contribute towards the children. He also suggested that if it becomes problematic, the mother can go down other avenues to ensure he pays for the children.
Schein added: "If the father is not willing to pay support voluntarily, there are other mechanisms to securing child support, such as formally requesting financial support through the court system."
Among the numerous replies to the Mumsnet post, many of the users were very realistic about the mother's chances of getting half of her ex-partner's salary. They suggested it is "unreasonable," and the majority instructed her to seek payments through the government Child Maintenance Service instead.
One user wrote: "I'm afraid that asking for half his wage is fantasy, especially when he has another child to support." Another commented: "You can ask for half, not sure a court in the land would give it to you though."
Do you have a monetary dilemma? Let us know via life@newsweek.com. We can ask experts for advice, and your story could be featured on Newsweek.