Moment Nick Fuentes Gets Kicked Out of CPAC by Security Goes Viral
Video showing the moment that white nationalist Nick Fuentes was removed from the Conservative Political Action Conference (CPAC) by security has gone viral.
Fuentes was kicked out of the major gathering of conservatives in National Harbor, Maryland on Thursday and his views were later condemned by CPAC chairman Matt Schlapp in a statement.
The incident came ahead of former President Donald Trump's headline speech at the event on Saturday and as some of his rivals for the 2024 Republican presidential nomination are also in attendance.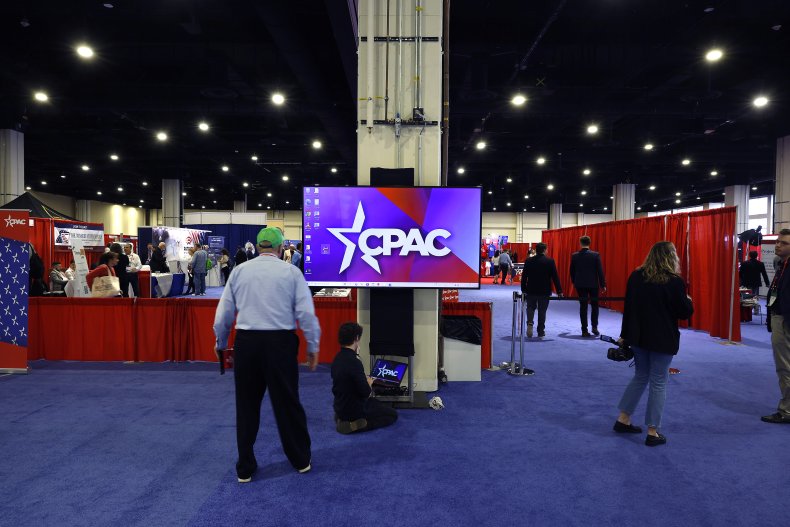 The video of the moment Fuentes was removed, shared to Twitter by media organization Current Revolt, had been viewed more than 58,000 times as of early Saturday, while the tweet itself had been viewed more than 160,000 times.
In the footage, Fuentes can be seen in the corridors of the Gaylord Hotel being escorted out by what appear to be security personnel.
"Nick Fuentes has been kicked out of CPAC by hotel security. He was also removed out of his hotel room," the tweet said.
The Anti-Defamation League describes Fuentes, who has expressed antisemitic views, as a white supremacist leader and organizer.
In a statement on Friday, Schlapp said: "We removed Nick Fuentes from his attempt to attend our conference. His hateful racist rhetoric and actions are not consistent with the mission of CPAC."
"We are pleased that our conference welcomes a wide array of conservative perspectives from people of different backgrounds, but we are concerned about the rise in antisemitic rhetoric (or Jew hatred) in our country and around the globe, whether it be in the corridors of power and academia or through the online rantings of bigots like Fuentes," Schlapp said.
Fuentes shared an image of that statement on messaging app Telegram on Friday, commenting: "Ah yes we all know CPAC is reserved for sexual gropers."
That appears to be a reference to a lawsuit that was filed against Schlapp in January that alleges he engaged in sexual misconduct against a Republican operative, which Schlapp's attorney has said is false.
Fuentes also wrote on Telegram that he "just got kicked out of CPAC" and referred to himself as the "Most Cancelled Man in America."
CPAC is a major event for conservatives and has featured a number of elected officials and national figures. Trump will address CPAC on Saturday in a highly anticipated speech after some of his rivals for the GOP's 2024 presidential nomination spoke.
Former U.S. Ambassador to the U.N. Nikki Haley, who is running for the nomination, delivered a speech at CPAC on Friday but she was also met with chants of "Trump!" while posing for photos, and entrepreneur Vivek Ramaswamy, who's also seeking the Republican nomination, delivered a speech at the event on Friday.
The former president is scheduled to take to the stage at 5.25 p.m. E.T.
Newsweek has reached out to CPAC for further comment.