Donald Trump Makes Big CPAC 2023 Speech Under Pressure
Former President Donald Trump will deliver a major speech on Saturday on the final day of the Conservative Political Action Conference (CPAC) in National Harbor, Maryland.
Trump will address the gathering of conservatives as the race for the 2024 Republican presidential nomination heats up, with two other prominent candidates already in the race.
The former president has touted recent polls that show him leading the field of potential GOP 2024 candidates but he's also facing pressure from ongoing investigations into the events of January 6, 2021, his handling of classified documents at his Mar-a-Lago residence in Florida, and other matters.
Special Counsel Jack Smith is probing both cases and has been tasked with determining whether criminal charges should be filed, while Georgia's Fulton County District Attorney Fani Willis is investigating Trump's alleged attempts to overturn the 2020 presidential election.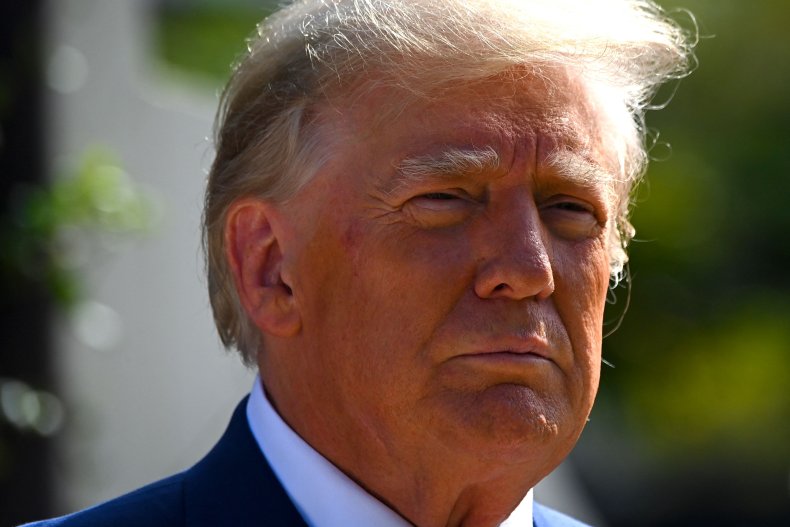 Trump may want to use his CPAC speech on Saturday to lay out his vision for his new presidential candidacy as he hopes to clear the field with less than a year before the first primary contests.
He's set to headline CPAC 2023 on Saturday and is scheduled to take to the stage at 5.25 p.m. E.T. for an address that is likely to be closely watched by supporters and rivals alike.
One of those potential rivals, Florida's Republican Governor Ron DeSantis, will not be attending CPAC this year and is instead due to address a Club for Growth event for donors in Palm Beach, Florida.
The Club for Growth event is also being attended by former Vice President Mike Pence, who is widely expected to jump into the presidential race and has been publicly criticized by his former boss.
DeSantis has not yet formally declared his intention of running for the 2024 Republican nomination but he is widely considered Trump's strongest opponent within the party.
However, the former president received a boost in a Yahoo News/YouGov poll from February 23 to 27 that showed him leading DeSantis among Republicans and Republican-leaning independents with 47 percent support to the governor's 39 percent.
That's a notable improvement on a Yahoo News/YouGov poll that asked the same question from February 2 to 6 that showed DeSantis leading among the same group with 45 percent to Trump's 41 percent.
On Friday, Trump touted a Cygnal poll conducted from February 24 to 27 among likely Republican primary voters that showed he was preferred by 64 percent of that group over a "different candidate" on 31 percent support with 5 percent undecided.
Those polls don't appear to have deterred rival candidates for the GOP nomination, some of whom have been attending CPAC.
Another Trump rival who has formally entered the race, former U.S. Ambassador to the U.N. Nikki Haley, delivered a speech at CPAC on Friday but she was also met with chants of "Trump!" and "We love Trump!" as she posed for photos.
Entrepreneur Vivek Ramaswamy, who is also seeking the Republican nomination, delivered a speech at the event on Friday, while longshot candidate and Michigan businessman Perry Johnson spoke from the main stage on Thursday and is planning to launch a campaign bus tour.
Speaking at CPAC on Friday, former Secretary of State Mike Pompeo, who served under Trump, appeared to take a swipe at the former president over the U.S. national debt.
"Every recent administration, Republican and Democrat alike, added trillions in dollars to our debt. That is deeply unconservative," Pompeo said.
He added that the "Trump administration, the administration I served, added $8 trillion in new debt. This is indecent and can't continue. Earning back that trust will be hard work, it won't just be a campaign speech."
The national debt rose by around $7.8 trillion during Trump's time in office.
Pompeo is another Republican who's seen as a potential candidate for the presidential nomination, though he has not declared a campaign. His veiled criticism of Trump may be another indication of his intentions.
The former president's speech can be viewed via a live stream on CPAC's website, as well as on CSPAN's website and elsewhere.
Newsweek has reached out to Trump's office for comment.