Donald Trump Receives Huge Polling Boost Before Pivotal CPAC
Former President Donald Trump has received a boost over his potential rivals for the 2024 Republican nomination ahead of his address at the Conservative Political Action Conference (CPAC) this week.
A new Yahoo News/YouGov poll shows that Trump has surged ahead of Florida's Republican Governor Ron DeSantis, who is widely seen as the former president's strongest opponent for the GOP nomination.
The survey found that in a head-to-head matchup, Trump leads DeSantis among Republicans and Republican-leaning independents with 47 percent support to the governor's 39 percent. A further 13 percent said they weren't sure, while 1 percent said they wouldn't vote.
Polling was conducted among 1,516 American adults from February 23 to 27, while the figures for a Trump/DeSantis contest represent a swing in Trump's favor since a Yahoo News/YouGov poll asked the same question from February 2 to 6.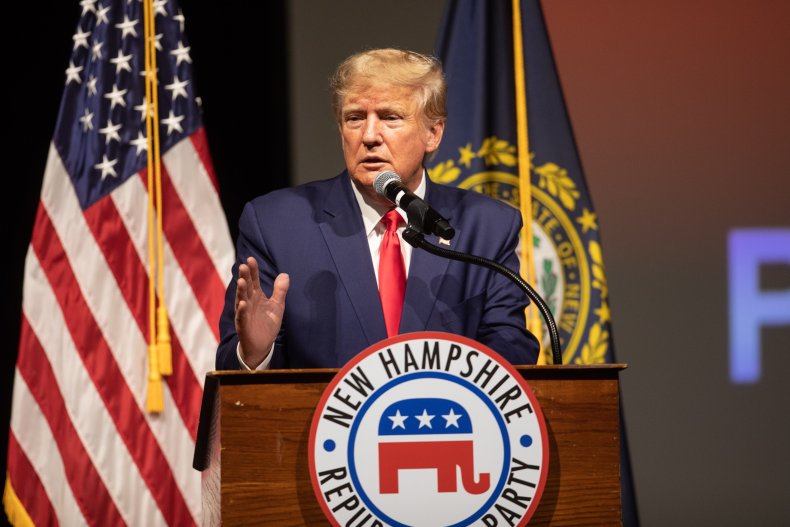 In the previous poll, DeSantis lead Trump among Republicans and Republican-leaning independents with 45 percent to the former president's 41 percent, with 11 percent answering "not sure" and 3 percent saying they wouldn't vote.
Trump Leads DeSantis and Haley
Trump also leads in a potential three-way matchup against DeSantis and former U.S. Ambassador to the United Nations Nikki Haley. The former president won 43 percent support, DeSantis enjoyed 31 percent and Haley just 8 percent. A further 17 percent of respondents weren't sure and 1 percent said they wouldn't vote.
Those figures also represent a swing in Trump's favor since the previous Yahoo News/YouGov poll where he polled 38 percent to DeSantis' 35 percent, while Haley recorded 11 percent and 15 percent of respondents weren't sure. Just 2 percent said they would not vote in the event of that three-way matchup.
The poll results come ahead of Trump's address to CPAC in Maryland later this week—he's expected to speak on the event's final day—while DeSantis is due to address a Club for Growth event for donors in Palm Beach, Florida this week.
Though Haley has declared her intention to seek the GOP presidential nomination, DeSantis has not formally announced a campaign, though he is widely expected to do so.
A Welcome Poll
The recent survey could that Trump remains the candidate to beat in the Republican primaries, according to Thomas Gift, founding director of the Centre on U.S. Politics, University College London.
"Trump surging by DeSantis in new polling will certainly be welcome news in Mar-a-Lago," Gift told Newsweek."But it's still too early to be focusing on the horse race. Neither's campaign has begun in earnest, and odds are we'll see lots of fluctuation in the numbers between now and the Iowa caucuses."
"With that said, this is more evidence that much of the news we've heard in recent months about Trump losing a grip on the Republican Party seems woefully premature," he added.
Gift said it was "important to keep in mind that this isn't a two-way race. The primaries aren't Trump vs. DeSantis. They're Trump vs. the rest of the Republican field. If other contenders split the anti-Trump vote, and the party doesn't consolidate around a Trump alternative early, that could clear the path for Trump to sweep early winner-take-all states.
"As of right now, this contest still looks like it's Trump's to lose."
Moving on From Trump
The Yahoo News/YouGov poll may be welcome news for Trump and his supporters but a single poll won't decide the contest. Other polling has been positive for Trump but not all of it.
Robert Singh, a professor of politics at Birkbeck, University of London, told Newsweek he "wouldn't read too much into the Yahoo poll, which seems a bit of an outlier."
"It probably reflects Trump's return to media prominence more than anything else substantive, even if a six-point gain for him, and six-point drop for DeSantis, is large. Other polls, and recent focus groups of Republicans, have had DeSantis ahead, and a sizeable share of GOP voters wanting to 'move on' from Trump even if they want a Trumpian policy agenda retained," Singh said.
A recent poll by The Bulwark/North Star Opinion Research showed DeSantis leading Trump in a head-to-head match-up with 52 percent to the former president's 30 percent.
The same poll also showed DeSantis leading with 39 percent in a field of 10 potential candidates, while Trump won 28 percent support and Nikki Haley just 4 percent.
"Probably the key element here remains how many other serious Republicans will enter the race over coming months. The more that do so, the better for Trump, since he will rely—as in 2016—on a divided field splitting the anti-Trump vote and allowing him to prevail with a solid plurality of 30-35 percent of primary voters," Singh told Newsweek.
"The more that the race shapes up early as a two-man battle between him and DeSantis, the greater danger he faces that the younger man will prevail," he said.