Why Ron DeSantis Is Skipping CPAC
The annual Conservative Political Action Conference (CPAC) is set to hold its latest event this week, but one of the biggest names in the GOP won't be there.
Florida Governor Ron DeSantis, seen as Donald Trump's potential main challenger in the GOP presidential primary, isn't listed as one of the speakers who will appear at the Gaylord National Harbor on the Maryland/Washington, D.C., border on March 1-4.
It was originally reported that DeSantis wouldn't be attending CPAC this year, despite his apparent presidential ambitions, as he will be attending GOP dinners in Texas and California instead. It's also now being reported that DeSantis will be appearing at a donor retreat in Palm Beach, Florida, hosted by influential conservative organization the Club for Growth, held at the same time as CPAC.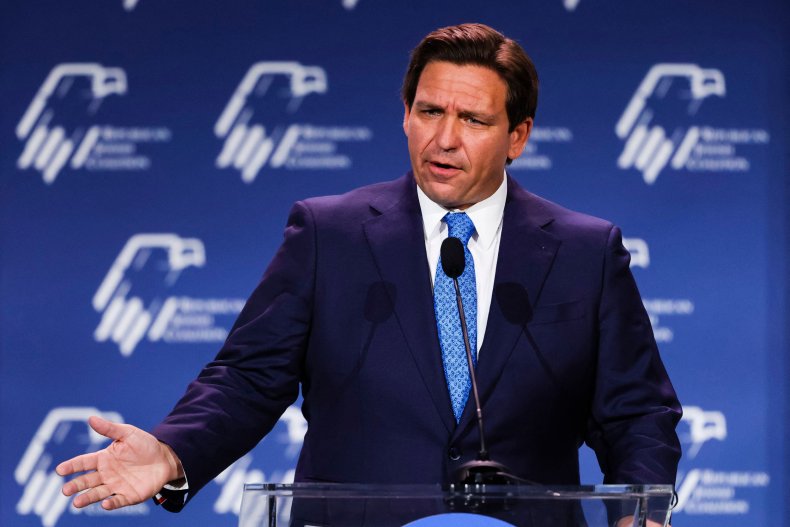 According to Politico, DeSantis will be attending the Club for Growth's retreat this week, along with fellow CPAC non-attendee, former Vice President Mike Pence, as well as South Carolina Senator Tim Scott and New Hampshire Governor Chris Sununu.
Republican 2024 presidential hopefuls former South Carolina Governor Nikki Haley and entrepreneur Vivek Ramaswamy are set to appear at both CPAC and the Club for Growth retreat, as well as Texas Senator Ted Cruz.
DeSantis and Trump avoiding each other by appearing at the separate conservative events is another indication of the potential split within the GOP heading into 2024.
The Club for Growth, on top of a number of other GOP donors, has severed ties with Trump and indicated it will be backing DeSantis should he finally confirm he's running in 2024. It already supported the Florida governor in his 2022 re-election campaign.
In comparison, CPAC, whose speakers this year include a number of MAGA Republicans such as former Arizona gubernatorial candidate Kari Lake and Georgia congresswoman Marjorie Taylor Greene, is continuing to embrace the former president with another headline slot.
It's arguable that DeSantis, who has still yet to officially campaign on a national scale, sees the Club for Growth retreat as more vital than CPAC as the Florida Governor may need the donor money more than Trump in 2024, given the former president has a major war chest at hand, well established name recognition and a base to rely on.
Trump himself dismissed the apparent influence of the Club for Growth and DeSantis' upcoming appearance in a post on truth Social on Tuesday.
"Club for NO Growth is an insignificant group of Globalists who I have beaten badly because of their anti America First views. They will only get the 'stragglers,'" Trump wrote.
DeSantis has been contacted for comment.