CPAC 2023 Speakers, Schedule as Donald Trump Headlines D.C. Event
The annual Conservative Political Action Conference (CPAC) is set to hold its latest event this week, bringing with it a host of leading GOP figures.
The event, which bills itself as the "largest and most influential gathering of conservatives in the world," will begin on Wednesday, March 1, and continue onto Saturday, March 4.
A number of speakers who will appear at the Gaylord National Harbor on the Maryland/Washington, D.C. border have already been announced, including former President Donald Trump, as well as 2024 presidential hopefuls former South Carolina Governor Nikki Haley and entrepreneur Vivek Ramaswamy.
High profile GOP names who are also confirmed to speak at this year's CPAC include Texas Senator Ted Cruz, Florida Rep. Matt Gaetz, Ohio Rep. Jim Jordan, political commentator Candace Owens, and Georgia Rep. Marjorie Taylor Greene.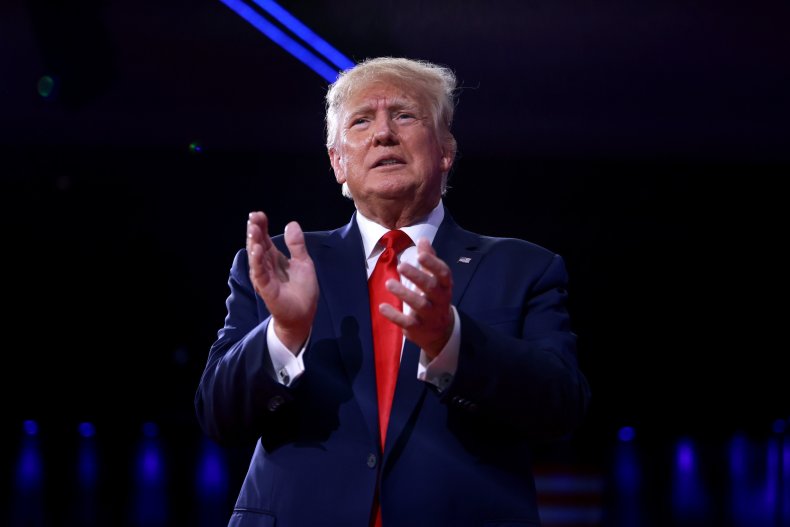 Other confirmed speakers include Indiana Senator Mike Braun, House Oversight Chairman and Kentucky Rep. James Comer, former Secretary of State Mike Pompeo and House GOP Conference Chair Rep. Elise Stefanik.
While a full schedule has not been confirmed, details about some CPAC events and the speakers who will be present have already been released.
Trump is expected to speak on the final day, March 4, as the headliner of this year's CPAC.
Elsewhere, former Arizona gubernatorial hopeful Kari Lake has been confirmed as a speaker for the prestigious Ronald Reagan dinner at CPAC on March 3.
Lake, who is insisting she could be declared the winner of November's midterm race despite courts saying there is no evidence to her claims of voting irregularities, is still seen as an influential figure in the GOP three months after her defeat to Democrat Katie Hobbs, and could yet announce a run for Arizona Senate in 2024.
In a statement, CPAC spokesperson Megan Powers Small described Lake as a "rare leader who captured the hearts of conservatives with her honest, bold message," including strengthening election integrity.
"Kari has been a breath of fresh air into conservative politics. She has an uncanny ability to tell it like it is has given a voice to the silent majority in Arizona and across the country, and we can't wait to have her liven up our CPAC stage at the Ronald Reagan Dinner," Small said.
The keynote speaker at CPAC's 2022 Ronald Reagan dinner was radio host Glenn Beck.
Elsewhere, Colorado Rep. Lauren Boebert will be hosting a "Women's breakfast" event at 8 a.m. on March 4, with tickets available to attendees to buy for $75.
Two notable names who will not be present at this year's CPAC event are former Vice President Mike Pence and Florida Governor Ron DeSantis.
Both men are said to be considering running for president in 2024, which would mean a face off against Trump in the GOP primary.
Pence, who did not appear at CPAC in 2022 or 2021, is said to have turned down an invitation to attend again this year. DeSantis will instead be attending separate events in Texas while CPAC is scheduled.
"It's a missed opportunity for any potential presidential candidate to not address the thousands of grassroots activists at CPAC this year. Luckily, CPAC attendees will get to hear from every announced Presidential candidate and over 100 premiere speakers, including over 30 elected officials," Small told ABC News.