Kari Lake Gives Update on Arizona Election Case Before Supreme Court Battle
Former Arizona gubernatorial candidate Kari Lake said she will soon be taking her election lawsuit to the Supreme Court after an appeals court rejected her challenge to throw out November's results.
Lake, who lost her race to Democrat Katie Hobbs by more than 17,000 votes, has refused to accept the results and has continuously claimed, without evidence, that voting irregularities and misconduct cost her the midterm election.
On February 16, the Arizona Court of Appeals rejected Lake's lawsuit which alleged that problems with printers and tabulation machines and long lines on Election Day in November 2022 resulted in "thousands" of Republican voters becoming "disenfranchised" and not casting their ballots.
In its ruling, the court said Lake's claims were "quite simply, sheer speculation," and that even a cybersecurity witness called by the Republican to testify for her said the ballots that couldn't be read at polling places because of printing issues with the tabulations were eventually counted.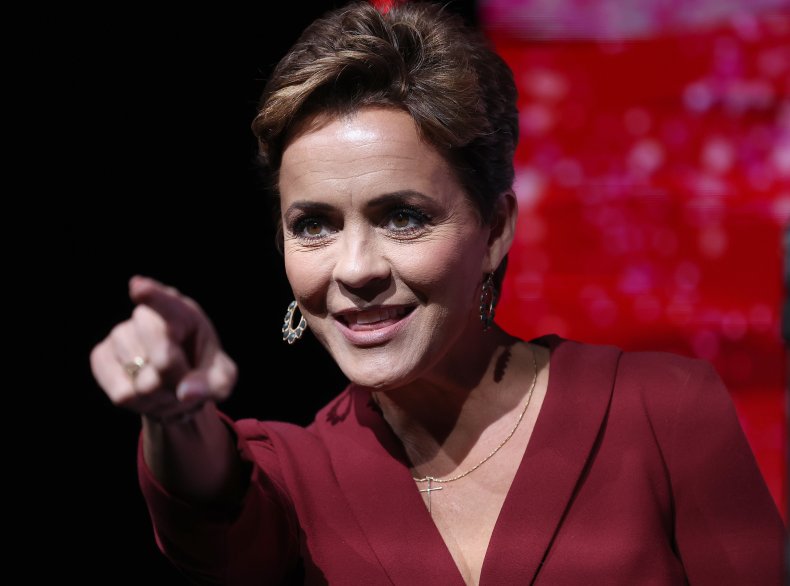 The court ruled that Lake failed to provide any evidence that any Election Day issues cost her the gubernatorial election and that "voters were able to cast their ballots, that votes were counted correctly, and that no other basis justifies setting aside the election results."
In a tweet on Sunday, Lake confirmed she will be taking her case to the Supreme Court.
"We will be filing our case with the AZ Supreme Court by this Tuesday (2/28) and we will be asking for an expedited review," Lake wrote. "As soon as the filings are available I will share them with you. Please pray for justice."
Lake's original appeal was in response to Maricopa County Superior Court Judge Peter Thompson throwing out the lawsuit in December 2022, because she failed to provide any "clear and convincing" evidence of irregularities or misconduct costing her the election.
Paul Bender, professor of law at Sandra Day O'Connor College of Law in Arizona, previously said Lake "does not have any chance of succeeding" in her legal fight.
"The election is over. No court is going to interfere with it anymore, her chance legally of changing the election is zero," Bender told Newsweek.
"In law, there's a phrase, res judicata, means it's been decided. And this has been decided."
Bender added that Lake may only be continuing with her failed lawsuit to raise her profile amid reports she is considering running for the Arizona Senate.
"She seems to have future ambitions as a hot politician. And this is one way of keeping her name alive and maybe raising some money to help her with her next campaign," Bender added.