Kari Lake's Day of Destiny
Former Arizona gubernatorial candidate Kari Lake is set to hear the latest court ruling as part of her long-running but so far fruitless attempt to overturn November's election results.
On Wednesday, February 1, the Arizona Court of Appeals will decide if Lake has a case in her attempts to have the Arizona election results quashed after the Republican appealed a previous decision by a judge.
In December, Maricopa County Superior Court Judge Peter Thompson threw out Lake's lawsuit, which claimed that voting irregularities or misconduct from election workers cost her the election, as her campaign failed to provide any "clear and convincing" evidence following a two-day trial.
However, if the Arizona Court of Appeals Division I rules in favor of Lake, the election results will not be overturned, nor will any new race be called.
Instead, the appeals court is merely deciding if Judge Thompson's December decision is justified, as well ruling on the future trajectory of the lawsuit.
A Page Out of the Trump Playbook
For more than two months, the Donald Trump-endorsed Arizona governor hopeful has refused to accept the results of the midterm race, which she lost to Democrat Katie Hobbs by more than 17,000 votes.
Instead, Lake has taken a page directly out of the former president's playbook by refusing to concede while claiming voting machine irregularities and voter "disenfranchisement" cost her the election.
The move to dispute the results of the election was no real surprise, with the MAGA candidate frequently stating she would challenge the results if they were not in her favor even before the midterm polls opened.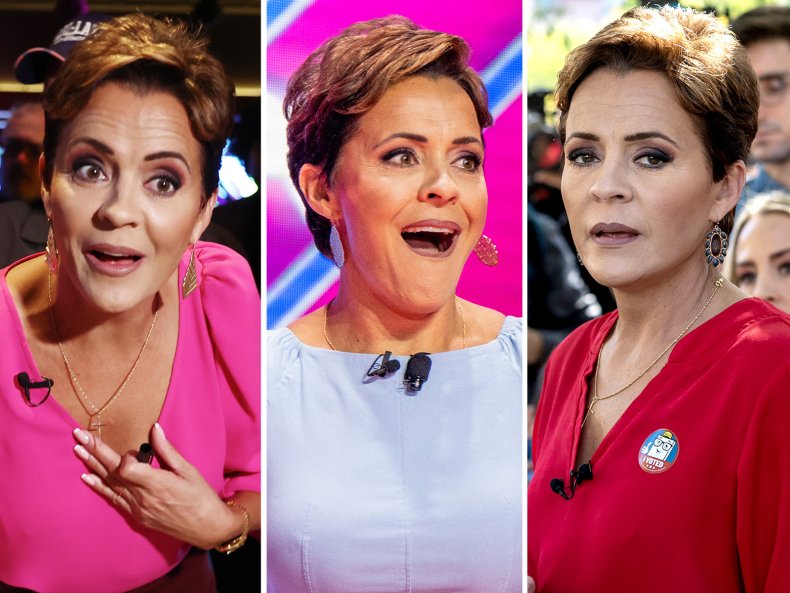 Lake and her lawyers have argued that the problems with printers and tabulation machines on Election Day resulted in "thousands" of Republican voters, who are more likely to vote in person, becoming "disenfranchised" by the process and "thereby rendering the election's outcome, at least, uncertain."
On Election Day in November 2022, there were indeed issues with Maricopa County voting centers malfunctioning, with their tabulation machines not producing dark enough markings on the ballots.
The issues, which were later resolved, contributed to long lines and delays at voting centers. All the affected ballots were collected and officially counted at a later time.
However, one major obstacle in the way of Lake's goal is actual evidence to back up her claims. Newsweek has contacted Lake for comment.
In court filings urging Lake's appeal to be thrown out, Hobbs' lawyers noted that Judge Thompson had already rejected her legal attempt to have the election results thrown out, as despite "seven witnesses, hundreds of declarants, and thousands of pages of exhibits," Lake could not support her claims.
Hobbs' legal team added that not one of Lake's witnesses she brought to argue her case during December's trial "identified a single voter who was unable to vote because of tabulator issues or long lines" and that of the hundreds of voter declarations Lake submitted, only one voter said they "chose not to vote" because of long lines.
'Zero Chance of Prevailing'
David Schultz, distinguished university professor of political science and legal studies at Hamline University, said Lake has "zero chance of prevailing" with her election lawsuit.
"So far Lake has been unable to produce any credible evidence of widespread voter fraud sufficient to cast reasonable doubt that but for the fraud she would have won the election," Schultz told Newsweek.
"In fact, she has been unable to muster any real evidence at all. On appeal she cannot introduce new evidence and instead must show that as a matter of law the lower court erred. Thus, even if she does have new evidence, she may not introduce it."
Schultz added that another issue facing Lake is what is known in legal terms as "laches"—meaning if you delayed making a claim or did not assert it in a reasonable period of time, you have essentially forfeited your right to raise that claim.
Given that Hobbs was sworn in as Arizona governor on January 2, Lake's already small chance of victory seems long gone.
Instead, Schultz suggested that Lake is continuing with her disputed claims to further raise her profile, with suggestions that the Republican may run for Arizona Senate in 2024 against independent Kyrsten Sinema and the Democratic candidate, congressman Ruben Gallego.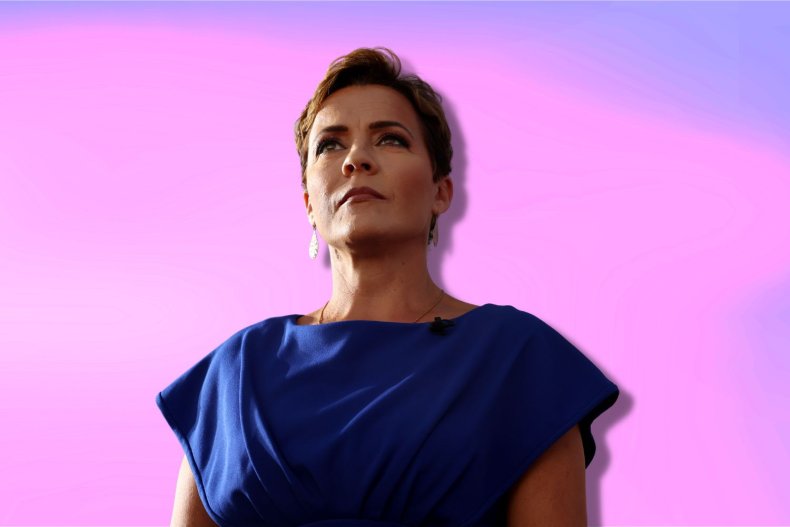 Paul Bender, professor of law at Sandra Day O'Connor College of Law in Arizona, also said that Lake "does not have any chance of succeeding" in her legal fight and is continuing the Trump-esque campaign for political gain.
"The election is over. No court is going to interfere with it anymore, her chance legally of changing the election is zero," Bender told Newsweek.
"In law, there's a phrase, res judicata, means it's been decided. And this has been decided.
"She seems to have future ambitions as a hot politician. And this is one way of keeping her name alive and maybe raising some money to help her with her next campaign," Bender added.
"But if what she wants to do is get a court to install her as governor, or to void the election, it's just too late for that. She's made those claims and she's lost them. You just can't keep litigating something like that."
'I Will Never Stop Fighting for You'
On the eve of the Arizona Court of Appeals' decision, Lake faced potential legal problems after the Arizona secretary of state, Adrian Fontes, asked the state attorney general to investigate whether she committed a felony for tweeting images of voters' signatures.
Fontes claimed that Lake may have broken state law, which states that a voter's signature must not be accessed or shared by anyone other than the voter or an "authorized government official in the scope of the official's duties."
Lake tweeted out the voters' signatures on January 23, while claiming they were part of a "bombshell" that showed mismatching signatures that shouldn't have been counted. The signatures in question are from 2020, and not the 2022 Arizona gubernatorial election.
Lake is also not the first person to have shared the signatures, and they were presented to the Arizona state Senate by a right-wing, election denying group earlier in January.
In a tweet following Fontes' deferral, which may not result in any investigation, Lake tweeted: "COINCIDENCE? The day after THOUSANDS showed up to our Save Arizona Rally, the Corrupt Cabal in AZ threatens to throw me behind bars for exposing Fraud in the Election.
"Why? Because our Movement threatens their very existence. I will never stop fighting for you. Ever."