Donald Trump Predicts Kari Lake Will Be 'Victorious' in Rally Phone Call
Donald Trump called former GOP candidate for Arizona governor Kari Lake during her rally on Sunday, saying that she will be "victorious" in her attempts to reverse the result of November's election.
The former president spoke to the crowd on the phone at Lake's "Save Arizona" rally at the Orange Tree Resort in Scottsdale.
During the event, the Trump-endorsed gubernatorial candidate continued to push false election fraud conspiracy about the race she lost to Democrat Katie Hobbs in November 2022.
Speaking to the crowd, Trump said that Lake will be "victorious" in her attempts to reverse the election results via the courts despite her claims about voting machine irregularities and voter disenfranchisement having been dismissed.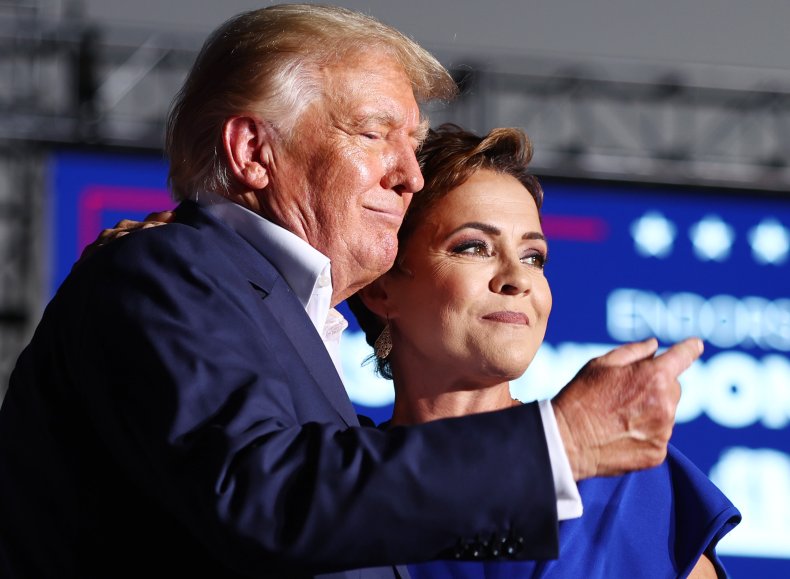 "It's a shame what happened, they had the machines, quote 'broken,' OK, a lot of these Republican area machines were broken, it's a disgrace and ultimately she's going to be victorious," Trump said.
"But I just want to thank everybody for being there. We love you all," he added.
Far-right Arizona State Senator Wendy Rogers and Jeff DeWit, chair of the Arizona Republican party, also spoke at the rally.
Lake lost the Arizona gubernatorial election to Hobbs by more than 17,000 votes. The Republican has refused to accept the results and insists she will still be declared the rightful governor of Arizona.
In December, Maricopa County Superior Court Judge Peter Thompson threw out Lake's lawsuit claiming that voter fraud or misconduct from election workers cost her the election as her campaign failed to provide any "clear and convincing" evidence.
Lake then turned to Arizona's Court of Appeals in a bid to reverse the lower court's decision to throw her case out, with the new case set to be heard on February 1.
A report on public voting records stated that there was no voter fraud at the Arizona gubernatorial election, and suggested Lake lost because tens of thousands of otherwise GOP-voters did not back her in the race.
The analysis found that Hobbs managed to pick up support from more than 33,000 Republican-leaning voters in Maricopa County, Arizona's largest county, who chose not to vote for Lake while picking GOP candidates in other state elections in November.
Around 6,000 Republican-leaning voters wrote in another candidate in the Arizona gubernatorial election, or didn't vote at all, rather than support Lake in November.
"She just ran a terrible campaign," Benny White, one of the authors of the November election study, told the Arizona Republic. "It doesn't help to call Republicans RINOs [Republican in name only]."
Lake has frequently referred to some fellow-Republicans as RINOs, for example, telling conservative commentator Charlie Kirk on January 13 that the "RINO side of the party" was "panicked."