Kari Lake Says She's Being Persecuted for Exposing 'Exorbitant' Fraud
Former Arizona gubernatorial candidate Kari Lake says that she may be facing criminal prosecution because she exposed "exorbitant" election fraud.
Lake, a Republican who lost to Democratic Arizona Governor Katie Hobbs in November, said during a Tuesday appearance on former Trump adviser Steve Bannon's War Room podcast that she may soon be targeted with politically motivated felony charges for sharing images of Maricopa County voter signatures from the 2020 election on Twitter.
Images of 16 ballot signatures were tweeted by Lake last week. On Monday, Arizona Secretary of State Adrian Fontes, a Democrat, referred Lake to fellow Democrat and state Attorney General Kris Mayes for potential prosecution over the tweet. Lake has falsely claimed that the signature images prove that nearly 40,000 Arizona ballots were fraudulent in last year's election.
Lake told Bannon that the criminal referral was triggered due to her activities of "blowing the lid off of their fraudulent elections." She also referred to herself as "the most popular Republican in the entire state" and claimed that Democrats were "all freaked out" because she "could win pretty much any seat" for which she runs.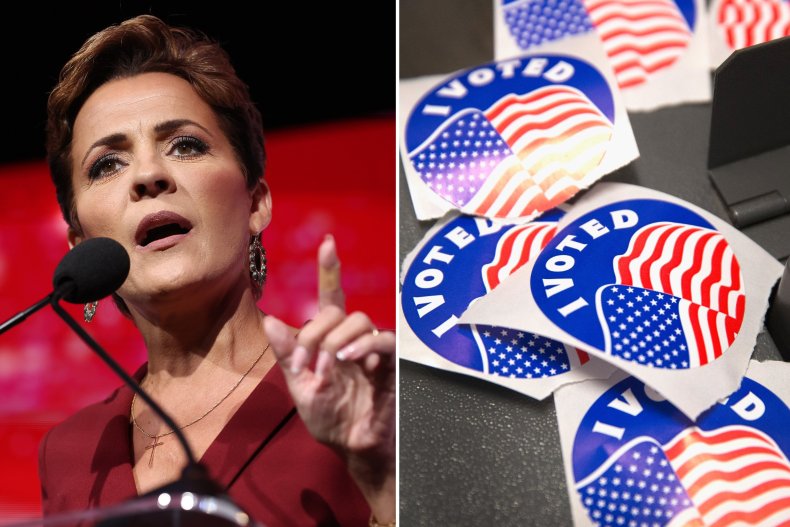 "They say because I put it out on the internet it broke the law," Lake said."[Fontes] wants Kris Mayes, the AG, to criminally prosecute me for telling people about the exorbitant levels of fraud in our election. It's interesting, they just don't want us talking about the election theft."
Fontes' referral notes that Arizona law prohibits "posting any information derived from voter registration forms or precinct registers to the internet." Violating the law is a class 6 felony, punishable by over five years in prison.
However, as Lake pointed out in her interview with Bannon, the signatures that she shared had already been presented to the Arizona state Senate by a right-wing group during a hearing on supposed election fraud last week.
Jim Gardner, an elections law expert at the University of Buffalo, previously told Newsweek that "otherwise confidential things that are made public through presentation in a public hearing, and as to which no effort has been made to secure their secrecy," have generally been considered part of "the public domain" and no longer confidential.
Despite losing to Hobbs nearly three months ago, Lake has repeatedly insisted that the 2022 election is "not over" and regularly pushes election fraud conspiracy theories in right-wing media appearances and at in-person events. She contends that her loss will eventually be overturned in court.
Lake's election lawsuit was dismissed in court in December, with Judge Peter Thompson saying that there was no "clear and convincing evidence" to support the Republican's claims that she really "won" the contest. The decision has been appealed to the Arizona Court of Appeals, where another ruling is expected soon.
Although Hobbs was sworn in as governor on January 2, Lake on Tuesday argued that any media reports of the long-concluded election being "over" were nothing more than "fake news."
"The fake news has been telling them, 'it's over, she lost, don't worry about it,'" Lake said. "And it's not over, we're in the appellate court. We have the strongest election case this country has ever seen and it's moving through the court system."
"We're not backing down one inch on this," she continued. "We're taking it all the way to the Supreme Court ... We're looking for some judges who will apply the law correctly."
Newsweek has reached out to the offices of Fontes and Mayes for comment.