Republican's Remarks About Putin Stun CPAC 2023 Audience
A speaker at the Conservative Political Action Conference (CPAC) in National Harbor, Maryland was met with silence on Thursday when he said that he doesn't trust Russian President Vladimir Putin.
Michigan businessman Perry Johnson told the gathering of conservatives about his views on China, Putin and aid to Ukraine. He has also launched a longshot bid for the 2024 Republican presidential nomination.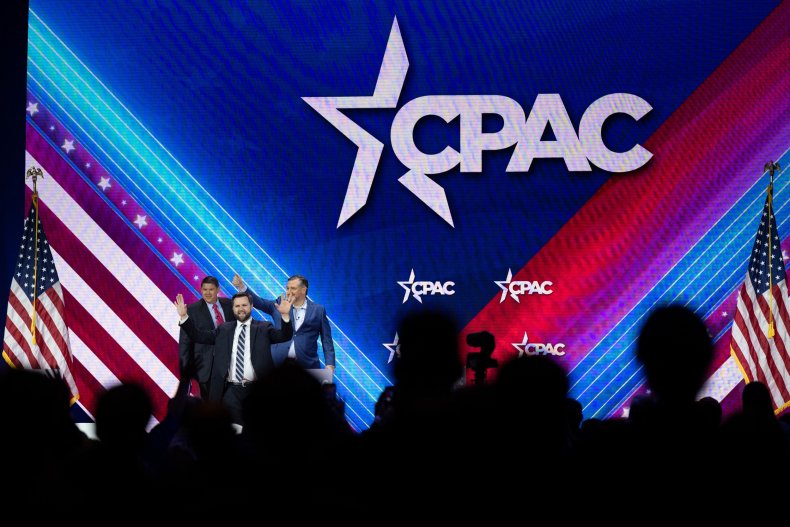 The Russia-Ukraine war is a divisive issue among Republicans. The Russian invasion, which began in February 2022, has been denounced by numerous Republicans, while aid to Ukraine has received bipartisan support. However, there have been growing questions among high-profile figures in the party about continued support for Ukraine amid the ongoing conflict.
Johnson, a millionaire businessman from Detroit, describes himself as the "quality guru." He outlined some of his beliefs on Thursday during his appearance at CPAC but was met with silence when he appeared to criticize the Russian president.
"I am anti-China. They are killing us," Johnson said and was met with cheers and applause from the audience.
He went on, "I do not trust Putin," but that remark received neither cheers nor applause.
A video of those remarks was shared to Twitter on Thursday by attorney and former Republican Ron Filipkowski. It had been viewed more than 80,000 times as of early Friday morning.
Johnson also shared a longer video of his remarks at CPAC on his own Twitter account. It had been posted by conservative outlet Real America's Voice.
In those remarks, Johnson said: "I am pro-life. I am pro-Second Amendment. I am pro-family. I am pro-freedom and let's face it, I am anti-China."
Following his comment about Putin, Johnson went on: "And, by the way, I think it's kind of ridiculous to be sending $100 billion over to Ukraine when we're going broke here."
Total U.S. aid to Ukraine, including weaponry and financial aid, has passed $100 billion.
Sharing the video, Johnson also pointed to his presidential campaign, writing: "My #TwoCents Plan to Save America was well received by the audience at @CPAC today. Americans are fired up to #FireBiden, solve inflation, and reignite the economy!"
Johnson spoke on the main stage at CPAC at 3.15 p.m. on Thursday. CPAC's Twitter account highlighted the speech and summarized some of Johnson's positions, though the text of the tweet did not mention the Russian president.
Johnson has launched a longshot bid for the 2024 GOP presidential nomination. Members of his team wore T-shirts reading, "Perry Who?" NBC News senior national political reporter Henry J. Gomez shared a photo of this to Twitter on Thursday.
Former President Donald Trump remains the front-runner for the Republican nomination, and he is due to address CPAC on Saturday. However, Florida Governor Ron DeSantis has long been thought of as Trump's main rival in the upcoming GOP presidential primary, though he has yet to announce his candidature. Many want DeSantis to replace Trump as the Republicans' de facto leader.
Newsweek has reached out to Perry Johnson's campaign for comment.