How to Watch Donald Trump's CPAC 2023 Speech—Time, Schedule and Livestream
Donald Trump is due to address the Conservative Political Action Conference, or CPAC, on Saturday afternoon as the four-day event reaches its climax.
CPAC, which advertises itself as "the nation's oldest conservative grassroots organization," is meeting at the Gaylord National Resort, in Maryland, on the outskirts of Washington D.C.
This year's CPAC has been dominated by pro-Trump figures, with many more mainstream Republicans staying away. None of House Speaker Kevin McCarthy, Senate minority leader Mitch McConnell, former Vice President Mike Pence or Florida Governor Ron DeSantis was billed to speak at the event.
The event has been marred by sexual harassment allegations against Matt Schlapp, CPAC's chair, who has been accused of touching a male aide to a former Republican Senate candidate without consent. The claim has been denied by Schlapp's legal team, which said it was causing his family "unbearable pain and stress."
When Is Donald Trump Speaking?
Trump is scheduled to address CPAC on Saturday afternoon for an hour, from 5.25 p.m. ET, in the resort's Potomac Ballroom.
The event is due to be streamed live both on the CPAC website, and on the organization's official YouTube channel.
Trump's speech is the final address due to take place at CPAC, and is the penultimate advertised event followed only by Mass, which will take place at 7.30 p.m. ET.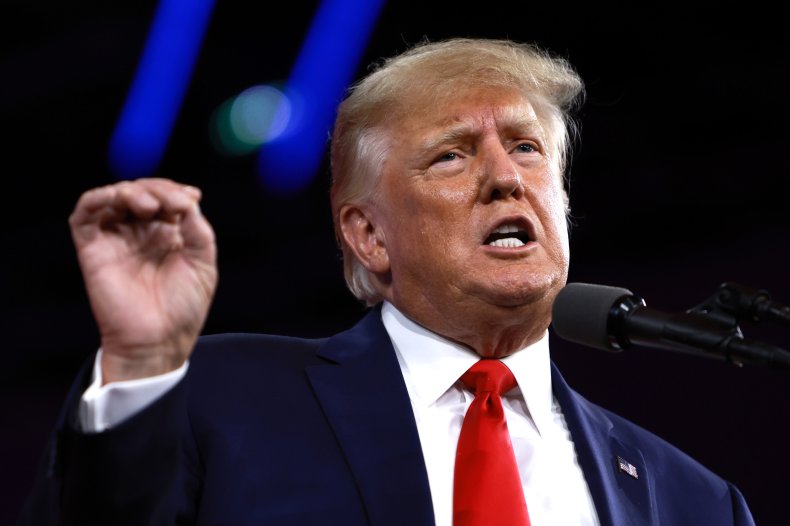 Before the former president gives his address, speeches will take place on Saturday from House Representative Lauren Boebert, former congresswoman Tulsi Gabbard and MyPillow CEO Mike Lindell, a prominent supporter of Trump's discredited claim that the 2020 presidential election was stolen from him by fraud.
Also billed to speech is Jair Bolsonaro, who served as president of Brazil from 2019-22. As with Trump, many of Bolsonaro's supporters allege the 2022 Brazilian presidential election was rigged against the right-winger, and on January 8 thousands stormed the national parliament, presidential palace and Supreme Court building in Brasilia.
What's Happened So Far at CPAC?
On Friday CPAC was addressed by former U.S. United Nations ambassador Nikki Haley, who has announced she is standing against Trump for the 2024 Republican presidential nomination.
In her speech, Haley said: "If you're tired of losing, put your trust in a new generation and if you want to win not just as a party but as a country then stand with me. I am here to ask for your vote, but I want something else even more. I want us to inspire our country again."
Following the event Haley took selfies with her fans, whilst other attendees chanted "Trump" and "We love Trump" around her.
Donald Trump Jr. also spoke to CPAC on Friday where he caused controversy by doubling down on describing Democratic Senator John Fetterman, who suffered a serious stroke prior to being elected in November, as a "vegetable."
House Republican Marjorie Taylor Greene also addressed the conference, where she falsely claimed Ukrainian President Volodymyr Zelensky said he "wants our sons and daughters to go die in Ukraine."