Donald Trump Jr. Doubles Down on Calling John Fetterman a 'Vegetable'
Donald Trump Jr. has doubled down after previously facing backlash for calling Democratic U.S. Senator John Fetterman of Pennsylvania a "vegetable."
Fetterman was elected to the Senate last year months after suffering a serious stroke that prompted Republican candidate Mehmet Oz and other GOP critics to repeatedly question his health and cognitive abilities. The senator is currently hospitalized while undergoing treatment for severe depression.
Trump Jr. was denounced by many after calling Fetterman "the vegetable senator" and suggesting that he lacked "basic cognitive function" on his podcast Triggered last month, just after Fetterman's team announced he was seeking depression treatment at Walter Reed National Military Medical Center.
The eldest son of former President Donald Trump once again referred to the senator as "a vegetable" while delivering a speech at the Conservative Political Action Conference (CPAC) in Maryland on Friday, while insisting that he had been unfairly criticized as an "ableist" for previously using the inflammatory rhetoric.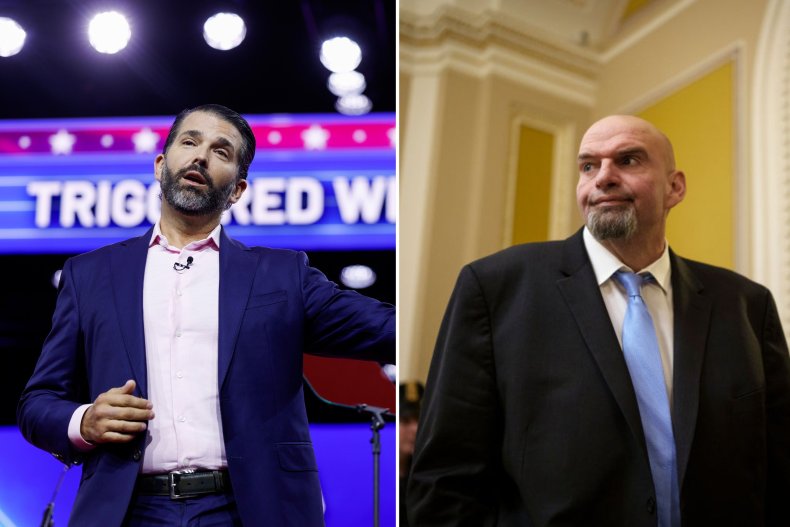 "When I said, like, I don't know, it's sort of weird that Pennsylvania managed to elect a vegetable, they criticize me as being ableist," Trump Jr. said."I didn't know what that was, but there's always an 'ist,' right? There's always an 'ist,' and it doesn't matter what you're talking about. And apparently an ableist is someone who discriminates against those with disabilities."
Trump Jr. then argued that he was not an ableist, while at the same time suggesting that the senator should be working as a "bag guy" at a grocery store instead of in the Senate.
"I'm not discriminating ... I'd love for John Fetterman to have, like, good gainful employment. Maybe he could be, like, a bag guy at, like, a grocery store," said Trump Jr., sparking laughter from some in the crowd.
"Is it unreasonable for me to expect, as a citizen of the United States of America, to have a United States senator have basic cognitive function?" he added, before saying that a "good point" had been made by a person in the crowd who shouted a suggestion that President Joe Biden also lacked "cognitive function."
The remarks were quickly condemned across the political spectrum, with an opinion article in conservative publication The National Review calling Trump Jr.'s rhetoric "unacceptable" and "cruel."
"That rhetoric—even at a red-meat political event—is completely unacceptable and viciously cruel," wrote columnist Wesley Smith. "The sole intent of that dehumanizing epithet is to demean, diminish, and denigrate the moral value of the person against whom it is wielded."
"As far as I am concerned, it belongs in the same category of unacceptable terminology as the N-word," he added.
Reactions were similarly damning on social media. Trump Jr. had not responded to the criticism at the time of publication.
"At #CPAC, Donald Trump Jr. just called @JohnFetterman a 'vegetable,'" tweeted Debra Saunders of conservative think tank Discovery Institute. "Just wrong."
"Gross commentary by Don Jr.," journalist Gabriel Elizondo tweeted. "Fetterman suffered a STROKE and because of that sometimes labors to speak. To call him a 'vegetable' is just disgusting."
"The cruelty is the point," tweeted former media executive Mike Sington. "Donald Trump Jr at CPAC: Pennsylvania elected a "vegetable", but Don Jr is not an ableist because he would support John Fetterman bagging groceries. In the video, note the sparse crowd that is there to see Don Jr."
Newsweek has reached out to Fetterman's office and the Trump Organization for comment.