Video of Trump Jr. Calling Pete Buttigieg 'The Gay Guy' Viewed 200k Times
Donald Trump Jr. has been accused of spreading "unvarnished homophobia" after describing U.S. Secretary of Transportation Pete Buttigieg as "the gay guy." He also suggested he was only appointed to the post because of his sexuality.
The former president's son made the comments on Wednesday, on the right-wing Newsmax network. He was discussing his father's visit to East Palestine, the Ohio town where a train carrying toxic chemicals recently derailed.
Criticizing Buttigieg's response to the disaster, Trump Jr. said: "There's not even the expectation of these guys doing their jobs.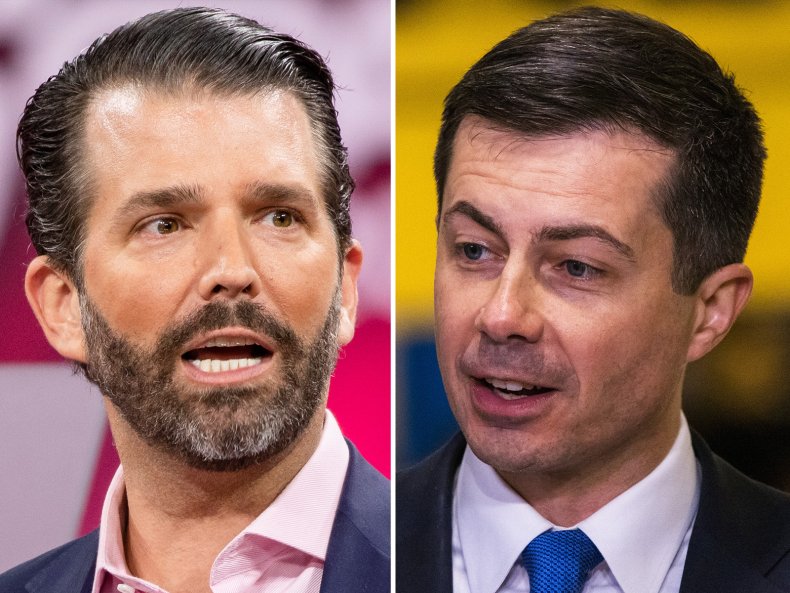 "Peter has no business in that position, but he's the guy who had no business running for president. But they let him do that because he was gay and they check off a box and then he didn't win, but, well, he's the gay guy, so 'we've got to give him something, let's make him Transportation Secretary.'
"What does he know about it?" Trump Jr. said. "Nothing. His failure, after failure, after failure are truly affecting the American people."
More than 200,000 people watched a video of Trump Jr.'s remarks shared on social media by reporter Aaron Rupar. He described them as "unvarnished homophobia," in a tweet to his 852,000 Twitter followers.
Referring to Trump Jr. Chris Paukert, a video director, sarcastically added: "He's the son of a famous person, so we gotta give him something, let's make him a talking head. What does he know about? Nothing."
Newsweek has contacted both Trump Jr. and Buttigieg for comment.
Trump was welcomed to East Palestine on Wednesday by supporters chanting "no more Joe," in an attack on Biden. Some waved "Trump won" flags, in reference to the discredited conspiracy theory that the 2020 presidential election was stolen.
During his visit, Trump donated multiple pallets of bottles of 'Trump Water,' his brand, along with others "of much lesser quality."
On February 3, a Norfolk Southern freight train, pulling around 150 cars, derailed in East Palestine, near the Pennsylvania border.
While there were no injuries, around 5,000 people were evacuated. Authorities blew holes in five of the carts, which contained potentially dangerous vinyl chloride, to destroy them via controlled burning. The release of toxic chemicals raised concerns about the local water supply. On February 20, the Environmental Protection Agency reported that water-sample results from East Palestine municipal wells so far showed no quality issues.
President Biden has come under fire for not visiting East Palestine since the accident. In this context, Trent Conaway, the town's mayor, described the president's surprise trip to Kyiv in Ukraine on Monday as "the biggest slap in the face."
In a statement, the White House said Biden's administration had "mobilized a robust, multi-agency effort to support the people of East Palestine."
A number of federal agencies, such as the EPA and Centers for Disease Control and Prevention, have been supporting the emergency response. On February 21, the EPA ordered Norfolk Southern to conduct and pay for all clean-up actions associated with the train derailment.