Discovery of Separate Monkeypox Strain Suggests Two Outbreaks Are Happening
A monkeypox strain has been spotted that is different from the one behind the ongoing outbreak in the West, raising questions about just how long the virus could have been around.
A total of 23,620 confirmed cases of monkeypox were reported globally as of August 1 according to the U.S. Centers for Disease Control and Prevention (CDC) as part of an ongoing global health emergency that scientists are still working to understand.
Monkeypox is a virus first discovered in 1958 in colonies of monkeys kept for research. Since then the virus has remained endemic to West and Central Africa, with only a handful of cases ever discovered elsewhere. Even then, almost all such cases were linked to international travel to countries where the disease commonly occurs or through imported animals.
This year is different, with monkeypox spreading widely across the globe in people with no reported travel links to endemic countries for the first time.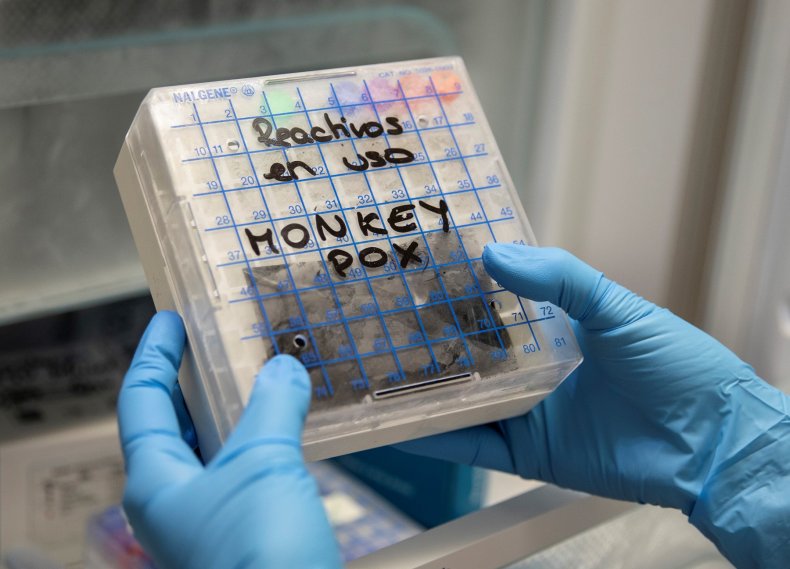 In June, genetic viral data collected from monkeypox samples suggested there was not one but two separate outbreaks happening outside of Africa. At the time medical news site Stat reported that three of 10 virus samples sequenced by the CDC were linked to one another but genetically distinct from the viruses causing the wider Western monkeypox outbreak.
Inger Damon, director of the CDC's division of high-consequence pathogens and pathology, told Stat it was "very plausible" that monkeypox could have been smouldering outside of endemic countries for some time.
More recently, separate strains have cropped up again. Vinod Scaria, a scientist at the Institute of Genomics & Integrative Biology in India tweeted on July 27 that two samples from early monkeypox patients in Kerala, India, were of a strain that was distinct from the Western one.
Scaria wrote that this small cluster of similar cases have genomes dating back to 2021 that come from countries like the U.S. and Thailand and that some cases had travel history to the Middle East.
The monkeypox strain currently responsible for the wider Western outbreak is known as B.1, and a distinct separate strain has been named A.2.
"They seem to have a different epidemiology to the massive cluster of cases that we see in Europe and the U.S. that have been associated with the gay, bisexual and men who have sex with men community," Charlotte Houldcroft, a lecturer in the Department of Genetics and lead of the Virus Genomics group at Cambridge University, told Newsweek. It should be noted that cases have not exclusively been reported in this community and monkeypox can infect anyone.
"We've known for years that monkeypox keeps spilling out of its animal reservoir. It's been causing sporadic infections in Africa and affected countries every single year that have all come from contact with animals or limited person-to-person spread. So those two different lineages that you can see—A.2 and B.1—one of the hypotheses at the moment is that they are separate spillovers, or this is one spillover and then the virus has started evolving down two separate paths by chance."
One big unknown at the moment with both lineages is that it is still unknown whether they have picked up mutations that have allowed them to be more successful in infecting humans in this ongoing outbreak.
Viruses mutate all the time when transmission between people occurs. However, not all viruses mutate as much as others. Houldcroft said that while the type of virus that causes monkeypox does not mutate as much as the type of virus that causes COVID, for example, its genetic makeup is bigger. This means that there is more of it to mutate, even if this rate of mutation is slower.
"It's hard to know whether these spillovers are like A.2 where you've kind of got a case, they've traveled, maybe give it to their family members, and then it burns out," Houldcroft added. "It's really hard to know whether they've been going on anyway in travelers and we've been missing them for the last 20 years, or whether something has changed in this lineage, perhaps since 2018, that gives this virus an advantage. It really deserves in-depth research to find that out."
Finally, there's the question of whether increased testing in the current outbreak has led to the discovery of lineages that have been in the background for some time.
"I think if we did more genomic surveillance we could even find more than two concurrent lineages," she said. "The risk of monkeypox outbreaks has been growing every year since 1980 when smallpox vaccination ended, meaning transmission chains have had the potential to spread further every year since then. It's possible we would never have noticed A.2 without increased scrutiny and retrospective testing."