Why Is U.S. Struggling To Meet Monkeypox Vaccine Demand?
The U.S. is struggling to distribute enough monkeypox vaccines to protect the population.
The CDC has reported 18,861 monkeypox cases across the globe as of July 26, since the outbreak began in May.
The vaccine, known as Jynneos, is authorized for the prevention of monkeypox in the U.S and rollouts across the country have begun. For full protection, two doses must be administered.
The vaccine is the same used for smallpox—a more deadly disease, caused by a virus of the same family.
However, it is in extremely limited supply. This means rollouts across major cities are prioritizing those most at risk, such as men who have sex with men.
Some areas are also only offering one dose, which is effective for around 6 months. Washington, D.C has become the latest to initiate this strategy, following in the footsteps of the city of New York.
The vaccine's limited supply has caused frustration among individuals who feel they are most at risk.
A U.S. Health Department spokesperson told Newsweek that as monkeypox is relatively rare, "seldom severe or fatal," and as smallpox was eradicated in 1980, "there has not been a commercial market for vaccine that protects against either disease."
The spokesperson said the health department continues to work with vaccine supplies to make "hundreds of thousands of doses" available this year.
"We will continue to receive doses so that by mid-2023 we will have received approximately seven million doses, which will be available as needed," the spokesperson said.
So why is the U.S. struggling?
Dr. Rodney E. Rohde, public health microbiologist and molecular epidemiologist at Texas State University, tells Newsweek that the vaccine rollout in the U.S. is a "complex issue," but "there were certainly some problems early on.
"As we continue to discuss regarding U.S. public health support and needs for surveillance of infectious diseases, especially agents that are not common to our shores, we have limited testing capacity for monkeypox in which cases had to be sent to Laboratory Response Network labs, followed by confirmation testing at the CDC. This takes some time, usually 24-48 hours in the best case scenario," Rohde says.
"Monkey pox vaccines were also not ordered to add to its stockpile until June, even though the virus started spreading in May. Regulators also did not finish inspecting a key Denmark facility which had roughly 1.1 million ready-to-distribute doses still waiting to be shipped to the U.S. Then, we continue to deal with issues of 'how we do vaccine appointment' in the context of limited vaccine supplies which leaves many people frustrated and unhappy."
Before the current outbreak, the U.S had a stockpile of 36,000 vaccines, Rohde says, however they were reserved for a "smallpox bioterrorism event."
There is another vaccine for monkeypox that is in ample supply in the U.S, called ACAM2000. However, it cannot be given to immunocompromised people.
"With respect to the limited supply issue, it is always easy to criticize in hindsight. Remember, the entire world has been focused on a novel virus – SARS-CoV-2 – in a global pandemic. However, the U.S. should examine how we create stockpiles of vaccines and therapeutics in the context of shelf life and prioritize accordingly," Rohde says.
"As a long-time public health and medical laboratory professional, I think the U.S. response has been satisfactory. Could we have done a better job with vaccine stockpiles and testing? Of course, but please remember that this takes money and a willingness to make it a priority at all levels. Many of us, including myself, have been screaming for public health funding and preparedness for decades in light of past events and warnings like avian flu, anthrax, antimicrobial resistance, Ebola and so on."
Dr. Sameer Elsayed, professor of medicine, pathology & laboratory medicine and epidemiology & biostatistics at Western University, also tells Newsweek that "one of the ironies" around monkeypox is "that thousands of human infections have been occurring each year in Africa since 2005."
"And yet, the global community has taken this public health threat seriously only after cases began to emerge in wealthy countries," Elsayed says. "Monkeypox emerged in Africa at a rapid pace due to the cessation of the global smallpox vaccination campaign between the early 1970s and early 1980s. Virtually all cases around the world, including African countries, have occurred in unvaccinated persons."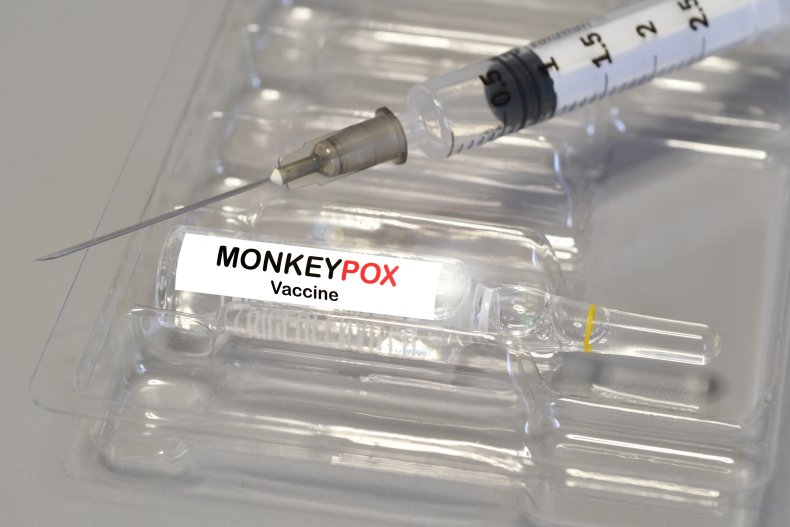 Elsayed says that Jynneos is a third-generation vaccine that was always used on a "smaller scale, such as in military personnel and laboratory workers, and there is less data on their safety and effectiveness."
"Only small stockpiles of these vaccines are maintained since they haven't been used that frequently. Although manufacturing capacity to produce these vaccines has been ramped up, it will take about a year before the market is flooded with enough vaccine for populations at risk," Elsayed says.
Elsayed also says that "the current global monkeypox outbreak has befuddled many public health experts."
"In sub-Saharan Africa, most infections are transmitted from animal to human, with human-to-human transmission being uncommon. In regards to the West African clade (which is the variant of monkeypox virus that is causing infections outside of Africa), the rate of secondary infection in sub-Saharan Africa is about 3 percent while the rate of secondary infection in the current outbreak is almost 100 percent" he says.
"A delay in vaccine roll-out may lead to an exponential increase in the number of cases. At the same time, we are dealing with another health equity situation similar to what we saw during COVID-19. In order for the global response to monkeypox to have any merit at all, a call to action for controlling the monkeypox virus epidemic in Africa through vaccination must be also heeded."
Update 7/29/22 8:08 a.m. ET: This article was updated to include comments from a U.S. Health Department spokesperson.