Montana Governor Greg Gianforte Slams Biden's Immigration Plan, Alleges Meth Coming Across Border
Republican Governor Greg Gianforte of Montana criticized President Joe Biden's immigration plan on Friday, saying he was "concerned" for the safety of his state's communities under the federal government's reformed policy at the U.S. border with Mexico.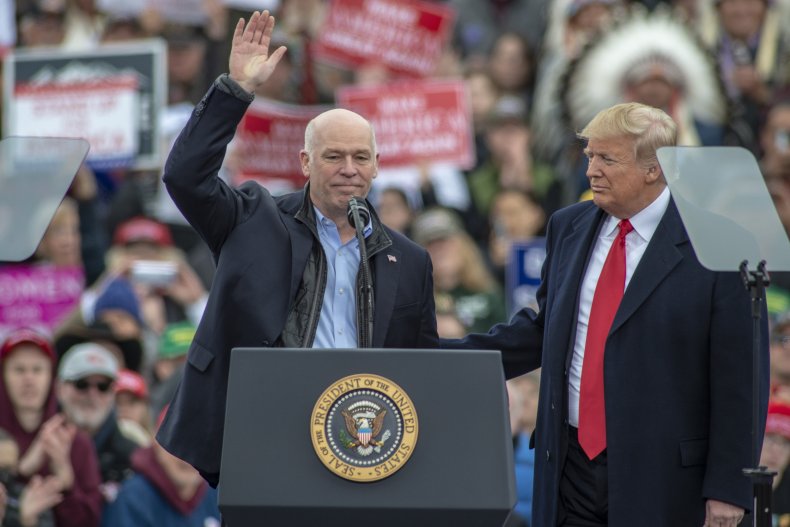 In an interview on Fox News' Fox & Friends, Host Steve Doocy described reported groups of migrants "getting on buses after being processed by border patrol" who could potentially be positive for COVID-19 and bringing the virus into Montana's communities.
Doocy asked Gianforte an audience member's question: "What's the difference between Governor [Andrew] Cuomo knowingly sending people with COVID back to nursing homes, and President Biden knowingly sending people with COVID from Mexico into American communities?"
"Well, it's not just the immigration, Steve," Gianforte replied. "In Montana, we are concerned about meth coming across the border. It's ripping our families and communities apart. And opening these borders back up, it's just not good for our communities here in Montana."
Montana law enforcement officials have increasingly encountered methamphetamine, a narcotic drug, former Montana Attorney General Tim Fox wrote in the Independent Record. Fox, who is also a Republican, said the drug is produced in Mexico and smuggled to the U.S. in large amounts, but Montana border units have closed inland screening checkpoints as well as removed resources from the state's northern border, causing a lack in law enforcement.
"In fact, they have closed immigration checkpoints on highway arterials miles from the border to divert personnel to deal with managing and caring for people," Fox wrote. "These checkpoints were once instrumental in interdicting illegal drugs, but smugglers now have a clear path to anywhere in the U.S., even Montana, after crossing the border."
The majority of methamphetamine seized by U.S. officials occurs at the southern border with Mexico, according to an email from a U.S. Customs and Border Protection (CBP) spokesperson to Newsweek. CBP data shows only nine seizure events of methamphetamine occurred last year, in the Havre Sector, which includes Montana, Wyoming and Idaho. This was a higher number of seizures than in the previous two years.
"Drug trafficking organizations in Mexico attempt to smuggle methamphetamine into the U.S., where it can then be distributed throughout the nation," the spokesperson said. "U.S. Customs and Border Protection works tirelessly, day in and day out to protect the United States from all threats―including dangerous narcotics. CBP takes a multilayered approach to border security that involves an unprecedented amount of technology, tactical infrastructure and personnel."
The COVID-19 pandemic has exacerbated the issue of immigration, and the potential of migrants' bringing COVID-19 into American hometowns has become fodder for protest against Biden's immigration policy.
Since Inauguration Day, Biden has spearheaded an effort to undo former President Donald Trump's immigration policies and launch a welcoming approach to migrants. But his efforts have been with criticism from activists, who are concerned Biden isn't doing enough to reduce prosecutions and reform procedure at the border. On the other hand, conservatives are concerned Biden's choice to terminate Trump's Migrant Protection Protocols Program could result in a massive influx of arrivals at the southwest border, with droves of migrants bringing more COVID-19 cases into the U.S.
But despite the picture painted by Doocy and Gianforte of an open border, Biden's administration has expressed a clear message: "Please don't come."
These were the words of Secretary of Homeland Security Alejandro Mayorkas on Monday, when he told reporters that families and individuals are in fact being turned away at the border in order to comply with Centers for Disease Control and Prevention's Title 42 guidance.
"The fact of the matter is that families and single adults are indeed being returned under the COVID-19 restrictions," he said, adding that individuals of family units are tested by ICE when brought into U.S. custody.
"They are tested. ICE has the capability to test them; to isolate and quarantine them, as the results so dictate; and then to address their needs as the immigration process provides."
Montana has a relatively small but increasing immigrant population, according to an August 2020 report by the American Immigration Council. Two percent of Montana residents are immigrants and 4 percent are native-born U.S. citizens with at least one immigrant parent. Many of Montana's immigrants have emigrated from Canada or Mexico, but there are less than 5,000 undocumented immigrants in the state.
Newsweek has reached out to Gianforte for comment.
Update: This story has been updated with comment from U.S. Customs and Border Protection.