More Than 1,000 Black Lives Matter Protesters Harmed by Police As Public Support for Racial Justice Movement Decreases
Newly expanded research has cited over 1,000 instances in 47 states of civilians and journalists harmed by police during the last five months of racial justice protests associated with the Black Lives Matter (BLM) movement.
Concurrently, a poll has shown declining support for BLM, with a 12 percent reduction in support for the racial justice movement occurring from summer to fall of this year.
Examining thousands of videos shared online, the investigative journalism website Bellingcat and the University of London human rights research group Forensic Architecture compiled a spreadsheet and interactive web-infographic containing geolocation, video links and summaries for each police attack on a journalist or protester during the nationwide BLM protests which followed a white police officer's May 25 murder of Black Minneapolis resident George Floyd.
The data, which so far extends from May 26 to October 24, categorizes incidents based on whether police used chemical weapons such as pepper spray or tear gas, physical violence such as batons, "less-lethal" blunt impact and flashbang munitions or physical intimidation by brandishing weapons or paramilitary vehicles.
Incidents are also categorized on whether the victim was a civilian, journalist, medic or legal observer.
The database cites over 500 instances of police using pepper spray, tear gas and less-lethal munitions and over 200 instances of police using physical assault, forcible arrests or declaration of a curfew or unlawful assembly to set upon protest attendees.
Additionally, over 740 incidents involved attacks on civilians, over 220 involved attacks on journalists and at least 11 involved attacks on medics. In 11 instances, police used kettling, a method of physically blocking protesters from leaving an area, before unleashing arrests and munitions upon them.
"Out of this data emerges a picture of police departments that behave more like paramilitaries than public servants," the organizations said in a video accompanying the database. "The scale of these attacks points to a systematic disregard for fundamental press freedoms."
The organizations said that while some jurisdictions have responded to these incidents by passing police reform legislation, videos from after those reforms were passed show that they haven't reined in the violence.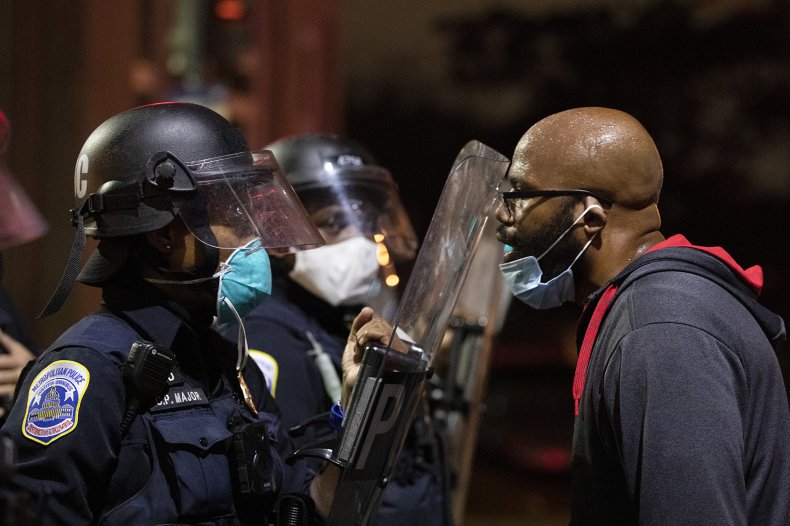 An early September report from the Armed Conflict Location & Event Data Project (ACLED) found that 93 percent of BLM protests have been peaceful. However, the report has been criticized for allegedly overlooking instances of protester violence.
Public support for BLM has decreased from summer to fall with the movement's 67 percent of support among U.S. adults in June dropping to 55 percent in mid-September, according to the Pew Research Center.
The drop in support has coincided with political rhetoric painting BLM as anti-police, "terrorist," "Marxist," "left-wing radicals," a "symbol of hate" and a "mob" by people such as President Donald Trump and other conservative politicians.
"Black Lives Matter has now been recognized as the largest social movement in global history and that scares people," Melina Abdullah, co-founder of Black Lives Matter Los Angeles told ABC News in an October 25 article. "That scares folks who are invested in making the world more racist, not less and making the world oppressive not less and folks who are tethered to a system of policing that's oppressive and brutal and violent."
Newsweek contacted Forensic Architecture for comment.