More Than 10,000 Christians Call for Removal of Franklin Graham As Charity's CEO After Prayer Supporting Trump at RNC
More than 10,000 Christians have signed an online petition calling on Evangelical leader Pastor Franklin Graham to be removed as the head of the humanitarian aid organization Samaritan's Purse following his prayer in support of President Donald Trump on Wednesday.
Faithful America, which describes itself as the largest online community of Christians working for social justice, launched the online petition following Graham's prayer during the Republican National Convention last Thursday.
"Unless and until you cut ties with Franklin Graham, his right-wing politics can only damage your credibility as a loving, Christian humanitarian organization. If the full Board will not vote to remove Graham as chairman, president, and CEO, then individual Board members can take a personal stand for the Gospel and offer their own resignations," the petition says.
A press release sent out Wednesday morning morning by Faithful America noted that 10,876 Christians had already signed the petition. "Faithful America's grassroots Christian members are sick of seeing their faith misrepresented and hijacked," Reverend Nathan Empsall, campaigns director for Faithful America, told Newsweek.
Although Graham, the son of the late evangelical leader Pastor Billy Graham, has supported Trump since 2016, Empsall said that the Republican president's policies are "getting worse" and can no longer be tolerated.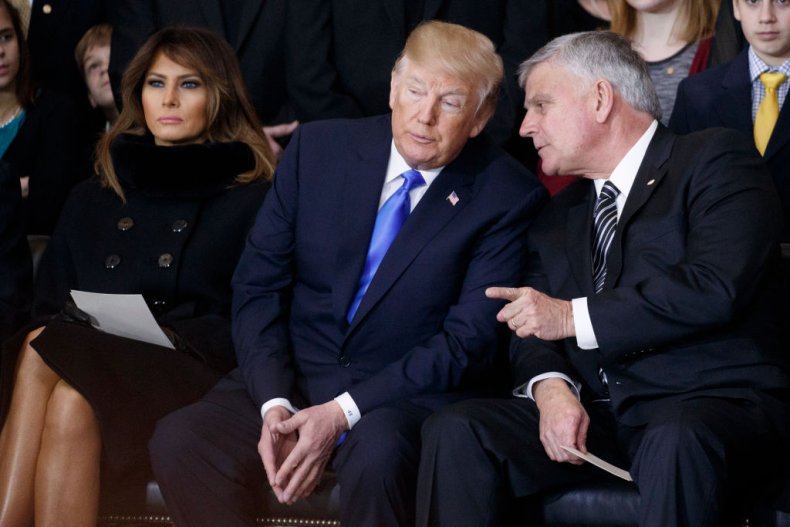 "The president has been stepping up his attacks on his Christian critics since late last year, despite claiming to be an ally of Christianity," Empsall said. "His incompetent, deadly response to COVID-19 and its impact on jobs and the poor is something every Christian needs to take into account, as is his anger toward protesters who simply want racial justice."
He suggested that Samaritan's Purse would be "complicit" in another term of "division and corruption" if it did not take a stance against Graham and his support for Trump.
In a statement emailed to Newsweek, Samaritan's Purse said that Graham would have also prayed at the Democratic National Convention if he had been invited.
"Franklin Graham does not tell people who to vote for, but he does encourage everyone to pray and to vote. If the Democratic National Convention had asked him to pray, he would have prayed at the DNC as well. The most important thing any of us can do for our nation is to pray for our leaders, regardless of their political affiliation. Franklin Graham continues to lead Samaritan's Purse and the Billy Graham Evangelistic Association with the purpose of sharing God's love and the truth of the Gospel of Jesus Christ with hurting people around the world," the organization said. "Under Franklin's leadership, Samaritan's Purse is committed to providing spiritual and physical aid to victims of war, poverty, natural disasters, disease, and famine, as evidenced by our relief efforts in more than 130 countries over the past 50 years."
White evangelical Christians have been one of Trump's strongest bases of support since the 2016 presidential election. Exit polling by Pew Research Center showed after the election that about 8 in 10 evangelical Christians had voted for Trump. But a survey by the non-partisan think tank found in June that somewhat less—72 percent—of white evangelicals approved of the job Trump was doing as president.
Graham, as one of the nation's most prominent evangelical Christian leaders, is seen as a key influencing voice to maintain the president's support from white evangelicals ahead of the November election. Graham recently claimed in an interview with Christian Broadcasting Network (CBN) that Democrats are "opposed to faith," despite Democratic presidential candidate Joe Biden being a devout Catholic.
Graham's niece Jerushah Duford publicly joined the anti-Trump pac The Lincoln Project last week, becoming a key member of its "Licoln Women" initiative. Duford told Newsweek at the time that she had not discussed her decision with her uncle but that his public support for Trump had influenced her decision.
Duford said she felt like "a homeless evangelical" due to the broad support within the Christian community for the president, who she sees as opposed to the values she was raised with. "The world is watching and when church leaders hold Trump up as a representative of our faith, the damage to the gospel is immense," she told Newsweek. "The world sees the hypocrisy, and the result is them wanting nothing to do with it."
Empsall shared a similar message with Newsweek. He said Christians "must live out the values of love, empathy, and peace in everything we do. That means working to remove an anti-life president who separates families, ignores the record death toll of COVID-19, abuses women, opposes religious freedom for non-Christians, and tries to divide us on racial lines whenever it profits him personally."
Updated September 2, 2020 at 2:14 p.m.: This article has been updated to clarify that Faithful America describes itself as the largest online community of Christians working for social justice.
Updated September 2, 2020 at 7:28 p.m.: A statement from Samaritan's Purse has been added.