More Than Half of Republicans Support Tax Hikes on Americans Earning Over $400K: Poll
A slim majority of Republican voters support President Joe Biden's and Democrats' plan to raise taxes on Americans earning more than $400,000, new polling shows.
Biden and Democrats aim to pay for their proposed $3.5 trillion "human infrastructure" budget reconciliation package through a series of tax hikes on the wealthy and corporations. Although no Republicans back the Democrats' legislation, many GOP voters appear supportive of many of the package's key components.
A poll conducted by Data for Progress and Invest in America showed that 51 percent of Republicans said they are supportive of tax hikes impacting Americans earning more than $400,000 in income per year. That included 21 percent who said they "strongly" support and 30 percent who "somewhat" support the proposal.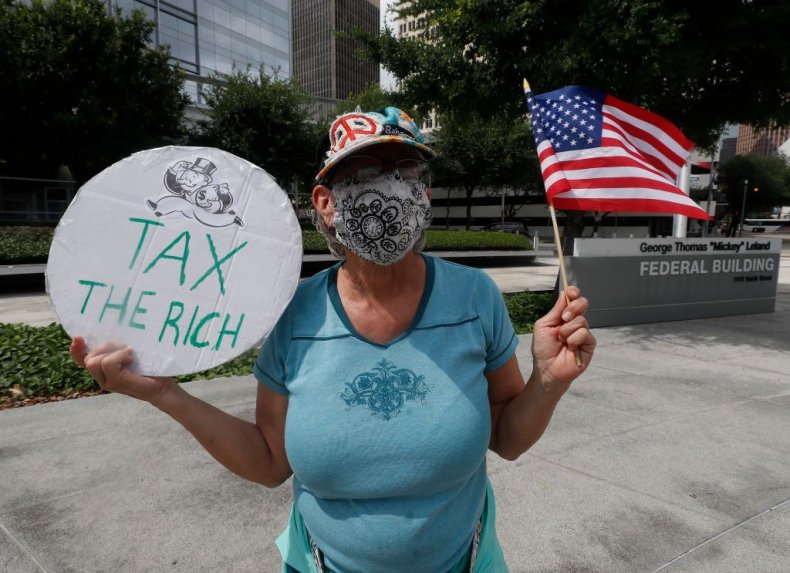 The survey also found that 52 percent of Republicans support increasing taxes on the wealthiest 1 percent of business owners by limiting the expenses they are allowed to deduct from their tax bill. Additionally, 52 percent of GOP voters said they support raising taxes on individuals who earn over $1 million per year through selling stocks and bonds.
Although the $3.5 trillion spending plan is not backed by any Republican lawmakers, the poll found that 39 percent of GOP voters said they "somewhat" or "strongly" support the legislation. Overall, 62 percent of all voters back the Democrats' reconciliation passage—including 85 percent of Democratic voters and 58 percent of independents.
The poll was conducted from September 10 to 13 and has a margin of error of plus or minus 3 percentage points.
Republican lawmakers have been critical of Democrats' efforts to raise taxes on the wealthy and to push through another massive multi-trillion spending package. The proposed tax hikes would undo parts of former President Donald Trump's signature 2017 tax cuts, which Republican lawmakers pushed through without Democrats' support.
"We're not interested in re-opening the 2017 tax bill," Senate Minority Leader Mitch McConnell, a Kentucky Republican, said earlier this year. "That is a red line."
The $3.5 trillion bill would fund a range of Democratic priorities, including making Biden's new child tax credits permanent, providing free community college, funding universal pre-kindergarten, expanding health care coverage and providing money to address climate change, among others. However, the package currently faces an uncertain future as moderate Democrats remain opposed to the high price tag.
Democratic Senators Joe Manchin of West Virginia and Kyrsten Sinema of Arizona have said publicly they will not support such a significant amount of spending. Meanwhile, progressive Democrats and Biden are pressuring the moderates to get on board with the will of the majority of Democratic lawmakers.