Russians Grow Increasingly Indifferent to Vladimir Putin As Economy Bites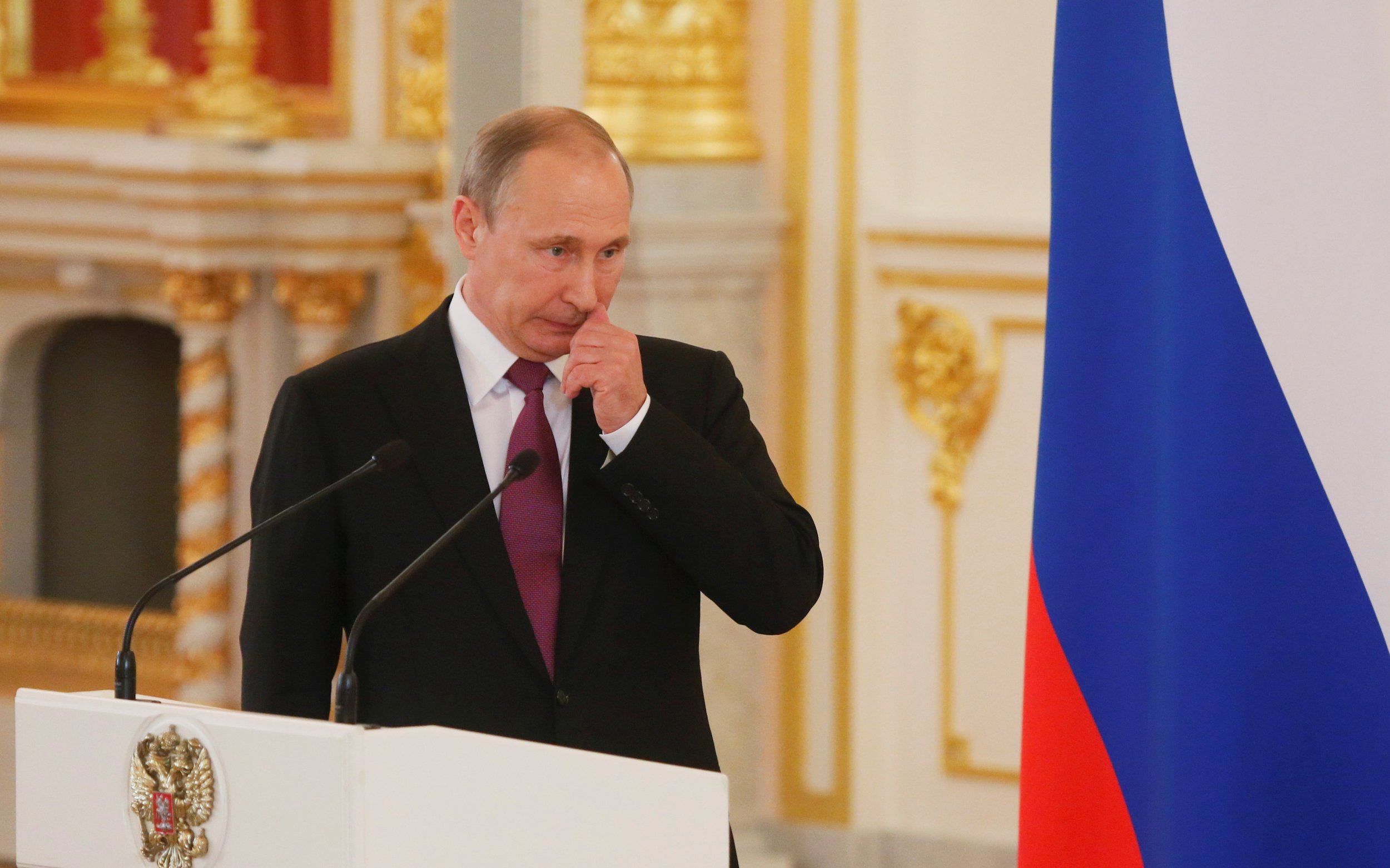 Russians are feeling more indifferent towards President Vladimir Putin than at any time before the Ukraine crisis, according to independent pollster the Levada Center.
Putin, who returned to a controversial third but non-consecutive term as president in 2012, saw a huge boost to his approval rating following the decision to intervene in the Ukraine crisis in early 2014. Since then, Russia's military intervention in Syria in late 2015 appears to have helped spur his popularity to a record high. Putin's personal popularity, however, far exceeds that of the ruling United Russia party and other officials in the country.
Despite military successes, Russia's economy has been hit hard by low oil prices and disrupted trade with the West due to sanctions imposed and Russia is currently in recession.
As a result, attitudes towards Putin have changed, with just 29 percent of Russians questioned by the Levada Center describing the president as likeable. This is only a 1 percent drop since March, but it is Putin's lowest approval rating since before the Ukraine crisis; it also represents a huge drop since 37 percent in March 2015.
Meanwhile, 17 percent indicated they felt "indifferent" to Putin, compared with 15 percent in March and 10 percent in March 2015. Those who said they could not think of anything bad to say about Putin grew by 1 percent and those who said they had nothing good to say about him grew by 2 percent.
Those who said they "fully trust" Putin has also dropped to the lowest level since March 2014—at 20 percent, compared with 33 percent in May. Most Russians appear to have only marginally lost faith in Putin, however, as 58 percent indicated that they "largely trust" Putin, compared with the 46 percent who have this response in May.
When asked about Putin's accomplishments, 14 percent of respondents said his strengthening of the armed forces was his major success over the last year—the largest group to give this answer since the Levada poll began in 2004. Putin's second biggest achievement in the eyes of Russians was raising Russia's profile internationally—11 percent felt this was his biggest achievement in the last 12 months.
Putin's biggest flaws continue to be his administration's fight against corruption and failing to raise living standards. Nearly a third of Russians (29 percent) agreed his position on corruption was his biggest failure, while 27 percent felt the inability to increase wages, pensions and living standards was his major problem in the last year.
While corruption has been perceived as the top issue for a while, worry that Putin is not doing enough on pay and living standards is the highest it has ever been. The third biggest issue, economic development, is also causing a record rate of concern, with 19 percent indicating they believe Putin has not managed the economy well in the last year.
"In a sense, Putin has fulfilled the tasks that were set before him, when he first came to power," Levada Center director Lev Gudkov said, referring to the situation Putin faced when succeeding Russia's first-ever president, Boris Yeltsin, in 2000. "He had to reform the armed forces, to resolve the war in Chechnya, and to restore the image of Russia as a world power."
His lack of success has come in other areas, largely to do with the economy, which Gudkov thinks will be the next challenge for Putin's administration. "I think that the dissatisfaction with the living standards, salaries and pensions will have a major impact on Putin's approval rating in the future. The fall will be slow, the (presidential) elections in 2018 will not be affected very severely but this will change later on," Gudkov said.