'Morning Joe' Host Calls Giuliani a 'Misogynistic Fool' and 'Disgusting Man'
Morning Joe host Mika Brzezinski was sharply critical Thursday of Rudy Giuliani—President Donald Trump's lawyer—after he made disparaging comments about the appearance of Stormy Daniels, the adult film actress who alleges she had an affair with Trump. Brzezinski called Giuliani "misogynistic" and "disgusting" over the comments.
Giuliani made his remarks during an appearance in Israel, where he claimed that first lady Melania Trump believed her husband when he said he had no affair with Daniels, whose given name is Stephanie Clifford.
"Excuse me, when you look at Stormy Daniels—uh, I know Donald Trump—look at his three wives," Giuliani said, via a clip posted to Mediaite. "Beautiful women. Classy women. Women of great substance. Stormy Daniels?" (Giuliani made a dismissive face after saying her name.)
The lawyer then went on to say he didn't respect Daniels as much as other women because she worked in porn and "sold her body for sexual exploitation." After Morning Joe showed the clip of Giuliani, they cut to Brzezinski.
"You misogynistic fool. Are you kidding me? 'Just look at Stormy Daniels?' Just look at yourself. Are you kidding me?" she said on the MSNBC show. "In this moment where we are in history with women, you are going to tell us to just look at her? Are you out of your mind? You know what, that's your only excuse, and I feel really sorry for you. That is the most—he was incredibly degrading. On top of the fact that you are hurting the president's case on so many levels, so good on you, keep going, Rudy. I'm absolutely sickened about what I just saw."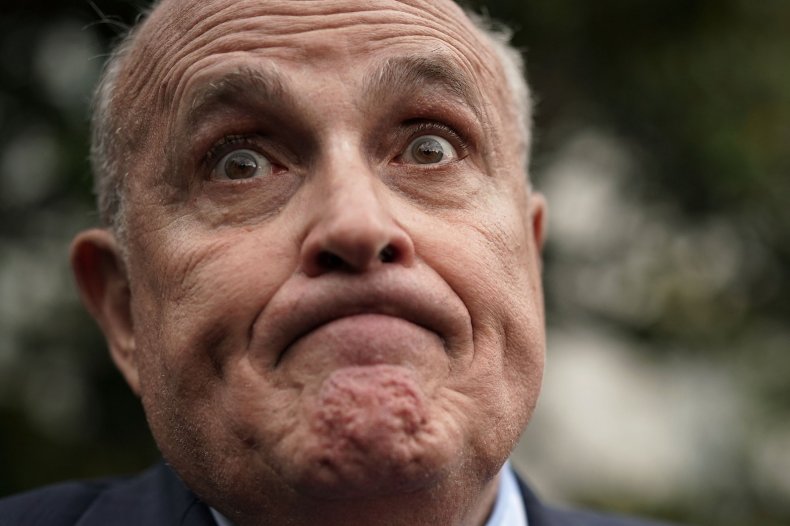 After the panel on the show went back and forth for a bit, Brzezinski said Giuliani's comments only serve to inspire Daniels.
"Good job, Rudy Giuliani you've just emboldened Stormy Daniels and potentially any other woman who may have evidence against this president," Brzezinski said on Morning Joe. "You just wait, because right now, after you said that, Rudy Giuliani, I bet they might want to step forward. I bet they might want to think, 'You know what, just look at me, just look at me.' Good luck with your case. What a disgusting man."
Giuliani, the former mayor of New York City, has regularly made headlines since joining the Trump legal team. Just this week alone, for instance, he said North Korea's Kim Jong Un begged on "his hands and knees" to make a Trump summit happen, claimed the head of the Russia investigation is trying to frame Trump and posited that Trump couldn't be indicted even if he shot former FBI Director James Comey.
But what really angered Brzezinksi on Morning Joe Thursday were his comments about Daniels.
"Saying 'just look at her' and laughing derisively says everything you need to know about this presidency and their attitude toward women," Brzezinski added later in the show. "Everything you need to know. It was about as disgusting as it gets."