'Mortal Kombat 11' Cover Reveals Scorpion in His Fiery Glory
Less than a week before the first gameplay reveal for Mortal Kombat 11 , NetherRealm Studios got the return of MK hype train rolling by showing off the cover to the upcoming fighting game.
The cover to Mortal Kombat 11 features Scorpion, the ethereal ninja warrior, jumping towards the player (spear in hand) with the iconic dragon logo that has become synonymous with the franchise in the background.
Check out the cover to Mortal Kombat 11 below.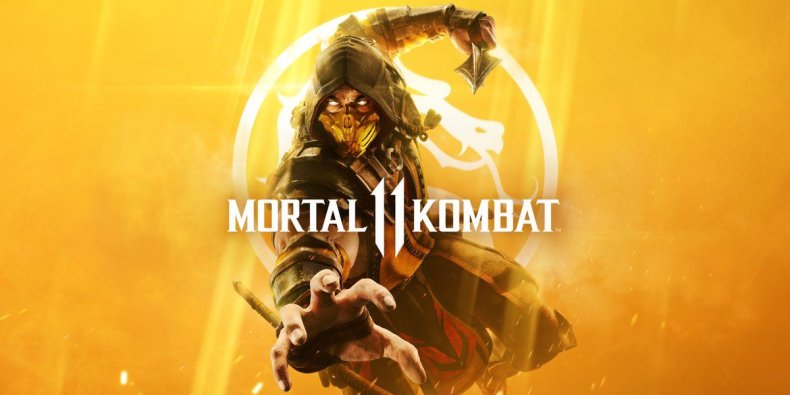 Mortal Kombat 11 was revealed during the 2018 Game Awards with an April release date. While the trailer didn't show any gameplay, it did shed light on some interesting tidbits about the story fans can expect in NetherRealm's latest.
Raiden has been corrupted from the final battle of Mortal Kombat X, and Dark Raiden is seen fighting two different versions of Scorpion. This hints at the new Custom Character System that will "deepen and personalize the player experience by giving them creative control of building customized versions of the character roster."
Pre-ordering Mortal Kombat 11 will give players access to Shao Kahn, the villain of Mortal Kombat 9, just as Goro was the pre-order bonus in Mortal Kombat X and Darkseid in Injustice 2.
Currently, only Raiden and Scorpion are confirmed playable characters in Mortal Kombat 11. However, there is a new character that appeared in the reveal trailer beside a giant hourglass.
What else can fans expect from Mortal Kombat 11? A GameStop Italy listing for the fighting game may have revealed some key features, including new fatalities, something called a "GoreTech" system and a new graphics engine.
More information about the game will likely be revealed on January 17, along with the first good look at gameplay. Fans of Injustice 2 can probably expect some aspects of the Gear System to carry over to the Custom Character System.
Mortal Kombat 11 will release April 23 on PS4, Xbox One, Nintendo Switch and PC.
What do you think of the Mortal Kombat 11 cover? Who do you hope joins the roster? Let us know in the comments section below.