'Mortal Kombat 11' Kotal Kahn Gameplay Reveal Next Week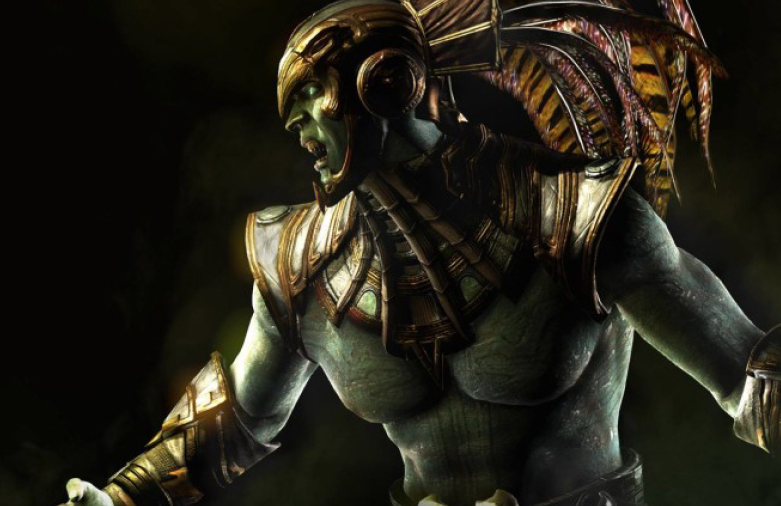 Mortal Kombat 11 fans expecting a new Kombat Kast this week will be disappointed that NetherRealm Studios confirmed there won't be hosting its stream showing off new gameplay.
However, the company did tease that Kotal Kahn will be the focus of next week's Kombat Kast with a short clip of the Mortal Kombat X character's entrance, which was posted on the official Mortal Kombat social pages. So expect a new Kombat Kast next week.
While Kotal Kahn's face wasn't shown, there's no denying that the fighter's signature green skin and long sword being dragged across the floor is a giveaway.
Kotal Kahn was shown during the latest story trailer for Mortal Kombat 11. In it, Raiden approaches the fighter to help him take down Shao Kahn. Kronika, who is the main villain of MK 11 , has gone back in time to restore the timeline that Raiden has thrown off balance.
She approaches Shao Kahn to offer him help, but it's up to Raiden, Liu Kang and the rest of the Earthrealm fighters to take his army down. They hope Kotal Kahn can help them.
Newsweek subscription offers >
There were other unknown fighters shown during the latest story trailer, but if you've been following the leaks going around you may recognize them.
Kombat Kasts are the ideal destination for Mortal Kombat 11 character reveals and gameplay. In the past, gameplay for Kabal, Jade, Johnny Cage, Kano, and Cassie Cage were shown. It was also a place for more insight on what to expect from the upcoming fighting game so be sure to tune in to see what Kotal Kahn can do.
The inclusion of Kotal Kahn will bring the official Mortal Kombat 11 roster to 14, which includes: Scorpion, Raiden, Sub-Zero, Skarlet, Geras, Sonya Blade, Kano, Johnny Cage, Cassie Cage, Jacqui Briggs, Baraka, Erron Black and Jade.
Mortal Kombat 11 is set to release for PS4, Xbox One, Nintendo Switch and PC on April 23.
Are you excited to see Kotal Kahn next week? Who do you want to see after him? Let us know in the comments section below.
'Mortal Kombat 11' Kotal Kahn Gameplay Reveal Next Week | Gaming