Most Americans Say Nancy Pelosi Should Step Down as Speaker if Reelected
Most Americans say Nancy Pelosi should step down as House speaker if she's reelected this November.
A new Politico/Morning Consult poll found 60 percent of registered voters think Pelosi should leave her leadership position if she wins another term in the 2022 midterm elections. Less than a quarter of respondents, 24 percent, said she should seek another two years as speaker.
The survey findings come just one week after Pelosi, 81, announced her bid for reelection. The California Democrat has spent 18 terms in Congress, serving as the first female speaker of the House, from 2007 to 2011, when Republican John Boehner assumed the role, followed by Paul Ryan. After the Democrats won back majority control of the chamber in 2018, Pelosi was elected speaker again.
She enters the 2022 race as a favorite, Newsweek reported, having won her last reelection bid with nearly 80 percent of the vote.
"This election is crucial," Pelosi said in her reelection announcement. "Nothing less is at stake than our democracy, but as we say, we don't agonize, we organize, and that is why I am running for re-election to Congress and respectfully seek your support."
Pelosi previously hinted she intended to step down as the House's leader. In 2018, after facing opposition from some House Democrats who wanted a new speaker, she said she would abide by term limits.
But there have been rumors she may stay in the role, and her 2022 campaign announcement doesn't say whether she'll seek to continue as the House's Democratic leader.
Overall, 57 percent of voters said they have an unfavorable view of Pelosi, compared with 33 percent of voters who had a favorable view.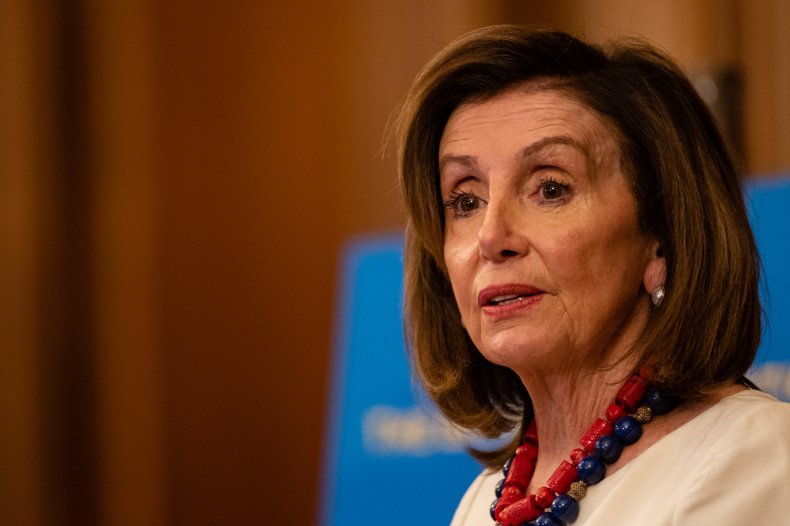 Pelosi is steering the ship as Democrats aim to keep control of the House and Senate in this fall's races. Historically, midterm elections are a referendum on the party in charge. Polling averages have shown Republicans have a leg up in many races.
But the Politico/Morning Consult survey found that if the election were held today, 44 percent of voters would back a Democratic candidate, compared with 41 percent who would vote for the Republican. Fourteen percent of respondents said they weren't sure whom they would support.
The poll also found that voters trust Republicans in Congress more when it comes to the economy and jobs, but trust Democrats more on health care and climate change.
Politico/Morning Consult polled 2,005 registered voters between January 28 and 30. The survey has a margin of error of plus or minus 2 percentage points.
Newsweek reached out to Pelosi's office for comment but didn't receive a response before publication.