Trump Has Increased Racial Tensions Since Charlottesville 'Unite the Right' Rally, Majority of Americans Say
Most Americans believe racial tensions have risen in the U.S. following the first "Unite the Right" rally in Charlottesville last year, a new poll has found.
Ahead of "Unite the Right 2" rally kicking off in the Virginia city on Sunday, CBS News released the results of a new poll conducted by YouGov, which found that 61 percent of respondents say racial tensions have increased over the past year. Additionally, 58 percent of Americans disapprove of President Donald Trump's handling of race relations.
But the respondents also revealed that Americans' opinions are divided along racial lines. While Americans overall have noted an increase in racial tensions, 78 percent of black Americans see a noticeable increase. Additionally, 82 percent of blacks and 73 percent of hispanics disapprove of Trump's handling of such tensions, whereas whites are nearly evenly split, with 49 percent approving and 51 percent disapproving.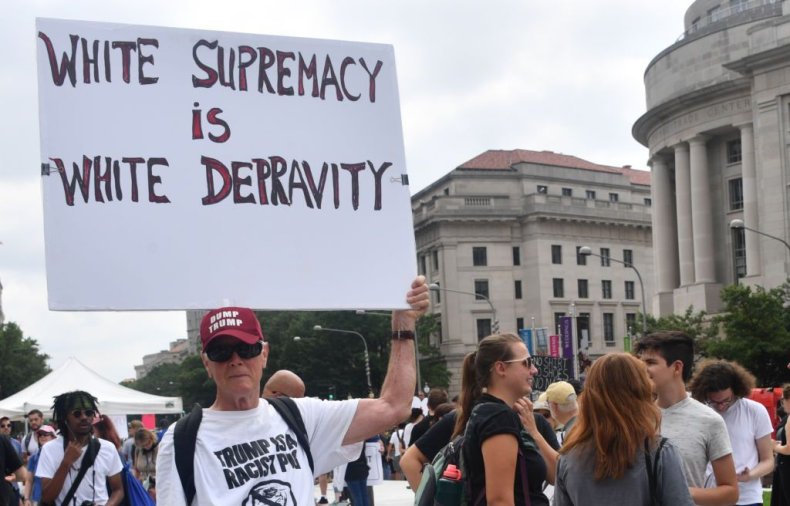 Politics also appears to divide public opinion regarding racial tensions, with 83 percent of Republicans approving of the president's handling of racial issues, including 44 percent who strongly approve. Conversely, 90 percent of Democrats do not approve, including 80 percent who strongly disapprove.
A year ago, the first Unite the Right rally – which brought together representatives of the alt-right, neo-Nazis, Ku Klux Klan members and other white Nationalists – left Heather Heyer, 32, dead after a white nationalist drove into a crowd of counter demonstrators. Dozens of others were injured during the protests.
Trump drew significant backlash after the Charlottesville rally last year, as he appeared reluctant to criticize the Unite the Right demonstrators, many of whom openly supported his presidential bid and felt emboldened by his election victory. The president said there were "some very fine people on both sides" and argued that the press had treated the right-wing protesters "absolutely unfairly."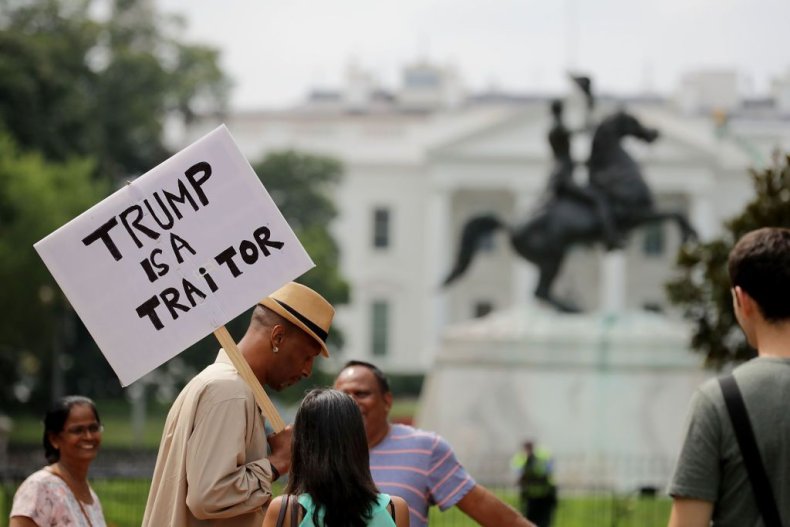 On Saturday, Trump posted another message that condemned racism, but stopped short of targeting the white supremacists who make up much of his voting base.
"The riots in Charlottesville a year ago resulted in senseless death and division. We must come together as a nation. I condemn all types of racism and acts of violence," President Trump wrote in a Twitter post. "Peace to ALL Americans!"
On Sunday his daughter Ivanka Trump took and even stronger stance against racism and white supremacy, called the events of last year's rally "an ugly display of hatred, racism, bigotry and violence."
"While Americans are blessed to live in a nation that protects liberty, freedom of speech and diversity of opinion, there is no place for white supremacy, racism and neo-nazism in our great country," she said. "Rather than tearing each other down with hatred, racism and violence, we can lift one another up, strengthen our communities and strive to help every American achieve his or her full potential!"
She was broadly criticized, accused of hypocrisy for supporting her father's administration while espousing tolerance.
And Heyer's mother recently told Newsweek that she doesn't "know of anything" Trump has done to address hate in the U.S.
"It's not that it was new. It's not that it never existed. It's not that the issues hadn't existed for long before. But most of us were not paying attention to the level of hatred that existed," Heyer's mother, Susan Bro, said in an interview on August 1.
"I think that there is a general rise of an acceptance of hate in the country, and so white supremacists certainly feel more emboldened," she added.