CNN Town Hall on Gun Policy: The Five Most Talked-About Moments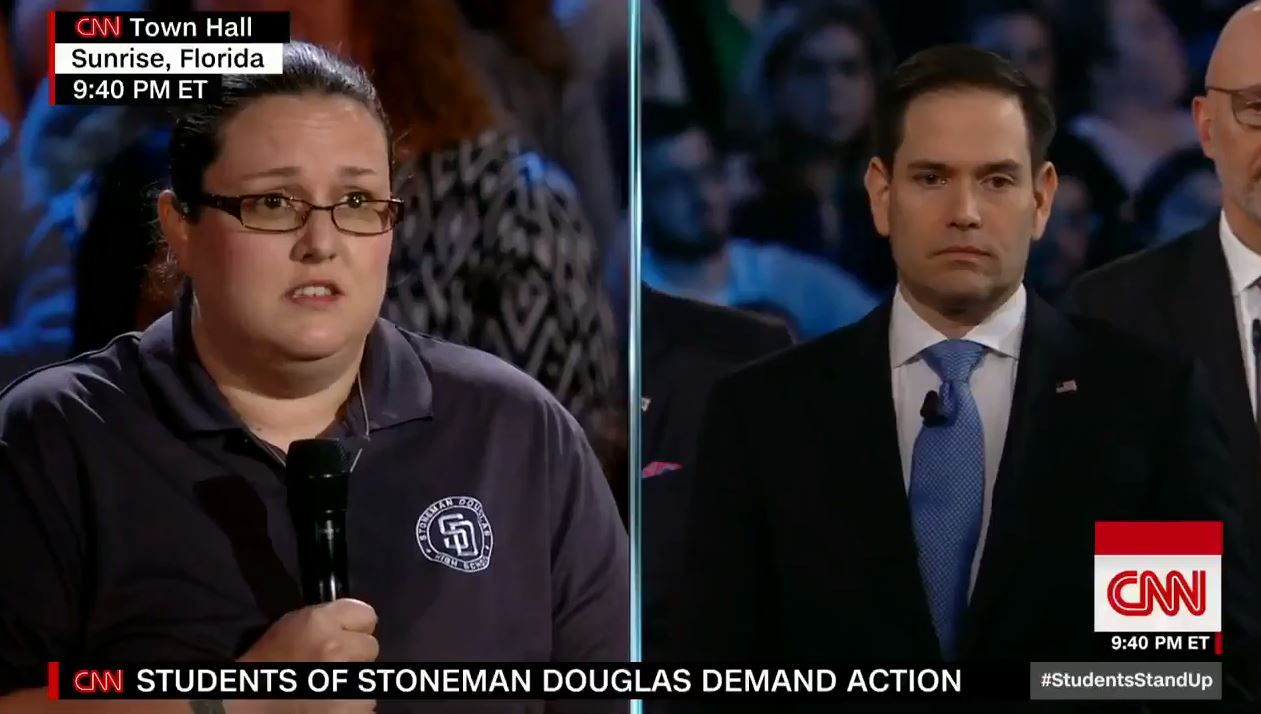 CNN's town hall on gun policy saw politicos sparring with students, mothers who lost children to firearm violence interrogating the NRA, and law enforcement officials begging for more effective gun control. All told, the program—hastily put together following the Parkland, Florida, high school shooting last week—was a can't-miss event underscored by tense discussions and emotional appeals.
Here are the top five exchanges you need to know about from last night's debate.
1. Sen. Marco Rubio fumbles when teen asks if he'll continue to accept money from the NRA:
In perhaps the most viral moment of the night, Senator Rubio struggles to give a straight answer when pressed by a Parkland teen over whether he'll continue to accept money from the NRA. Short answer? Yes, he will. You can see more of Rubio's answers here.
2. Broward County Sheriff Scott Israel demands better gun control and asks why teens have access to long rifles:
Israel had a few key moments from last night's debate, but the top spot goes to his makeshift sermon against teens having the ability to purchase long rifles. When pushed to answer why an 18-year-old can legally purchase an assault rifle, NRA spokeswoman Dana Loesch explains that she believes adults who are eligible to enlist are eligible to buy the gun. Moments later, she attempted to say that the ability to own a long rifle is a coup for young women facing assault—a response that was met with loud jeers.
3. Parkland teacher sharply questions Rubio, asking if she needs to bring a Kevlar vest to school:
This moment was shared widely by viewers, many of whom commented on the grim specter of teachers needing to wear bulletproof vests to school. "How am I supposed to go on?" asks Ashley Kurth, the teacher who shielded her own students from gunfire last week. Rubio broke with President Donald Trump in his response, telling the woman he does not believe teachers should be armed.
4. History teacher at Parkland gives Loesch a pop quiz
After telling the audience that she saw the body of one of her murdered students, history teacher Diane Wolk Roger pointedly asks Loesch to define a "well-regulated militia." Then, to a huge round of applause, she asks Loesch to "use supporting detail to explain" how an 18-year-old with a rifle is well-regulated. Before handing over the microphone to Loesch, Roger warns the spokeswoman that "America will grade" the answer.
5. Mother of Parkland shooting victim yells "Enough talk! What is your action?"
Lori Alhadeff, whose 14-year-old daughter died in the Parkland shooting, has a litany of questions for her legislators and the NRA spokeswoman. After rattling off the proposed—but never implemented—quick fixes to gun violence, she yells into the microphone: "Enough talk! What is your action?"