Most Important Problems Facing U.S. Today—Per Poll
Inflation, the economy, and abortion issues are among the most important problems facing the U.S., according to a new Gallup poll.
The poll found eight percent of Americans named abortion as the country's top concern—the most since Gallup began tracking the issue in 1984.
Abortion still ranks behind three other issues, according to the poll, which surveyed 1,103 adults between July 5 and 26.
Inflation (17 percent) and dysfunctional government or bad leadership (17 percent) topped the list, with another 12 percent of Americans citing the economy in general.
Democrats were more likely to list abortion as the country's biggest problem than Republicans.
Thirteen percent of Democrats and Democrat-leaning independents said abortion is the country's top concern, although slightly more (15 percent) cited the government.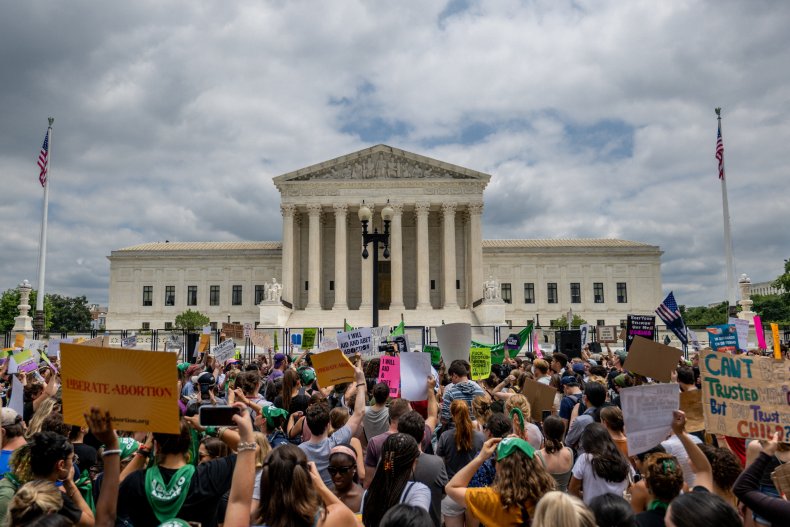 Four percent of Republicans listed abortion as the country's most important problem.
The top concern for Republicans is inflation (25 percent)—which eight percent of Democrats mentioned—followed by the government (19 percent) and the economy (17 percent).
Nine percent of Republicans also mentioned fuel prices, compared to two percent of Democrats.
Overall, 35 percent of respondents mentioned some aspect of the economy as the nation's biggest problem—five percent said fuel prices, while some also cited issues such as unemployment or taxes.
The uptick in mentions of abortion as the most important problem comes after the U.S. Supreme Court overturned Roe v. Wade in late June, ending constitutional protections for abortion. Since then, a number of states have moved to impose restrictions and bans on the procedure.
Mentions of abortion as the nation's biggest problem rose to five percent in Gallup's May poll after a leaked draft decision indicating the court was set to strike down Roe was reported in the media.
Those mentions fell in the Gallup's June survey, but rose again to eight percent after the court's decision was issued on June 24.
A related issue—problems with the nation's judicial system and courts—also appeared on the list in the most recent poll, with six percent citing it as the most important problem facing the U.S.
Other issues mentioned by respondents included: unifying the country (six percent), immigration (six percent), guns and gun control (five percent), race and racism (four percent) and crime (four percent).
Just one percent of Americans saw COVID-19 as the nation's biggest problem, according to the poll, despite the BA.5 variant spreading in the U.S. and President Joe Biden testing positive recently.
Similarly, concern about Russia's invasion of Ukraine has also decreased in recent months—just one percent of Americans mentioned it as the biggest problem in the latest Gallup poll, compared to nine percent in March.
Just three percent of Americans mentioned climate change and the environment as the nation's biggest problem, despite many parts of the country seeing record heat in recent weeks.