Despite the fact that he was accused of spreading misinformation regarding COVID-19 vaccines, a new poll found most Joe Rogan listeners are inoculated against the virus.
According to a Morning Consult survey released Monday, 55 percent of people who describe themselves as "avid fans" of Rogan are vaccinated. Meanwhile, 45 percent of avid fans who responded to the survey haven't received any vaccine doses.
The poll results come after Rogan was slammed by hundreds of medical and scientific experts for airing false statements regarding vaccines and the COVID-19 pandemic in general.
"He has discouraged vaccination in young people and children, incorrectly claimed that mRNA vaccines are 'gene therapy,' promoted off-label use of ivermectin to treat COVID-19 (contrary to FDA warnings), and spread a number of unsubstantiated conspiracy theories," a coalition of medical and scientific experts wrote in a letter to Spotify demanding they take action.
Spotify is the exclusive streamer of Rogan's widely popular show The Joe Rogan Experience, which averages roughly 11 million listeners per episode. Rogan reportedly signed a $250 million deal with the streaming service.
One widely criticized episode of Rogan's included an interview with Dr. Robert Malone that aired in December 2021. Malone, a scientist who worked in mRNA technology used for vaccines, falsely stated that getting vaccinated puts people who already have had COVID-19 at higher risk.
In response to the backlash, Spotify released its internal rules on removing audio content from its service and added an advisory to any podcast that discusses the pandemic.
"We take this seriously and will continue to partner with experts and invest heavily in our platform functionality and product capabilities for the benefit of creators and listeners alike," CEO Daniel Ek said in a statement. "That doesn't mean that we always get it right, but we are committed to learning, growing and evolving."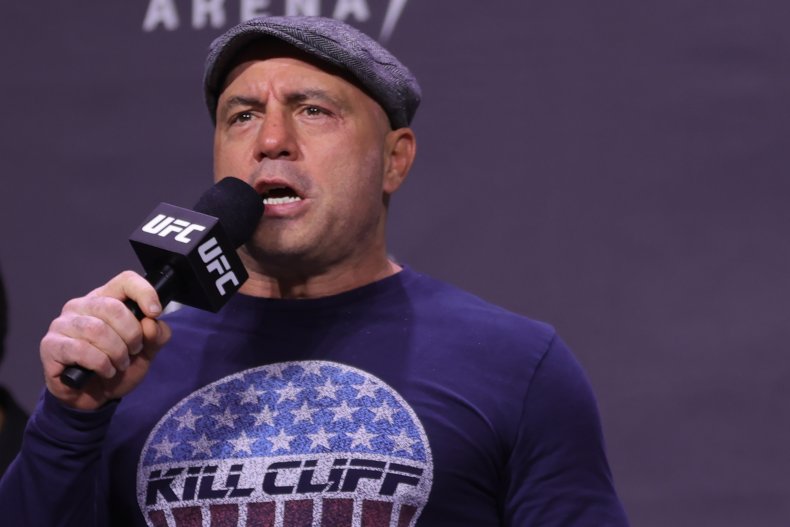 Several high-profile musicians, including Neil Young and Joni Mitchell, made the decision to remove their music from Spotify in protest of Rogan. Young said Spotify accounted for 60 percent of his streaming income.
In addition to the COVID-19 controversy, Rogan was also condemned for his past usage of racial slurs. Rogan issued an apology after Grammy-winning Black singer-songwriter India.Arie shared a video compilation showing him using the N-word in different episodes over a 12-year period.
Last month, Rogan said Spotify has "inexplicably" stood by him amid the controversies.
More than 100 episodes of Rogan's podcast have also been removed from Spotify. According to Elk, Rogan chose to take the shows down.
Morning Consult surveyed 4,420 U.S. adults, including 442 "avid" fans of Rogan, last month.
Newsweek reached out to Rogan through his website to comment on the poll's findings but didn't receive a response before publication.