Most Russians Think LGBT 'Propaganda' Aims to Destroy Traditional Values: State Poll
Most Russians fear that a wave of LGBT "propaganda" seeks to "ruin the spiritual values" of the nation, according to a Kremlin-backed pollster.
The survey, conducted by the state-run WCIOM firm, asked Russians a handful of questions about conspiracies against their country and found only a minority regard LGBT activists as people who "do not pursue destructive goals."
Asked if a group of people seek to use LGBT issues to attack the spiritual fiber of Russia, 63 percent said yes, while only 24 percent said that LGBT activism has no nefarious motives and "there is no propaganda of non-traditional sexual relations in Russia." The remaining 13 percent had trouble deciding one way or another.
The term "propaganda" stems from a controversial bill colloquially labeled the "gay propaganda law," when the Russian parliament passed it in 2013. The law introduced fines for anyone publicly displaying LGBT symbols or portrayals of same-sex relations as normal, classifying that as harmful for children to see.
The divide on the issue was noticeably less pronounced between the youngest and the oldest age groups surveyed, as 18-24-year-olds were the only age group where those dismissing the idea LGBT activism was harmful (48 percent), outnumbered those fearful of it (44 percent). The remaining eight percent that may have swung the decision strongly one way or another, had difficulty making up their mind. By contrast, majorities in every older age group subscribed to the conspiracy.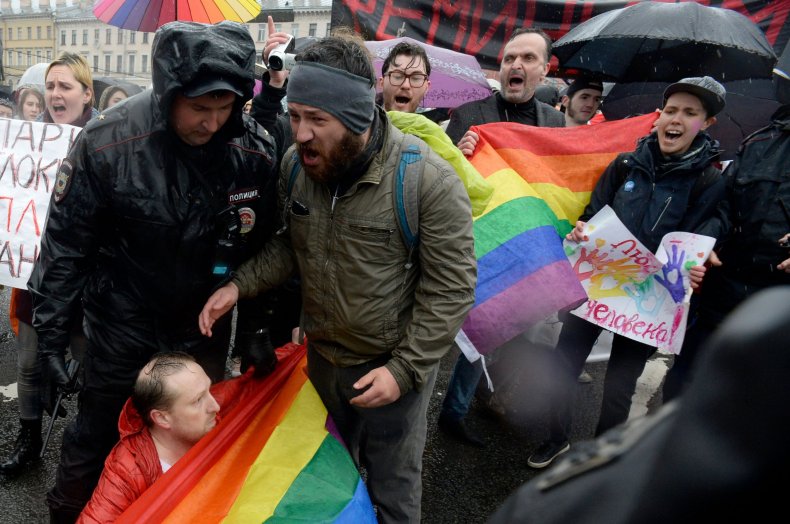 Most Russians also said that the country was facing another conspiracy, by an unnamed group of individuals "committed to rewriting Russian history, changing historical facts in order to harm Russia and reduce its greatness." Sixty-six percent of respondents gave that answer, while only 26 percent felt that this is not true and "if different historians review historical events in Russia, it is because they are striving to get to the truth."
Read more: Russia's Ministry of the Interior is considering criminalizing "gay propaganda"
A similar survey by the pollster last month revealed that 67 percent of Russians suspected a shady group of individuals controlled the actions "of many governments," with the eldest generation more strongly convinced of this than younger Russians.
Opposition to acts of so-called "gay propaganda" in Russia has resulted in activists effectively being barred from holding Pride celebrations in public. Last week, after years of trying to hold a Pride march in Moscow or St. Petersburg, activists finally celebrated being given permission to hold the event in a village of seven people on the Volga river, before authorities changed their mind and announced the event would not go ahead.