Most Russians Think Putin Is Doing a Great Job As Support for Government and Parliament Plummets
Russian President Vladimir Putin's approval rating has hit 82 percent, even though a majority of Russians now disapprove of his prime minister, government and parliament, a new poll shows.
The Russian leader's approval rating experienced a sharp spike after the annexation of Crimea in 2014, but despite a deteriorating relationship with the West and an economic slump, his polling figures have consistently stayed above 90 percent. However the same cannot be said of the Russian government, new figures from the country's top independent pollster Levada Center indicate.
Putin's onetime successor and current Prime Minister Dmitry Medvedev is hovering around his lowest ever approval rating, as 57 percent of Russians do not think he is doing a good job. The only time this figure has been higher over the last 12 years was at the start of last month.
Read More: Vladimir Putin's "Death Star" and other memes from the Kremlin's odd presentation
Several rounds of Western sanctions against top Russian businesses, run by Kremlin-friendly officials, have repeatedly devalued the Russian ruble and hit the stock market. Over the last few years Putin has handed Medvedev the tricky public responsibility of spearheading an economic recovery without making sweeping reforms.
Medvedev's image has not recovered since sparking ridicule on two separate occasions during the economic crisis, with awkward answers to questions by members of the public about their incomes. In one instance he batted away questions about the lack of increase of pensions by telling an elderly woman: "There is just no money, but you take care." Last year Medvedev followed it up with advice to a teacher, who asked him what educators need to do to have their pay increased, suggesting that he should simply change jobs.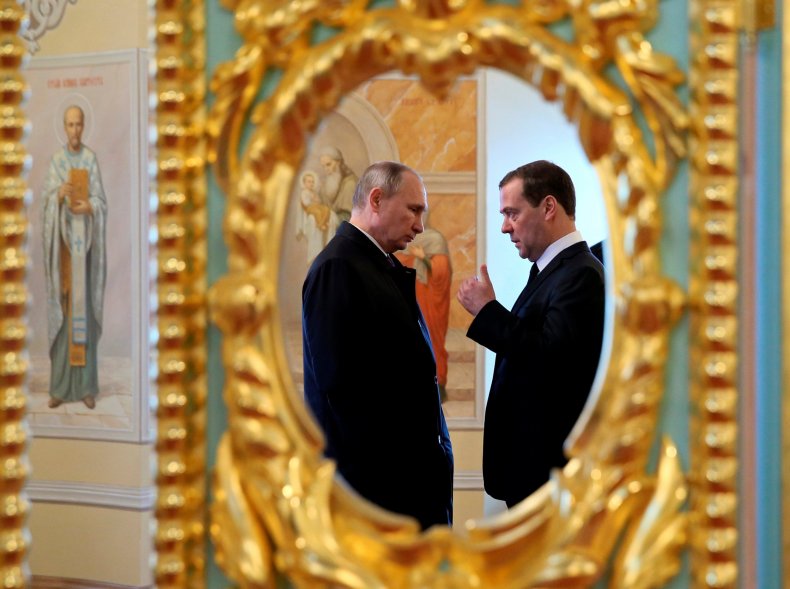 Both gaffes became viral memes and by last April, hundreds of thousands of Russians had signed a petition that called for Medvedev's dismissal. At the same time, Kremlin critic Alexey Navalny released a blockbuster investigation into Medvedev's alleged corrupt dealings, which accused the politician of amassing enormous wealth illegally. A year later, the YouTube clip of the investigation has been viewed almost 27 million times.
The Russian premier is not the only one with a high disapproval rating, as most Russians (53 percent) do not think the government around him is doing a good job either. The government's approval rating closely mirrors Medvedev's and Russians have consistently disapproved of its work over the past two years.
Russian parliament, where lawmakers are largely loyal to Putin's policies and genuine acts of opposition are virtually non-existent, also received high disapproval, with 57 percent of Russians not satisfied with its work.
Following his fourth re-election as president earlier this year, Putin is on course to become Russia's longest-serving leader since Joseph Stalin, despite the faltering state of the economy and social services. Experts have told Newsweek that Putin's image as a stern manager in a vast system steadies his personal image, as mistrust against his officials dwindles.
Sam Greene, director of the Russia Institute at King's College London, recently told Newsweek that Putin deliberately runs a system bereft of agency without his say-so, adding the impression that he is the only one to thank when disputes are resolved. "The parliament, the courts, the constitution, even the church have been sapped of power in the service of a single arbiter, a single guarantor and a single symbol."