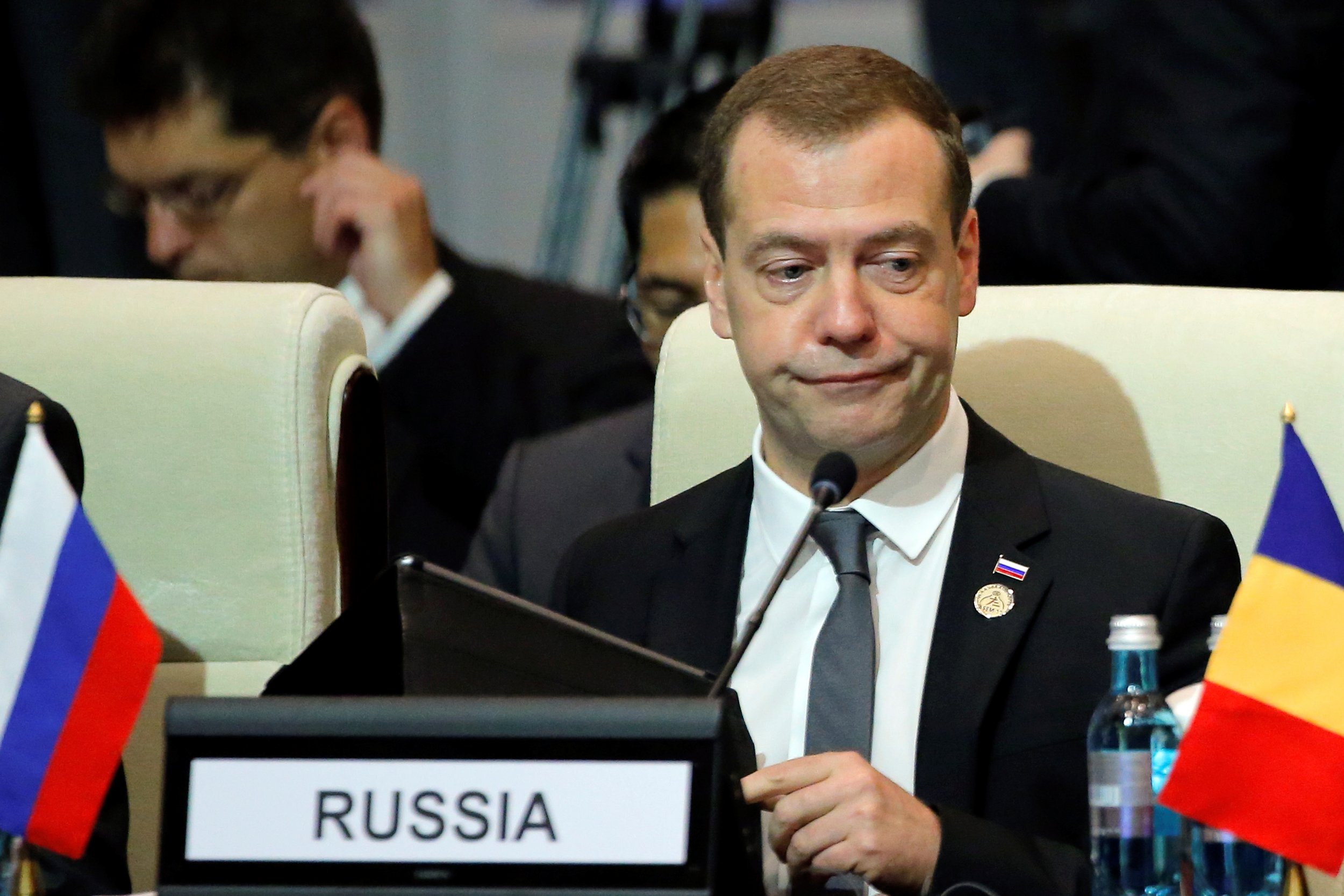 Almost half of Russians want Prime Minister Dmitry Medvedev to resign, after almost three years of the country's economy being in crisis, a new poll shows.
Medvedev has been at the forefront of public dissatisfaction with domestic policy. Rising shopping bills and low wages and pensions in Russia are high on people's list of complaints amid an economic crisis partly caused by the slump in oil prices and disrupted trade with the West. The prime minister's awkward responses when replying to citizens during at least two public speaking events have spawned videos that went viral.
Some 160,000 people signed a petition to see him dismissed after he told a teacher last year to change careers if he wanted more pay. Dissatisfaction turned to public anger last month when Russia's most prominent anti-corruption blogger and politician, Alexei Navalny, published a documentary online that claimed to expose Medvedev's "empire" of luxury properties at home and abroad, disguised as charity holdings. The documentary prompted a rare public protest in Moscow, ending with Navalny's 15-day arrest.
According to Russian news channel RBC, not only has trust in the Russian premier tailed off since last spring, from 53 percent in May to 33 percent now, the number of people seeking his dismissal has also increased.
More Russians want Medvedev go than stay. The survey, conducted by Russia's independent pollster the Levada Center, found that 45 percent of Russians entirely or largely agree he should submit his resignation, while only 33 percent wanted to see him stay. The remainder said they were unsure.
The opinion poll also indicated that Medvedev's approval rating has reached a low of 42 percent—the lowest it has been in his decade at the highest levels of Russian politics.
The momentum for the emboldened tide of criticism against Medvedev has also partially stemmed from parliament—a rare place for criticism of a man handpicked for the office by Russian President Vladimir Putin. Three members of Russia's second largest party, the Communist Party, motioned that parliament study Navalny's report, giving it a degree of credence the Kremlin rarely grants to a critical group; it more often seeks to portray the opposition as a collection of fringe, anti-establishment activists.
Medvedev cut a combative figure during the parliamentary assessment of his government earlier this month, during which he urged his detractors to temper their expectations.
"Let's come back down to Earth," he told lawmakers last week. "What conditions are we living in? Closed finances, a [trade] blockade, oil has fallen twofold. Have you forgotten all of that?"
Medvedev has largely become the fall guy for Russia's unconvincing economic recovery in recent years, with Putin and some cabinet ministers experiencing a popularity peak off the back of Russia's annexation of Crimea in 2014.
Putin's spokesman has so far continued to defend Medvedev. The president's spokesman, Dmitry Peskov, dismissed reports against him as "populism" in early April.