What to Know About Kremlin Critic Alexei Navalny's Showdown With Russian Prime Minister Dmitry Medvedev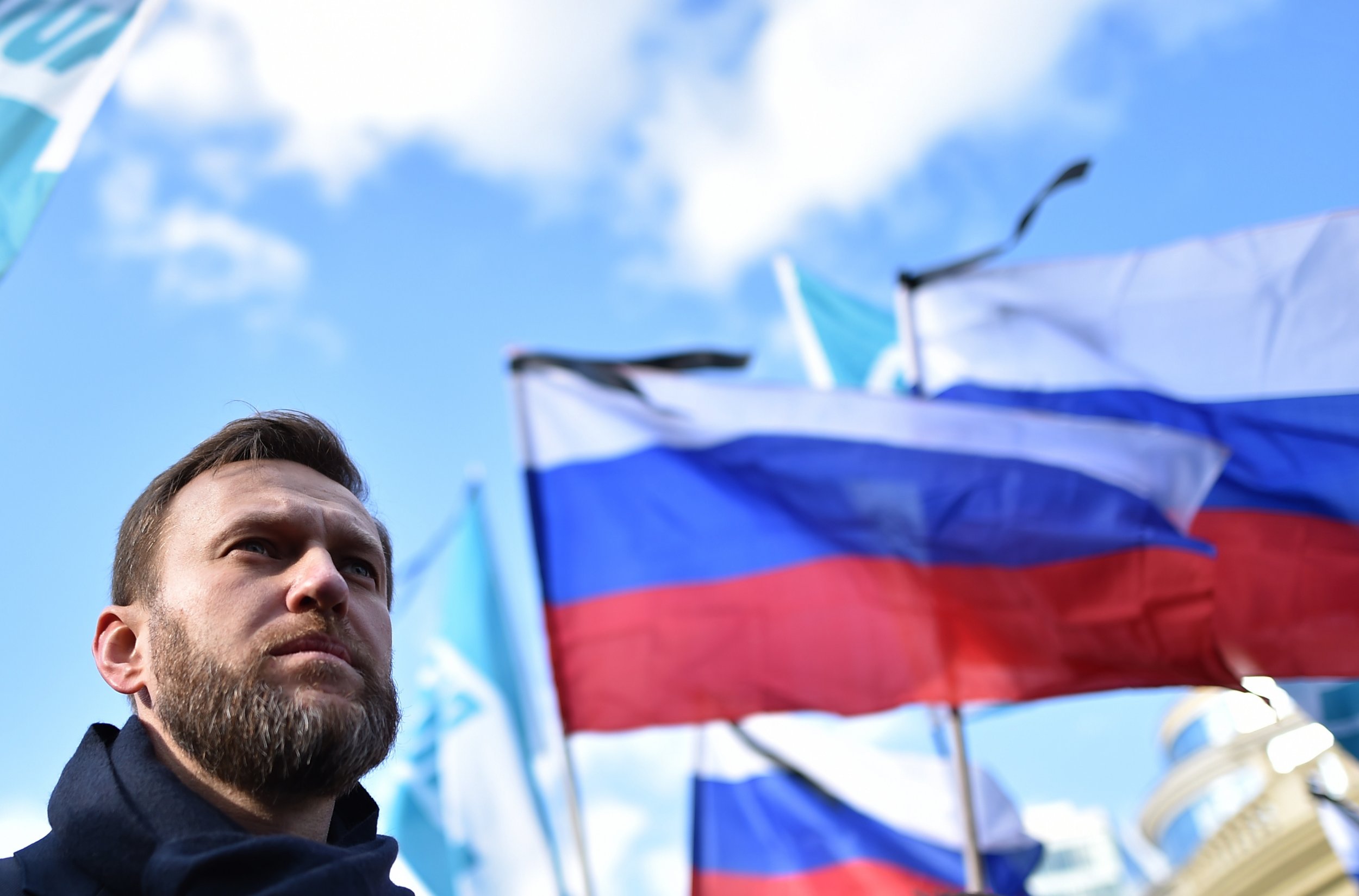 Updated | Russian Prime Minister Dmitry Medvedev has become the target of a public outcry. On Sunday, Russia's renowned anti-corruption blogger Alexei Navalny planned a protest march through central Moscow and 24 other cities demanding answers—not from Vladimir Putin, nor from the more feared members of his entourage, but from the man once hoped to be Putin's more liberal successor. As protests took place, Navalny was arrested; according to a Reuters reporter, he was put into a police truck as hundreds of protesters crowded round. What provoked the march in the first place and why is so significant? Here's what you need to know about the Medvedev-Navalny showdown.
Who is Navalny and why was he protesting?
Alexei Navalny and his Fund for Combatting Corruption (FBK) rose to prominence as the independent investigative and political foil for pro-Kremlin officials in recent years. During protests in 2011 against Putin's return to the presidency, the charismatic Navalny became known as one of the leading critics of Putin and the ruling United Russia party. (Navalny's Party of Progress holds no seats in parliament.)
Navalny's planned protest on Sunday follows his investigation of the prime minister's financial worth. In a report released in March, the activist claimed Medvedev had secretly amassed an "empire" of assets (including yachts and a vineyard) and luxury real estate, via questionable deals.
According to Navalny, Medvedev uses a web of charities run by his associates to conceal these deals. He made the link after cross-referencing alleged leaks from Medvedev's transactions under an online alias with Medvedev's possessions. The account in question had ordered a series of shirts and flashy sneakers that Medvedev has been photographed wearing.
Navalny's video presentation of the investigation has garnered over 11 million views on YouTube in the past three weeks. The report has found rare traction within the Russian political establishment too. Members of Russia's Communist Party, the second biggest in parliament behind Medvedev's United Russia, which it tends to back on most issues, vowed to investigate Navalny's findings.
Navalny's investigation into Medvedev's finances is a continuation from last year's efforts and has now inspired 25 planned protests nationwide—something other reports did not.
A sizeable march down Moscow's main Tverskaya street to promote the report would likely make the report even more difficult for the state media to continue ignoring.
Why Dmitry Medvedev?
Medvedev, who served as Russian President from 2008 to 2012, is one of the most high-profile Russian officials to be investigated by Navalny. (By serving as president, taking the job between Putin's second and third terms, Putin has been able to rule for longer without violating the constitution.)
Following Medvedev's agreement to switch with Putin in 2012 rather than pursue a second term as president himself, his approval rating plummeted to a record low within a year. In 2013, Navalny's career went in the opposite direction and he caused a major upset by winning around a third of the votes for mayor of Moscow.
Unlike Putin and some other government officials who are often referred to as the siloviki faction, Medvedev has no known past in the security services. According to former U.S. Ambassador to Ukraine John Herbst, the prime minister is personally seen as more of a "soft target."
During Medvedev's last year as president, Navalny and other Putin-critics assembled in large numbers to protest the former KGB man's return to the presidency. It was only after Putin's re-election that clashes between police and protesters became violent. The day before Putin's inauguration in 2012, Navalny was among several hundred protesters arrested. New restrictions increased maximum fines for protests by 300 times and introduced jail sentences for repeat unlicensed protesters.
But isn't Medvedev's popularity up like Putin's?
The last two and a half years have been tough for Medvedev. As the West introduced sanctions over Russia's annexation of Crimea in 2014 and oil prices fell, Russia went into a recession. While Putin's approval rating soared on a wave of national pride from military victories in Ukraine and Syria, the country's protracted financial crisis at home became Medvedev's responsibility.
While the president polls consistently above 80 percent approval, last fall Medvedev slipped into being more disliked than liked for the second time in his career; he has only recovered by four points since.
In December, polls showed Defense Minister Sergey Shoygu and Foreign Minister Sergey Lavrov leapfrogging Medvedev as Russia's most trustworthy politicians behind Putin.
"All of these names, apart from Medvedev, are on the national security side of government," says Herbst, now a fellow at the Atlantic Council. "It is safe to say he's more linked to domestic politics and domestic policy. He has not benefited in popularity from Putin's wars in Ukraine or Syria."
Medvedev has also given some very unpopular answers to grievances from his people. He spawned a meme last summer when he responded to a Crimean pensioner asking about pension adjustments by saying "there is no money, but you hang in there." His advice a few months later to a teacher asking for a pay rise—"try business"—also sparked outrage in the form of a nearly 300,000-strong petition calling for his resignation.
Is Medvedev's job in jeopardy?
"Medvedev is always at risk of losing his job," says James Nixey, Russia program director at Chatham House. "That's what makes him so perfect for it. He is disposable, dispensable and without a significant power base. An ideal scapegoat for Putin should he ever need one."
So far, Putin has not addressed Navalny's investigation and Putin's spokesman Dmitry Peskov has curiously refrained from using Navalny's name in questions about the protest, instead using phrases such as "a number of persons" and a "convicted individual" in reference to Navalny's recent fraud conviction, which he maintains is a Kremlin ploy to discredit him.
Nixey says Putin likely still considers Medvedev to be a "pliable but competent" replacement and will stand by him if he is thinking about a successor. Herbst also notes that Medvedev, although unlikely to succeed Putin if the president remains in good health for the next seven years, must believe himself to be among the heirs apparent—given that he is 12 years younger and has already tagged in for a term in Putin's stead in 2008.
As Navalny's protests outside Moscow have gathered speed, the Kremlin, Moscow Mayor Sergey Sobyanin and the Interior Ministry have all defended Medvedev. Navalny has remained defiant, asserting he has permission to hold a peaceful public assembly and that nobody can stop him from merely walking up and down a Moscow street.
The strong government outcry against a protest that was formally allowed is a "clear switch" Herbst says. "Maybe they have now decided that it is more dangerous to allow it, having analyzed the Navalny campaign against Medvedev more closely."
What next for Navalny and the opposition?
The march is the first political clash in public between Russia's opposition and the government in the run up to the next presidential election in 2018. Navalny is running for president too, albeit with little chance of even being allowed on the ballot.
Russia's opposition has been in freefall since Putin returned to the presidency and Navalny is the movement's most recognizable figurehead. The tightening laws and increased punishments for public assembly, not to mention the mysterious assassination of another opposition leader Boris Nemtsov in 2015, have decreased their public visibility and reduced their chances of breaking into parliament or any major political institution.
But Navalny's renewed action against Medvedev suggests an ambition to revitalize the opposition movement. Even as he was arrested, he tweeted for protesters to continue walking along Tverskaya street, against corruption.
"It is safe to say that despite the regime's attempt to isolate him, Navalny has amassed a significant following, who view him as credible," Herbst says. "Therefore a successful march for him will be encouraging for them."
This article has been updated with reports of Navalny's arrest.