Mother-in-Law Telling Son and Wife She 'Wasn't a Fan' of Baby Name Backed
The internet has backed a woman who told her son she didn't like the name that he and his wife chose for the baby after they asked for her opinion as the grandma of the child.
In a post shared on Reddit earlier in March, under the username u/throwaway2727828, she explained that her son and his wife, both 27 years old, recently had a baby girl. However, because they decided to keep the gender a secret until birth, they had no name for a few days.
The poster wrote: "[They] were doing old wives' tales and settled on a boy since that's what the tales were saying. Since they were so convinced they settled on one name in particular 'Henri' I want to emphasize I have no issue with that name I think it's a nice name and I did try telling them not to get their hopes up because the baby might not be a boy."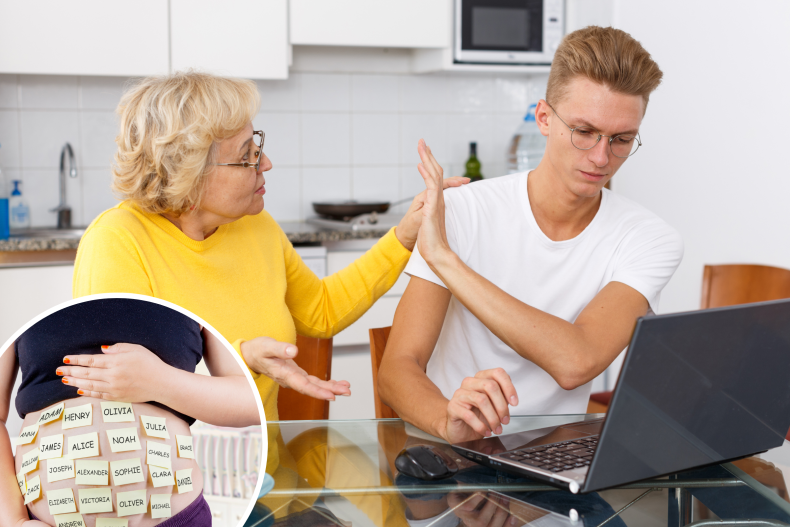 According to Live Science, research suggests that babies' names have an impact on their life well into adulthood. For example, naming a new-born baby boy with a feminine-sounding name could lead him to behavioral problems later in life. Researchers also state that unique baby names can be a hardship, too.
Pregnancy-care website Baby Center says the three most-popular baby girl names in 2022 across the U.S. were Olivia, Emma, and Amelia, followed by Ava and Sophia.
As it turns out, the baby was ultimately a girl. After waiting about for a few days without a name, the son and his wife finally announced it was going to be a female version of what they had originally chosen. However, there would be a different spelling: "They announced the name as Henriettah. Yes, that's the spelling," the woman joked.
The poster explained: "They asked me as her grandmother what I thought of the name, and I told them I wasn't a fan of the name.
"They seemed pretty angry, but I reassured them it's not my child and not my choice to make, but they did ask for my opinion, and I gave it and I wasn't going to convince them to change it but if that's the name then that's the name and I will accept that. Still, they're pretty angry and said I could have lied to them."
Florence Ann Romano is a personal-growth strategist and author of Build Your Village: A Guide to Finding Joy and Community in Every Stage of Life. She told Newsweek that she doesn't understand why parents ask for opinions on their child's name.
She said: "Everyone has an opinion, and more often than not, you're not going to change your mind about the name based on what they say. What will happen, however, is hurt feelings or anger, just like this scenario.
"The grandma could have simply said that she was happy. They could quickly pivot the name after finding out the gender wasn't what they were expecting. She could have sidestepped it in a pleasant way that didn't elicit a conversation. The only time I feel it's appropriate to ask the opinion of a name is if you are asking permission to use a family name that perhaps is up for grabs among siblings."
The post was originally shared on the r/AmItheA****** subreddit, where users discuss their actions with online strangers to figure out whether they were right or wrong in an argument. The post has quickly gained popularity on the platform, receiving more than 7,300 upvotes and 1,900 comments so far.
User Hot_Wings04 commented: "You tried saving Henriettah. We will remember you for that. I'm imagining someone having that name for the first time in 150 years. People, we are talking about Henriettah here. Not Henrietta. Please stop giving me Henriettas you know, tell me the Henriettahs."
That-Profession-3977 wrote: "So they asked for your opinion ... then got angry when the opinion they got wasn't what they wanted to hear? Sigh."
Intelligent-Prune-33 added: "They asked. You answered. That kid is gonna catch 3 kinds of hell for it, though. Kids are vicious."
User llleonthelionnn added: "I hate this trend of kids being given normal names with bizarre spellings. See, when I was younger I was really jealous of the kids that had 'cool' and 'unique' names; I thought mine was boring compared to theirs. These days, though, I'm eternally grateful for my parents giving me a normal name, because all those people around me who have unique names are really struggling with them."
AdministrationLow960 wrote: "My name is like this. I have to spell it out all the time. It gets tiresome."
Newsweek reached out to u/throwaway2727828 for comment via Reddit. We could not verify the details of the case.
If you have a similar family dilemma, let us know via life@newsweek.com. We can ask experts for advice, and your story could be featured on Newsweek.