Motorola Razr Flip Phone Returns with Bendy Screen—Specs, Price and Release Date Revealed
The Motorola Razr flip phone is trying to blend the past and future, trading on the nostalgic and ultra-portable design while also incorporating flexible screen tech like seen in the Samsung Galaxy Fold and Huawei Mate X. But at $1,500, it clearly comes at a price.
Announced at a press conference in Los Angeles yesterday, the Razr retains the aesthetics of the original device, opening from a 2.7-inch front touchscreen into a full 6.2" touchscreen with a satisfying click. Images and videos from the event quickly poured onto social media.
Running on Android 9 Pie software, the handset boasts 6GB RAM, 128 GB internal storage, a Qualcomm Snapdragon 710 chip and a 2510 mAh battery.
According to Motorola, the handset will be available exclusively in the U.S. through Verizon from January next year, with preorders opening next month, on December 26. As noted, the updated Razr is priced at $1,500. A 24 month payment plan via Verizon is reportedly being offered at $62.49 per month.
The company has said it took four years of research and development alongside a division of its parent company Lenovo to reach this iteration of the bendy phone. On its website, which lists full specs, the firm said the Razr has a "zero-gap hinge" that lets both sides sit flush together.
The rear camera is a 16MP (f/1.7) and the front camera is a 5MP (f/2.0), and the Android phone, constructed with stainless steel and glass, has a fingerprint sensor and Bluetooth 5.0. According to Wired, there is no headphone jack but Motorola will pack an adapter in the box.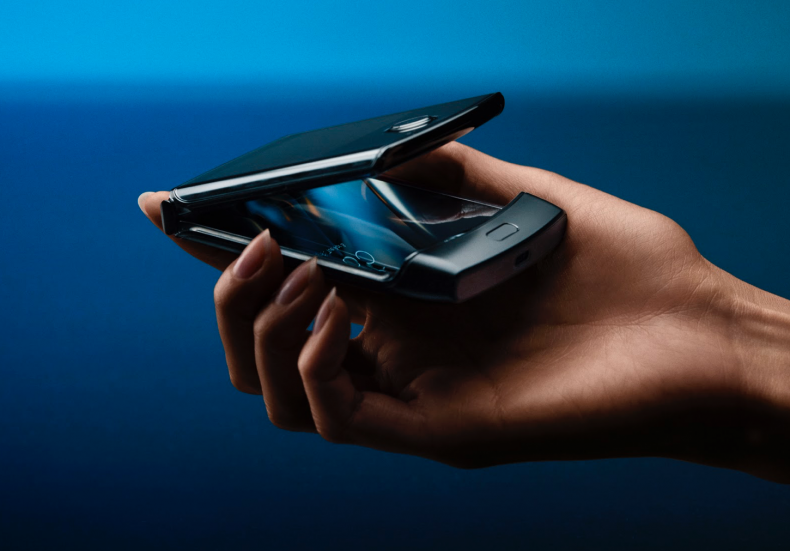 In a statement to TechRadar, Motorola indicated that issues with previous bendy phones had been taken into consideration, and said the technology would only improve in the future.
The Galaxy Fold suffered a number of screen issues after being sent to press and influencers for initial reviews before being revamped and released to market in September.
"We have full confidence in the durability of the FlexView display, and based on our research, it will last for the average lifespan of a smartphone," Motorola said. "We acknowledge this is a brand new technology and we are committed to continue improving as the industry evolves."
Newsweek is yet to get hands-on time with the phone, so it's impossible to offer an opinion about whether the new Razr offers a premium feel that is expected in flagship devices. On paper, there are concerns that some of the internals, including the chip and battery, are lacking compared to rivals, but the $1,5000 is likely the cost of being an early adopter for the screen tech.
It is also unknown if there is a real demand for bendy handsets—nostalgia or not—especially when phones such as the Google Pixel 4 and the OnePlus 7T offer top-of-the-range specifications at significantly less money. Regardless, Motorola appears confident in its latest creation.
"When we started doing research on the design for Razr, I think we started with 26 different prototypes until we finally got to the clamshell design," Laura Joss, the global director of design research, said in a product overview on YouTube. "This new form factor isn't just something that is technologically really cool but it's something that is going to give consumers the big screen that they want, and the portable and pocketable device that they have been asking for."
We will see. Newsweek will keep you updated with further impressions when possible.