Police in Upper Darby, Pennsylvania, say that two mourners who were in a funeral procession were shot and killed Friday afternoon.
The Upper Darby Police Department said in a Twitter post that officers responded to reports of gunshots "and subjects who were struck by gunfire" just before 1 p.m. Upon their arrival, officers learned that two men in their early 20s, who were in vehicles as part of a funeral procession, were shot and killed.
"The shooter(s) were no longer on location, and at this time have not been identified," the department stated. "An investigation is underway, and during this difficult time, we ask for thoughts and prayers for the families and loved ones of these two young men. The intersection is now open."
Local news station WTXF reported that the funeral was being held for a homicide victim in Philadelphia, according to police.
According to the station, Upper Darby Police Superintendent Timothy Bernhardt said that the victims were struck multiple times after someone pulled up next to them and opened fire. The victims were "bumper-to-bumper" with other cars when the shooting occurred.
"It was chaos down there," Bernhardt added.
Newsweek has reached out to the Upper Darby Police Department for comment.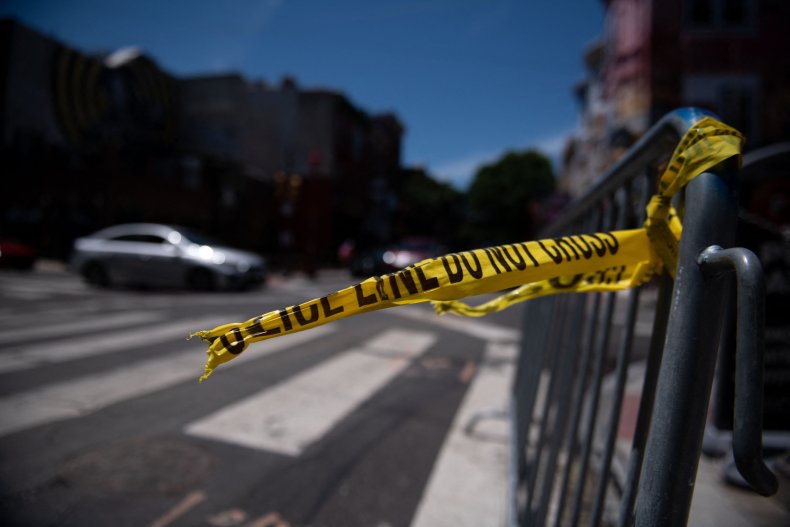 Other Incidents of Gun Violence at Vigils
In a separate incident in May, a man in California was killed during a shooting at a vigil for a victim of gun violence. At the time, a spokesperson for the Riverside Police Department told Newsweek that people had "gathered for a vigil or memorial for one of the people shot and killed early Wednesday morning" at a neighboring building when the incident occurred.
"An argument ensued and one of the people pulled out a gun and shot another attendee. The person shot was taken to a local hospital where he was pronounced deceased," the spokesperson said.
Last July, a man opened fire during a candlelight vigil in Detroit injuring seven people, sending them to the hospital. The vigil was being held for a man recently killed in a hit-and-run accident on an ATV, and had drawn a crowd of at least 100 people.
In Texas in December, one person was killed and 14 others were injured following a drive-by shooting during a candlelight vigil.
Harris County Sheriff Ed Gonzalez said that "a large crowd gathered for a celebration of life," when a "vehicle approached and someone from the vehicle began shooting into the crowd. At least 8 people sustained injuries; 7 are non-fatal, but one has been pronounced at a hospital."