'Mr President, F*** You:' Search on for Congressional Intern Who Yelled at Trump
As Donald Trump walked through the Capitol Rotunda to his meeting with the GOP, amid tensions over the current immigration crisis gripping his administration, a young woman's voice echoed down down the hallowed halls of Washington power: "Mr. President, f*** you!"
Now the hunt is on to find that woman, who is believed to be a Congressional intern or aide. NBC News producer Frank Thorp V tweeted a video of the incident. He said it happened as Trump's entourage walked through, about 15 seconds ahead of the president himself.
Chad Pergram, a Fox News reporter, also tweeted a video and attributed it to a Congressional aide or intern. Pergram said the woman got the attention of the Secret Service and U.S. Capitol Police.
John Bresnahan, the Capitol bureau chief for Politico, tweeted that police were "on lookout for [a] young white woman" after the incident and that it was "not clear if they just want to identify woman or potentially charge her." Capitol Police did not respond to a request for comment by Newsweek.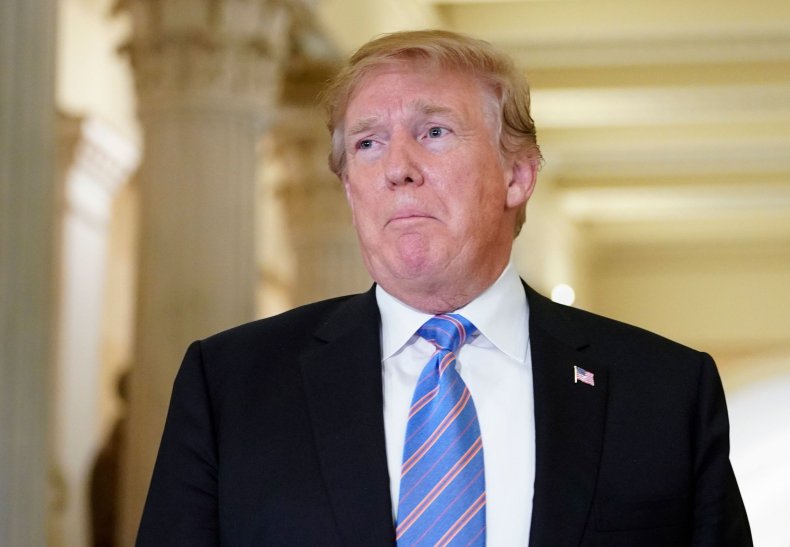 Though the reason for the young woman's heckle is not clear, Trump is currently overseeing a policy of zero tolerance to undocumented migrants that has resulted in a dramatic increase in the number of children separated from their families at the border.
Attorney General Jeff Sessions announced in April that all undocumented migrants caught crossing America's southern border were to be prosecuted immediately. When the adults are taken for prosecution, facing several months in jail if convicted, they are separated from any children in their care. Those children—including babies—are then taken to detention centers.
Distressing reports, images and audio from those detention centers have emerged showing traumatized children held in large cages, sleeping under space blankets, and crying out for their parents. It is not clear how long those children will be held.
Since Sessions tightened the policy, border officials have separated around 2,000 children from their parents or guardians, causing both domestic and international outcry against the Trump administration.
President Trump is accused of holding the children to ransom by blaming Democrats for their plight, citing his struggle to get his controversial immigration reforms through Congress, in particular the U.S./Mexico border wall.
Others in his administration say they are merely enforcing the country's immigration law.
Department of Homeland Security Secretary Kirstjen Nielsen said she "will not apologize for the job we do or for the job law enforcement does for doing the job that the American people expect us to do."
"Illegal actions have and must have consequences. No more free passes, no more get out of jail free cards," she said during a speech Monday to the National Sheriffs' Association.
But conscious of public anger over the policy, and aware of the looming midterms, many Congressional Republicans have made clear to Trump they are uncomfortable with the separation of undocumented children from their families.
They are working to come up with a compromise bill that, among other immigration reforms, will keep undocumented families together when they cross the border—even if the adults are detained.
Senator Mitch McConnell of Kentucky, the majority leader, said that "all of the members of the Republican conference support a plan that keeps families together," the New York Times reported, after a meeting on Capitol Hill with Trump.