'Ms Marvel' Post-Credit Scene Explained: How Show Sets Up 'The Marvels'
Since Ms Marvel first began fans knew that it would be paving the way for the second Captain Marvel film, The Marvels, but it was only in the show's post-credit scene that it became obvious just how that'd happen.
The Disney+ show introduced the world to Kamala Khan (Iman Vellani), a geeky teen with a love for superheroes, especially Carol Danvers (Brie Larson) and follows as she gets powers of her own when she discovers a magical bangle used by her great-grandmother.
Here is everything you need to know about how the show sets up the next chapter in the Marvel Cinematic Universe (MCU).
Ms Marvel Post-Credit Scene Explained: How Show Sets Up The Marvels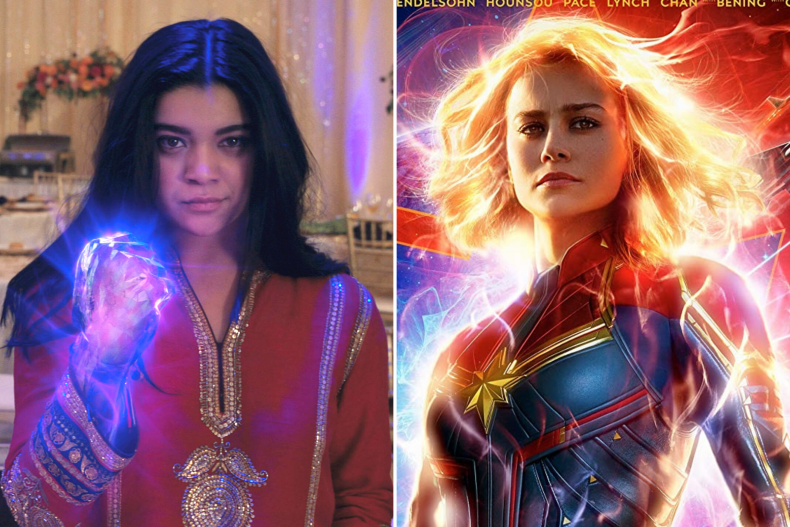 Ms Marvel ends with Kamala embracing her powers and becoming known to the world after helping protect Kamran (Rish Shah) from being taken away by Damage Control when he also developed powers.
Now known to the world, and dropping her pesky first nickname Night Light, Kamala regularly ventures out in her new costume to test out her abilities.
In the post-credit scene, Kamala returns to her room in said costume, where she collapses on her bed while her mother Muneeba (Zenobia Shroff) says that it doesn't sound like she's doing her homework.
Kamala gets up so that she can get her school work done for the day, and that is when her bangle appears to glow and pulse as if sensing a beacon.
Confused by this, Kamala shakes the bangle only to be launched into the air and into her wardrobe, only it seems she's actually transported elsewhere because the person that comes out of her closet is not Kamala but Carol Danvers.
Larson's superhero looks around herself and notices the artwork and many posters of her on Kamala's wall and she repeatedly says "oh no" before heading out of the room, probably to figure out where she is and what happened.
Kamala appears to have either swapped places with her idol or perhaps been thrust into another dimension, either way the results of this event are likely to be addressed in The Marvels.
The scene may also have a connection to Shang-Chi and the Legend of the Ten Rings because in that film's post-credit scene Shang-Chi (Simu Liu) was tasked with helping Captain Marvel and Wong (Benedict Wong) research a mysterious beacon they couldn't source the origin of.
It now appears to be clear that the beacon was actually coming from Kamala's bangle, or at least that seems to be the explanation that makes the most sense.
This certainly would not be the first time that Ms Marvel has referenced the Shang-Chi solo film because a flashback in Episode 3 showed Kamala's great-grandmother Aisha (Mehwish Hayat) in a temple that had the Ten Rings symbol etched on the floor.
No doubt all will be revealed in The Marvels, which is currently expected to be released on July 28, 2023.
Ms Marvel is available to watch in full on Disney+ now.