MSNBC Host Mehdi Hasan Questions Joe Manchin's Intelligence: 'Just Not Very Bright'
MSNBC host Mehdi Hasan questioned West Virginia Senator Joe Manchin's intelligence on Sunday night after the moderate Democrat said he plans to join Republicans in opposing the For the People Act.
In an op-ed published Sunday in the Charleston Gazette-Mail, Manchin revealed that he will continue to oppose abolishing the filibuster and vote against the major Democratic voting rights bill. "The truth, I would argue, is that voting and election reform that is done in a partisan manner will all but ensure partisan divisions continue to deepen," he wrote.
Hasan tore into Manchin for allegedly "aiding and abetting" Republicans during a segment on MSNBC's Mehdi Hasan Show.
The problem with Manchin's refusal to pass the legislation in a partisan manner "is it's already been done in a partisan manner," Hasan said. "At least 14 states have enacted new Republican laws this year, placing restrictions on the casting of ballots out of at least 389 bills as of mid-May in 48 states."
"Manchin thinks voting is fundamental. He says voting is fundamental. But he doesn't want to do what needs to be done to save it," he added.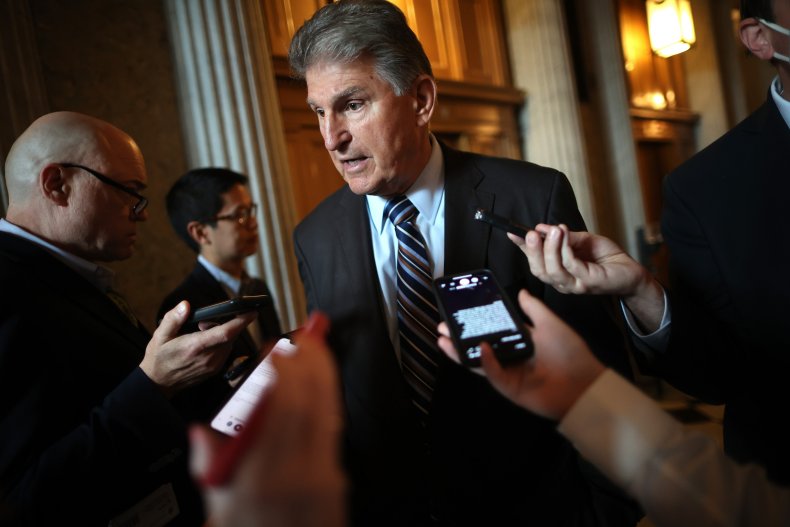 Manchin's decision has placed him at odds with Democratic leaders and Biden, who has urged the party to stick together to pass their sprawling voting rights bill.
Meanwhile, Republicans in numerous states—including Texas, Florida, Arizona, Georgia and Iowa—have launched campaigns to enact new voting restrictions, which Democrats allege will make participating in elections hard for their voters.
"It's not partisanship, it's not both sides restricting voting or preventing the securing of elections, it's only Republicans. And it is not partisan to want to undo that damage," Hasan said. "Why should federal action be bipartisan when Republican action at a state level is totally partisan? It makes no sense."
The host goes on to challenge Manchin's intelligence.
"Maybe, as I've said on this show before, Manchin's just not very bright. Maybe simple math is beyond him. Maybe he doesn't understand what's happening at a state level. That may be the most charitable explanation," he said. "I would have loved to have asked him but he's repeatedly turned us down when it comes to an interview."
Newsweek reached out to Manchin's office for comment. This story will be updated with any response.
Fox News host Chris Wallace confronted Manchin earlier today, asking the senator whether he was "being naive" about the possibility of bipartisan cooperation on the bill.
Manchin defended his position, arguing that a number of GOP senators will vote for "what they know is right, the facts as they see them—not worrying about the political consequences."
"I believe there's a lot more of my Republican colleagues and friends that feel the same way," Manchin added. "I'm just hoping they are able to rise to the occasion and to defend our country and support our country and make sure that we have a democracy for this republic of all the people."
Democratic National Committee (DNC) chair Jamie Harrison expressed his disappointment in Manchin's decision during an appearance on MSNBC. Harrison argued that "only one party right now is trying to cut hours in which people can go and vote... that is the Republican Party."
"This is not a both sides issue," Harrison added "Either you are for protecting voting rights and protecting our democracy or you're against it. We have to focus and do all that we can to ensure that all Americans, regardless of whether you're a Democrat or a Republican, get the opportunity to exercise that right."