MTV VMAs 2017: Worst and Best Moments, From Logic's Breakout to Perry's Flameout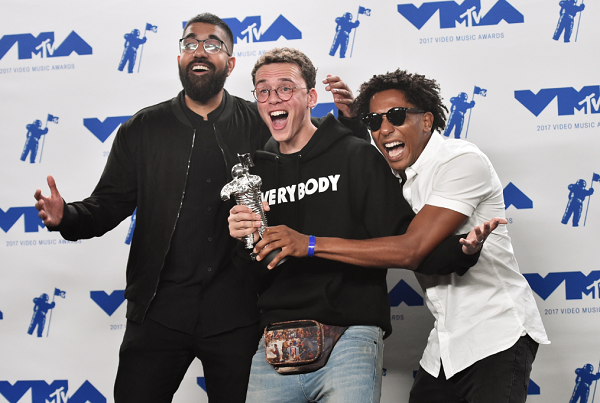 Celebrities really brought their A game at the 2017 MTV Music Video Awards Sunday night. The event was a celebration of the hard work and creativity artists put forward in the music videos over the past year. But some of them, including show host Katy Perry, used their platform to speak out on a number of issues currently affecting American life while advocating for peace, love and acceptance.
While there were a number of exciting moments throughout the night, like Kendrick Lamar taking home six moon man awards for his video "Humble," there were others that had viewers (at least us) scratching their heads in confusion.
Check out our list of the best and worst moments at the 2017 MTV VMAs below:
Best: If you didn't know the rapper Logic before he hit the stage with singers Alessia Cara and Khalid on Sunday night, you definitely know him now. The Maryland native had nearly the whole audience in tears with his powerful performance of his suicide-prevention track "1-800-273-8255," which also happens to be the National Suicide Prevention Lifeline. The 27-year-old finished off his set giving a sermon preaching for equality of all people, saying: "I don't give a damn if you black, white or any color in between. I don't care if you're Christian, you're Muslim, you're gay, you're straight. I am here to fight for your equality, because I believe that we are all born equal but we are not treated equally. And that is why we must fight."
Worst: Pop star Katy Perry looked amazing with her platinum blonde hair and animal-print bodysuit during her "Billy on the Street Comes for Katy Perry" skit, but that was about as good as the parody got. Billy Eichner had some pretty interesting questions for Perry, as he usually does on his pop-culture trivia show Billy on the Street. But his exchanges with Perry fell flat, especially the dig about Perry actually being murdered child beauty queen JonBenét Ramsey.
Best: Pink was the winner of the Michael Jackson Video Vanguard award, and rightfully so—she's been killing the music industry since her debut album "Can't Take Me Home" first topped the charts in 2000. The singer gave a seven-minute medley of some of her best songs, including "Get the Party Started," "Raise Your Glass" and "So What," and accepted her award by giving a heartfelt speech on self-empowerment.
Best: Video of the Year winner Lamar kicked off the show with a ton of energy, performing a five-minute medley of songs off his chart-topping album DAMN. while martial artists (some of whom were engulfed in flames) karate-chopped their way around the stage.
Worst: We have to applaud Lorde for hitting the stage even though she was sick, but honestly, she would have been better off skipping the performance and tending to her medical needs. Instead of singing, the sweatpants-wearing New Zealand native gave a low-energy interpretive dance performance for her hit track "Homemade Dynamite" that was, simply put, a snooze. Lorde later took to Twitter to tell fans that she had the "flu so bad" and needed an IV.