Muadh al-Kasasbeh: Meet the Jordanian Pilot ISIS Is Willing to Swap for an Al-Qaeda-Affiliated Prisoner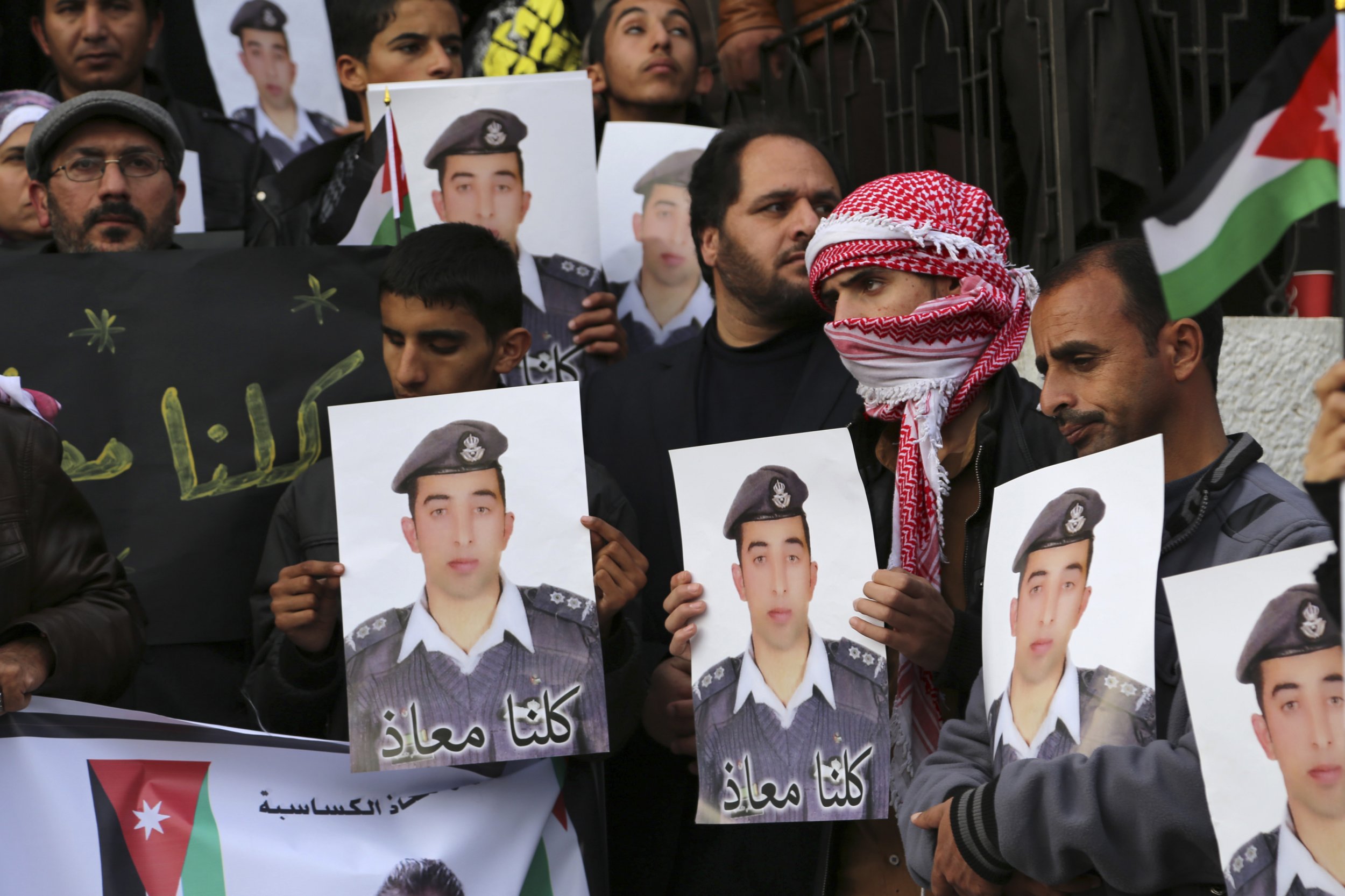 In December, a 26-year-old Jordanian pilot crashed in Syria. First Lieutenant Muadh al-Kasasbeh was participating in a U.S.-led bombing mission targeting the Islamic State (ISIS) when his jet went down. Though ISIS claimed they shot down his plane, the United States determined the crash was not the result of enemy fire.
After al-Kasasbeh was taken captive, ISIS posted a number of his photographs to social media and threatened his life repeatedly. Many came to his defense, as al-Kasasbeh is a Muslim from a prominent Sunni family, his uncle was a major general in the Jordanian military. His family pled with ISIS in public statements to treat their son like a guest, rather than a hostage.
In late December, al-Kasasbeh was forced to give an interview to ISIS-run propaganda magazine Dabiq. Though the interview was mainly propaganda meant to imply ISIS was using powerful missiles, it also proved the pilot had not yet been killed by a terrorist organization that has targeted opposing military officials harshly in the past.
In the interview, al-Kasasbeh said he believed he would be killed by the terrorists. Following the interview, social media accounts believed to be affiliated with ISIS called for jihadist sympathizers to come up with ways to kill the pilot.
In early January, U.S. Special Forces reportedly attempted to rescue al-Kasasbeh out of the Raqqa, Syria area. It was reported that the mission failed because gunfire prevented helicopter landings.
Shortly thereafter, the Jordanian government began to use third parties from Turkey and Iraq to help mediate discussions regarding the pilot's release. Turkey has successfully negotiated hostage releases from ISIS in the past.
When the discussions for al-Kasasbeh's release began, the Times of Israel reported ISIS was interested in freeing "Salafists, adherents of a strict, literal form of Islam to which IS subscribes, held in Jordanian prisons" in exchange for the Jordanian pilot.
The terrorist group now has publicly sought exactly this type of exchange, targeting a particular prisoner. In a video purportedly released by ISIS Tuesday morning, the group said it was willing to trade both al-Kasasbeh and the Japanese hostage Kenji Goto Jogo for Sajida al-Rishawi, a female Al-Qaeda affiliate who confessed to attempting to carry out a suicide bombing in 2005 in Jordan. Al-Rishawi has been held in a Jordanian prison since that time, facing execution. It remains unclear whether Japan and Jordan will work together to secure the hostage exchange before the 24-hour deadline set by ISIS on Tuesday. Other governments, including the United States, which refuses to negotiate with ISIS, have agreed to similar prisoner swaps with other groups to release members of their military in the past.