Mueller Investigation Is Closing in on Trump and He's No Longer Denying It
After special counsel Robert Mueller's team named George Papadopoulos as a defendant, President Donald Trump described the former campaign adviser as a "low-level volunteer" whom "few people knew." When Mueller charged Paul Manafort, Trump's former campaign chairman, the White House said he had "played a very limited role for a very limited amount of time." And when the special counsel named Trump's former national security adviser Michael Flynn, the president's lawyer went as far as to describe Flynn, who was head of the Defense Intelligence Agency until former President Barack Obama fired him, as "a former Obama official administration official."
The strategy seems to have changed in the past 24 hours. After authorities in Manhattan raided the office of Michael Cohen, Trump's personal attorney, which according to Cohen's lawyer was on the recommendation of Mueller, Trump did not seek distance. Instead, the president told reporters that the raid was "disgraceful" and "a whole new level of unfairness." He disparaged Attorney General Jeff Sessions and Deputy Attorney General Rod Rosenstein and said that friends had suggested he fire Mueller. On Tuesday, he tweeted, "A TOTAL WITCH HUNT," and "Attorney-client privilege is dead!"
Related: Why was Trump lawyer Michael Cohen's office raided?
With Cohen of interest to federal authorities in New York City, perhaps Trump chose not to distance himself because he no longer can. Legal analysts have long speculated that Mueller has pursued low-level associates, such as Papadopoulos, in order to get information leading to higher-level ones. Some of the plea agreements have mandated cooperation—Flynn's says the government may call upon him to take a lie detector test and go undercover—and cooperation might be occurring even without a public agreement.
A future target of investigators could be Jared Kushner, Trump's son-in-law and one of his senior advisers. The United States attorney's office in Brooklyn has reportedly asked Deutsche Bank for records related to the Kushner family's real estate business, The New York Times reported in December. Members of Mueller's team previously worked for that U.S. attorney office, but it is not clear if the special counsel team is involved in the Brooklyn effort.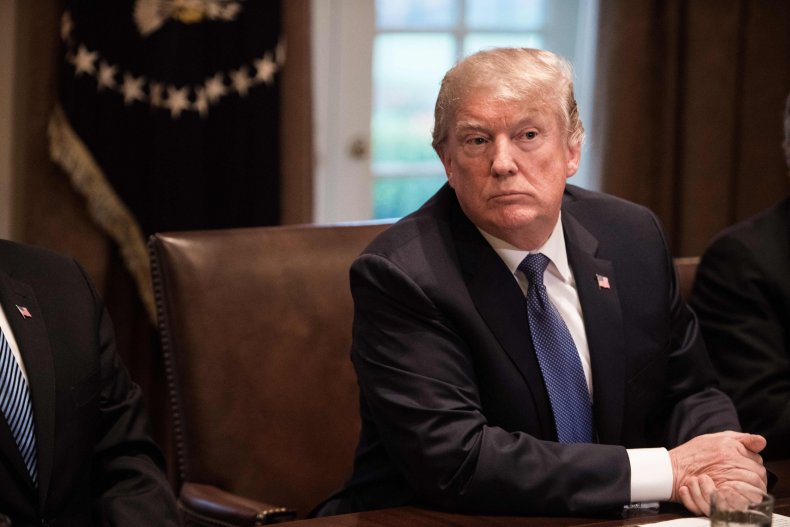 During Monday's raid, FBI agents were seeking documents about money that two women received in exchange for their silence about affairs they claimed to have had with Trump, the Times reported Tuesday, citing people with knowledge of the investigation. One of those women reportedly is Stephanie Clifford, the adult-film actress who goes by Stormy Daniels, and who is suing to get out of a settlement that mandated she keep her allegations quiet. The other woman is said to be Karen McDougal, a former model for Playboy.
Authorities were also looking for documents related to the role that the publisher of National Enquirer might have played in the efforts, the report said.
In a statement, Cohen's lawyer, Stephen Ryan, described the searches as "inappropriate and unnecessary."
Trump's lawyers in the Mueller probe, Ty Cobb and Jay Sekulow, were not available to comment.